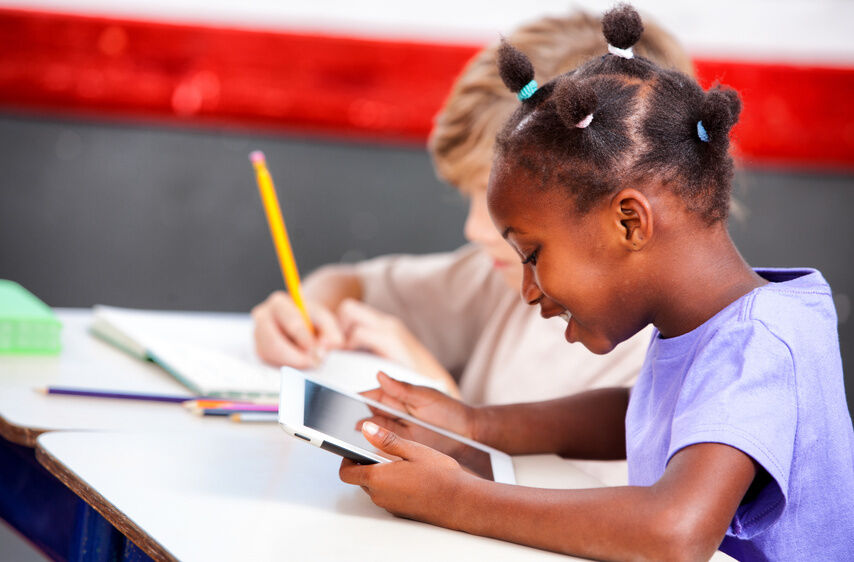 Tablets are convenient devices for utilizing technology on-the-move, and one of the best places they can be used in a classroom. Tablets allow students to utilize technology simply and at their desk, and they afford a slew of educational opportunities, via features like the Internet, apps, and even media devices like cameras. Teachers looking for more ways to utilize tablets in the classroom creatively should browse the list of ideas below.
1. Teach handwriting
So many kids grow up using computers that many do not have a solid grasp on handwriting. Consequently, teachers of young children can help them develop their handwriting skills by using tablets as convenient, erasable surfaces onto which they can write and re-write letters. Drawing and painting apps can be used for handwriting lessons, as they allow users to utilize their fingers or a stylus to write words directly onto a screen.
2. Replace large textbooks
Textbooks are a staple for classes in which students need to learn a lot of information, but they can be expensive and heavy, as well as take a toll on the environment. Consider replacing tangible books in the classroom with eBooks that can be accessed via tablets. Tablets are much easier to tote around than textbooks, and their electronic nature may get students more excited about reading the information.
3. Connect with students across the world
Many tablets with Internet connectivity and cameras have the capacity to allow users to connect with people via video conferencing. Thus, teachers should consider using tablets to connect their students with students from a school across the world. Teachers can use communication platforms like Skype or Google Hangout, and they can either do a large group chat for the whole class, or allow students to talk to one another one-on-one.
4. Take photos
Photography is a great way to document and learn about the world, and students can use tablets to take photos. Tablets are lighter than cameras, and they allow photos to immediately be stored on a hard drive or edited, cutting down on the need for separate devices and equipment. Students can use tablets to take photos of their spring vacations then write and share reports about them, or they can simply use the tablets to take photos in the classroom of different events like science or art projects.
5. Learn to budget
There are many apps available for tablets that are created for spending and budgeting. Help students learn about money management via these apps. Teachers can create a fake currency that students earn and can use to "purchase" things in the classroom (like extra recess minutes, etc.), and they can budget and track their spending via an app.
6. Give tests
For a long time, teachers used paper with fill in the blank bubbles to give tests. Now, teachers can use tablets that have testing apps to give tests instead. This eliminates the need for extra paper to be printed in the classroom, and it allows teachers to easily save and reuse tests year after year. Using tablets for testing ultimately cuts down on spending needed for regular classroom supplies.
7. Teach foreign languages
Tablets are one of the best classroom tools for teaching and learning foreign languages. There are many apps devoted to teaching foreign vocabulary and learning skills, and tablets can also be used for important learning activities like language labs, since they provide audio and recording capabilities.
8. Stay on top of current events
It's important for students to stay abreast of what's happening in the world, and tablets can be useful for giving students access to the news. Have students browse specific news websites, then create reports to present to the classroom about their current event.
9. Write and record songs
Sometimes, the best way for students to remember and learn information is by incorporating it into an art. So, have students write a song about a specific scientific term or historic period they're learning about, then have them sing and record them on a tablet. Tablets have programs that allow students to even incorporate instrumentation. At the end of the project, create a playlist of all the students songs, and share it for all of them to listen to.
10. Take interactive notes
It's important for students to take notes in the classroom to remember information, but tablets allow for more interactive notes, which help students more easily understand and remember the things they learn. There are many interactive note programs, like Evernote, in which students can record voice notes, draw pictures, and do other things like highlight and underline to ensure they are learning the information effectively.