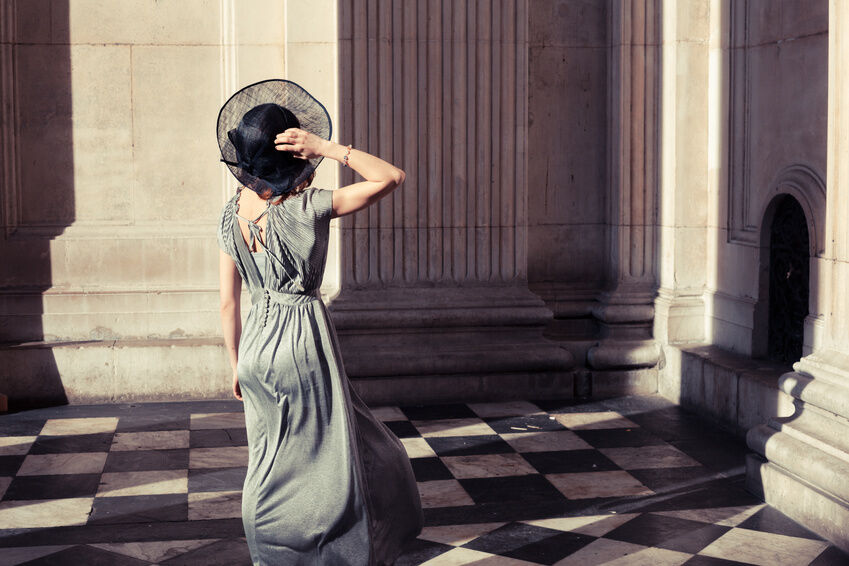 Since its inception in 1962 by the Victoria Racing Club (VRC), Fashions on the Field has become a time-honoured and glorious tradition. Nothing could be more cheerful and inspiring than seeing so many ladies and gents turned out in high racetrack style. What wins best-dressed contests is boldness, vivid colours, perfect grooming, and sartorial drama that is whimsical yet elegant.
The Look
For ladies' field fashions, the look often begins with eye-catching millinery, which is required for entry into the various competitions. Careful thought also goes into the dress, shoes, hair, jewellery, accessories, and makeup and grooming.
One thread that runs through the following examples of superb fashion on the field is the deep individuality of all of these ladies. It is clear that they are dressing to please themselves, and their confidence in their racetrack finery shines through to lend them an extra bit of brilliance.
1. Queen Elizabeth II
A proper place to start when talking about field fashion is Queen Elizabeth II, who wore a stunning hot pink coat over a floral frock at the 2014 Royal Ascot. She garnished the outfit with a multi-coloured modern floral brooch, her trusty triple strand of pearls, and a matching hat.
2. Nicole Kidman
Nicole Kidman channeled Audrey Hepburn when she attended the Melbourne Derby Day in 2012 in a black and white lace confection by L'Wren Scott, along with an amazing hat by milliner Stephen Jones.
3. The Duchess of Cambridge
Catherine, the Duchess of Cambridge, opted for a mix of the tailored and the feminine when she wore a cream-coloured ensemble to the Epsom Derby in 2011. The outfit featured a fitted jacket and a short chiffon skirt. The Duchess paired it with a subdued fascinator, nude platform pumps, and a small clutch.
4. Pippa Middleton
Pippa Middleton, the Duchess of Cambridge's sister, donned a gorgeous peacock-blue dress with lace overlay to Royal Ascot in 2014, combining it with a ribboned hat in the same hue, long gold earrings, and a mirrored clutch.
5. Zara Phillips
The Queen's granddaughter, Olympic medal-winning equestrian, and new mom Zara Phillips wore a neutral-coloured abstract print dress with a draped bodice to the Magic Millions Raceday in New South Wales in 2013, pairing it with a straw-coloured fascinator and nude platform heels.
6. The Countess of Wessex
Sophie, the Countess of Wessex, selected an unusual black frock with a high neck, short sleeves, and full skirt to wear to Royal Ascot 2014. The texture of the dress, along with the ribboned hat, beautiful brooch, box clutch, and black high heels created a highly dramatic look.
7. Elizabeth Hurley
Elizabeth Hurley chose a low-key but sexy pink-beige Versace skirt suit with oversized pale pink floral hat, big pearl studs, and nude high heels with ankle straps for her appearance at Royal Ascot in 2011.
8. Lady Helen Taylor
Lady Helen Taylor, a cousin of the queen, wore a striking colour-blocked dress to the 2013 Royal Ascot, which featured shades of goldenrod, orchid, and white. Adding to the quirkily elegant look were a small hat of robin's egg blue reminiscent of a beret, round vintage-style sunglasses in clear Lucite, a triple-strand pearl choker, and blue nails.
9. Dita Von Teese
Dita Von Teese brought 1940s-style Hollywood glamour to the 2013 Melbourne Racing Cup in a gorgeous white skirt suit featuring a fitted jacket with a sculptural peplum that allowed a peek of the sultry orchid-coloured lace and satin bustier beneath. Both her hat and one shoulder of her suit were adorned with orchids, and her accessories included pearl and diamond drop earrings, a satin clutch, and white high heels with bows.
10. Myer Fashions on the Field Women's Racewear Winner 2013, Chloe Moo
Chloe Moo of Darwin wore a print dress featuring indigenous artwork in red, white, and black, with the pattern repeated in her fanned-feather headpiece. Original and mesmerising, Chloe's ensemble upholds the tradition of field fashion and sets a new standard in racetrack sophistication.