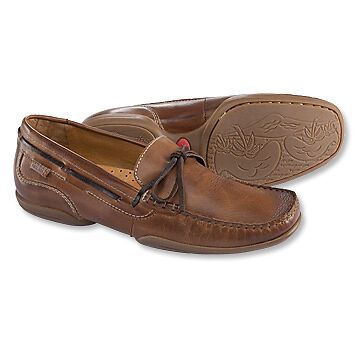 Shopping for used men's shoes is an altogether different experience from shopping for new shoes. There are many factors to consider to ensure that the perfect pair of shoes is purchased. With such a wide range of brands, colours and styles to choose from, shopping online on websites such as eBay is the best way to shop for used men's shoes.
eBay allows buyers to search using various criteria so that they can find exactly what they are looking for, whether that is a used pair of Nike Volt running trainers or Emporio Armani loafers. It is often possible to find great deals on used men's shoes and pick up a few pairs of used shoes for the cost of one new pair, so men are saving money whilst creating a fashionable wardrobe for themselves.
10 Factors you Should Consider When Buying Used Men's Shoes
When buying used men's shoes, there are a number of factors to consider. Here are 10 things to think about when purchasing used men's shoes:
| | |
| --- | --- |
| Factor | Why Consider |
| What condition are the shoes in? | It is important to read the item listing to find out the condition of the shoes, as they may have marks or visible scuffs. |
| Are the shoes competitively priced compared to buying the same pair new? | How much will it cost to buy the same pair new? Although it is usually cheaper to buy used shoes, some sellers on websites such as eBay will list their used shoes for higher prices, so always check the cost of a new pair first. |
| What are the postage costs involved and is discount available if buying more than one pair? | This will help the buyer to decide if the shoes are affordable. Buying two or more pairs from the same seller on eBay could result in a postage discount, saving even more money. |
| Are returns or exchanges possible? | Not all sellers and websites will offer returns or exchanges on used shoes, so always check the product listing. |
| Will any repairs be needed – for example do the shoes need a new heel? | This will allow the buyer to decide if it is worth buying the shoes by finding out how much repairs would cost, if needed. |
| Will any accessories need to be purchased such as insoles or shoe cleaner? | These can be purchased at the same time as the shoes if required. |
| What size are the shoes? | Check to make sure the size is right, particularly if shopping on eBay with an international seller. |
| What material are the shoes made from? | If the shoes are made from leather they will be more durable and easier to clean – canvas shoes may show marks and used shoes could be in poorer condition. |
| What colour are the shoes? | Lighter shoes could show scuffs and wear more, whereas darker shoes will look newer. |
| What brand are the shoes? | How much does it cost to buy the same brand in new condition and are the shoes priced accordingly? |
What Condition are the Shoes In?
It is vital to know what condition used shoes are in before purchasing them. When shopping on websites such as eBay the condition of the shoes will be detailed in the product listing, so always read this carefully before buying. Bear in mind that people's opinions on condition can vary, so what is listed as excellent condition for one person may be considered as worn condition for another person.
It is also important to know what condition shoes are in so that the buyer can decide whether to purchase any accessories such as new insoles, heel tips, gel pads or deodorizing spray for the shoes. If repairs are required then it helps to know this before purchasing, as the cost of the repairs and buying the shoes could add up to more than buying the same pair of shoes in new condition.
Check the Shoe Sizing
If purchasing online, particularly on websites such as eBay where there are international sellers listing products, it is vital to ensure the shoe size chosen is the correct one. Shoe sizes vary depending on the country, so an Australian size 8 is a 42 in Europe or an 8.5 in the USA. Most sellers will have shoe conversion size charts on their product listings, but if in doubt always ask. It is possible to find shoe conversion size charts online that can help to clarify the matter.
Bear in mind that leather shoes will have more 'give', so if the buyer has particularly wide feet or struggles to find shoes that fit, leather is the most forgiving material in terms of size. Also bear in mind that not all websites and sellers will accept returns or exchanges on used items, so ensure that the correct size is ordered initially.
Competitively Priced Used Men's Shoes
On websites such as eBay, where sellers can select any price for their used shoes, it is important to ensure that the shoes are for sale at a competitive price. By looking at listings for the same shoes in new condition online, it is easy to see whether the price being asked for is realistic. This will depend on several factors such as the condition of the shoe and the cost of postage.
If it would be cheaper to buy the same pair of men's shoes in new condition, then it makes sense to do so. Most used men's shoes should be available at a lower price than when buying new, although it is possible to find both new with tags and new without tags when shopping on eBay.
What Material Are the Shoes Made From?
Shoes made from leather are durable and hardwearing, and it is easy to protect them with cream polish and keep them shiny and scuff free. For this reason, used leather shoes are often in excellent condition, and can easily be restored to 'as new' condition if they are looking a little worn upon purchase.
Canvas shoes, or shoes made from other synthetic materials may not wear as well. Canvas is a lightweight fabric and it is not waterproof, so it can pick up stains and marks quite easily. In addition, if the canvas shoes in question are a light colour then marks will be more visible. Whilst it is possible to buy cleaner for synthetic shoes, this will not always work very well on heavily marked uppers.
Accessories for Used Men's Shoes
When shopping for used men's shoes, the buyer should consider whether they need to purchase any accessories as well. This can usually be determined by reading the item listing thoroughly. For example, if the shoes have a torn lining then they could be uncomfortable for the wearer, so new insoles may be needed. If the shoes are scuffed or marked, shoe cleaner or polish may be required. Here are some of the most popular accessories for used men's shoes:
Shoe and foot deodorizing spray
Insoles
Gel heel and toe pads
Shoe cleaner
Shoe polish
Suede protector spray
Whether or not to buy these accessories is at the discretion of the individual, but it is often far more affordable to buy them online than at a later date from a local store.
How Buy Used Men's Shoes on eBay
When shopping for used men's shoes online, the best place to head is eBay, where a wide range can be found for very competitive prices. Just visit the eBay home page and click on the drop-down menu 'Shop by Category' at the top left of the screen next to the logo. A category list will open up, and under Fashion click on Men's Shoes. The individual can select the type of men's shoes desired from the left-hand menu, such as Casual. From here the condition of the shoes can also be picked. Under the sub-category Condition, select Pre-Owned.
Because there is such a wide range of men's shoes to choose from, finding the right pair can be a challenge, but by narrowing a search using a certain term, it is easy for men to find something specific. Just type the words related to the search, such as 'Black Loafers' into the search bar, and a list of available items will appear.
Conclusion
Even men on a tight budget can afford a pair of designer shoes in used condition. It is possible to buy several pairs of branded shoes in used condition for the price of a new pair of shoes. This means that it has never been easier for men to afford a stylish shoe collection that they can change with the seasons or with looks such as formal, casual, and even beachwear.
eBay has a huge range of used men's shoes to choose from, so finding a great deal on men's shoes is a breeze. From deck shoes to flip-flops and leather Chelsea boots to running shoes, there is something to suit all styles and tastes.