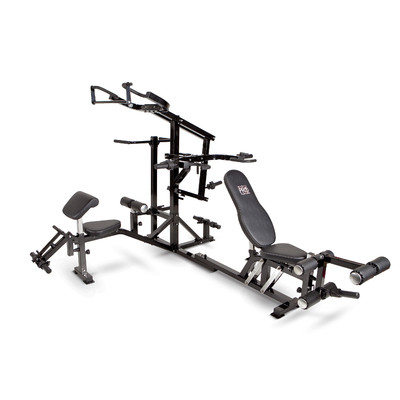 A multistation gym is a great investment for anyone who hates their daily trek to the gym for a workout. Allowing both men and women to work out from the comfort of their own homes, multistation gyms contain a variety of equipment to tone the whole body or focus on specific areas of the physique. Because there are so many different types of multistation gym to choose from, it can be a challenge finding the right one. Shopping online makes life easier as buyers can search for specific products or leading brands such as York.
When shopping online on websites such as eBay, it is easy to find multistation gyms at very affordable prices compared to buying from a fitness store. eBay has a wide range of gyms available in both used and new condition, so there is something to suit all budgets.
10 Factors to Consider When Buying a Multistation Gym
| | |
| --- | --- |
| Factor | Why Consider |
| 1. Size of machine | It needs to be large enough for use but small enough to fit in available space – always check the dimensions before purchasing. |
| 2. Where the machine will go | Having an idea where the machine will go will allow the buyer to work out what dimensions will fit in the available space, and make shopping for a machine easier. |
| 3. Available budget | Working out how much money is available to spend means buyer will not waste time looking at machines which are too expensive. |
| 4. Brand of machine | Some brands focus on specific styles of workout or areas of the body, so it is important to consider the brand chosen carefully. |
| 5. Desired results | By thinking about what results are desired from using the multistation gym, the buyer will have an idea of what type of equipment they need to be included. |
| 6. Equipment included | The most important factor to consider when buying a multi-gym is the included equipment – is this right for the user? |
| 7. Condition of the machine | Will the buyer be purchasing a machine in used or new condition – always check the product description carefully for further details on the condition. |
| 8. Are add-ons available? | Is it possible to buy add-on equipment for the multistation gym? Many leading brands offer this feature. |
| 9. Length of warranty | Is a warranty included and if so how long? |
| 10.Returns policy | Checking whether an eBay seller accepts returns is essential – if the gym arrives damaged or is not quite right, the buyer needs to know whether they can receive an exchange or refund. |
Choosing the Right Size of Machine
When choosing the right size of machine, it is important that the buyer thinks about how much space is available in their home, as well as considering who will be using the machine. Whilst a compact gym may be great for a small apartment, if it is to be used by a very large framed person, it may not be ideal.
Always double check the dimensions of a multistation gym before deciding to purchase – on eBay this information should be listed in the product description. It is then simply a case of measuring available space at home to see what dimensions could be accommodated. In an ideal world, the multistation gym would be kept in a spare room. Take into consideration that they are bulky and heavy machines and are hard to lift or move, so a multigym could get in the way if it is kept in a bedroom or living room.
Which Brand of Multistation Gym is Best?
With so many different brands of multistation gym to choose from, how does the buyer know which is best? Whilst the leading brands offer high quality, durable products, it is possible to pick up a bargain and buy a lesser-known brand of multistation gym for a more affordable price. Some of the most popular brands available (most of which can easily be found online) include:
Whilst no one brand is better than another, the equipment included in the multistation gym will vary between models and brands, so always shop around until the desired equipment is found.
Why You Need a Warranty
Many buyers may not think a warranty is essential, but think about how many different pieces of equipment are included in the multistation gym. If something goes wrong with any of these pieces of equipment, the whole machine may need to be replaced. Many leading brands come with a 10-year warranty on the frame and 5-year warranty on parts, although there are a few brands who offer a 10-year warranty overall.
Be wary when buying a used multistation gym, as many sellers on eBay will not mention the warranty. If possible, ask whether the item is still within warranty and if so whether the warranty documentation can be included with the multistation gym. If the gym in question is only a few months old, it could have several years of warranty left.
How Much Should you Spend on your Multistation Gym Machine?
There is no set amount that should be spent on a new multistation gym machine, and the amount of money invested will depend on each individual buyer and their available budget. It is important not to become carried away looking at multistation gyms well above budget, as they may often be more visually appealing and have more features, and it is too easy to be tempted to spend more than originally intended. Brands such as Powertec tend to vary in price but can cost hundreds or even thousands of dollars.
When shopping on websites such as eBay, it is possible to sort the results by price, so that the buyer only sees multistation gyms within their budget. If budget is really tight, a used multistation gym can be purchased, and these are often available at greatly reduced prices compared to buying a new machine.
Should you Buy a New or Used Multistation Gym?
Whether to buy a new or used multistation gym is a personal decision that could depend mainly upon the individual's budget. Whilst buying a new machine is tempting, a multistation gym from one of the leading brands such as Weider could cost thousands of dollars, and it may be more economical to purchase a used multistation gym, particularly if the buyer is not sure how often they will use the machine.
Buying a used multistation gym, or any used product, is better for the environment, as the product is being re-used rather than ending up as landfill. It is often possible to find popular brands of multistation gym on eBay in used condition, at very reasonable prices compared to buying new, so for those on a budget, purchasing a used machine is a great option.
How Buy a Multistation Gym on eBay
When shopping for a multistation gym, the best place to head is eBay, where a wide selection of multi-gyms can be found at affordable prices. Just click on the drop-down menu 'Shop by Category' at the top left of the home page. Click on Sports & Recreation to bring up a list of all the available categories, and then scroll down to Sporting Goods and click on 'more'. From here select Fitness. From the left-hand menu, click on Multistation Gym Machines, and all the available machines will be displayed.
If looking for a specific brand or model, it is easy to narrow a search using a specific term. Just type the words related to the search, such as 'Weider Multistation Gym' into the search bar, and a list of available items will appear.
Conclusion
There are many factors to consider when buying a multistation gym machine on eBay. With such a wide range of multi-gyms to choose from, from leading brands and lesser-known brands, it can be difficult knowing where to start. By considering the above 10 factors, men and women of all ages and levels of fitness can find the perfect multistation gym for them, and save money by shopping on eBay.
eBay has a huge range of multistation gyms to choose from, whether looking for a leading brand such as Bowflex or York, or a lesser-known brand. By shopping on eBay it has never been easier to find great deals on fitness equipment and multistation gyms.