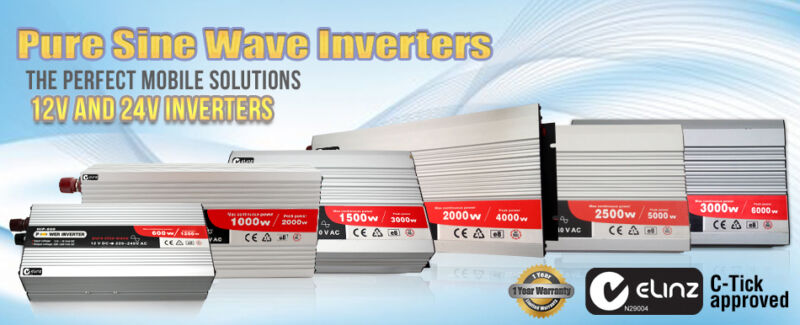 When it comes to mobile power solutions,
inverters
are considered one of the best and the most reliable. Unlike power generators, they are much smaller, less expensive, and much easier to maintain. They are easier and more convenient to use, too. All you have to do is connect the inverter into a car or boat battery and you're good to go. You will be able to use a wide range of AC electrical appliances, handheld devices, and power tools even if you're outside your home or office.
Interesting things about Elinz inverters
If you're going to purchase an inverter, make sure to purchase one offered by Elinz Electronics. Here are the ten things that will tell you why.


1.
Compatible with all types of vehicles
. Elinz Electronics offers 24v and 12v inverters. Whether you own a 4WD, a sedan, a truck, or boat, you will be able to find an inverter that is compatible with the type of vehicle you have. These electronic devices can be used with solar panels and wind turbines, too.
2.
Different sizes
. Our inverters come in a wide range of sizes or power capacities to meet your specific needs and requirements. Sizes start from 600w/1200w to as high as 5,000w/10,000w.
3.
C-Tick Mark.
These electronic devices are guaranteed safe and legal to use in Australia. They bear the C-Tick Mark, indicating that they comply with all the electromagnetic compatibility requirements set by the ACMA.
4.
Pure sine wave technology.
Our devices are bona fide pure sine wave inverters as they utilise pure sine wave technology. This ensures a smoother flow of electricity that helps prevents electrical surges, thus, offering optimum protection for both the inverter and your electrical appliances.
5.
Compact and lightweight
. Thanks to their compact size, these devices are easy to transport. Storage won't also be a problem. They can easily fit in the boot of your car or under the front seat when they are not in use.
6.
Durable.
Despite their small size, the power inverters are extremely durable and reliable. They are manufactured using the highest standards and are guaranteed to last a very long time.
7.
Enhanced safety features.
These devices come with enhanced safety features to protect both the inverter and your appliances. They offer protection against short circuit as well as low and high voltage protection. Each of the inverter also automatically switches off if it starts working beyond its capacity.
8.
Built-in exhaust fan
. Each inverter is fitted with an exhaust fan to prevent the device from overheating easily.
9.
1 year warranty.
Our 12v and 24v inverters all come with a one year warranty. If you encounter problems with your device, we'll be more than happy to provide you with the assistance you require.
10.
Affordable.
As compared to similar products available today, our inverters are much cheaper and more affordable.
If you want quality, reliability, and excellent value for your money, Elinz inverters are definitely a must-have. Meanwhile, if you have questions or enquiries about this product, feel free to contact us at
Elinz Electronics
anytime.