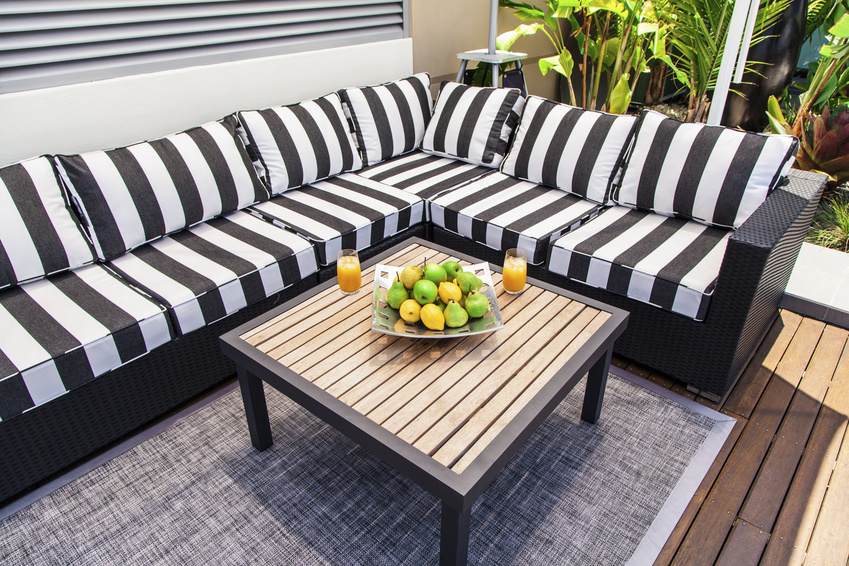 Your patio can be a place for sunbathing, enjoying dinners with family and friends, or simply relaxing and appreciating your home's natural setting. Whatever you choose to use the patio for, you need the right furnishings to transform it into the space you desire. Furnishing an outdoor patio can be challenging, though, due to the many design options available.
Following a few tips on furnishing outdoor patios gives you ideas for how to use a patio. Furniture and and plants enable you to successfully create the right atmosphere. A few additional tips can also make a patio more versatile. Consumers can find furnishings for outdoor patios at local home improvement and gardening stores. eBay is a great source as well, and by learning how to use the website, it is possible to find all the furnishings for an outdoor patio.
Tips on Buying Furniture for Your Outdoor Patio
Follow these tips to buy patio furniture that lasts longer, complements the home, and makes efficient use of patio space.
1. Buy Weatherproof Patio Furniture
Patio furniture can be sensitive to the elements. Wood furniture may weaken and rot from absorbing moisture, while metal furniture can develop rust. You may not have the desire or the storage space to move outdoor patio furniture indoors during the off-season. Instead, purchase weatherproof patio furniture. Galvanised metals are corrosion resistant, and water beads up and rolls off of treated wood. Teak outdoor furniture is naturally water-resistant, allowing you to leave it outside year round. Cushions are also available with waterproof treatment, and these furnishings are easy enough to store during the wet season.
2. Match Patio Furniture to Exterior of Home
Patio furniture should match the exterior of a home. Avoid contrasting colours, and the colours of the patio furniture and the home's exterior should harmonise. For a home that is painted white, consider purchasing white outdoor furniture. The patio furniture should also accord with the home exterior's level of ornamentation. If the home's exterior features a great deal of detail, the patio furniture should also have embellishments. If the home's exterior is more simple, the patio furniture should be as well.
3. Furnish Your Outdoor Patio for Its Intended Use
The furniture for an outdoor patio should enable use the way the homeowner desires. The table below suggests how to furnish a patio for a few different uses.
| | |
| --- | --- |
| Use | Furniture |
| Conversation | Padded chairs; footrests; loveseat; coffee table; side tables |
| Outdoor Living Room | Padded chairs; footrests; sofas; chaise longue; coffee table; side tables |
| Outdoor Dining Room | Padded chairs; dining table |
| Outdoor Kitchen | Padded chairs; dining table; cooking appliances or barbeque |
A patio provides the opportunity to use a hammock as a furnishing. This works particularly well for an outdoor living room.
4. Keep Furniture Proportionate to Available Space
The desire to own a large piece of patio furniture often overrides the practicality of placing that piece on a small patio. It is important not to crowd a small patio. If you have limited space, consider benches for expanded seating, and use smaller tables.
Tips for Decorating Your Outdoor Patio With Plants
Plants provide great value when it comes to furnishing an outdoor patio. One need not spend a great deal of money on plants that appeal to the senses and help create atmosphere.
5. Choose Plants That Appeal to the Senses
The outdoor patio can be made more pleasant to sight, smell, and touch with the right plants. Flowers add colour to an outdoor patio, making it more pleasant for the eyes. Iris is a good choice, since it is relatively easy to grow, low-maintenance, hardy, and different varieties provide a range of colours. The fragrances of lily and lavender are appealing, and an ingredient from the aloe plant is therapeutic for the skin. Consider adding a bird feeder to help incorporate the sounds of birds chirping.
6. Use Plants to Set Your Patio Atmosphere
Plants are an important aspect of patio atmosphere. If you aim for a desert setting, for example, place succulents and cacti around your patio. Hanging plants help turn a patio into a lush garden, and small trees create more of a forest feel.
7. Choose Plant Containers Carefully
Do not overlook the containers to place patio plants in, because these are also important contributors to the decor of an outdoor patio. Pots come in a variety of materials and designs, so you have many options for how to use them to decorate a patio. You can vary the look of the containers around the patio or strive for consistency. When choosing metal containers, make sure they are galvanised to prevent rust.
8. Consider Vegetables and Herbs
Your outdoor patio is an ideal place for an edible garden. Tomatoes serve numerous purposes, adding red to a patio and giving it a sense of verticality because they grow on vines. Tasty herbs such as rosemary provide an intoxicating scent. Adding vegetables and herbs enables a patio to appeal to one's taste, rounding off the five senses that the space engages.
Additional Tips on Furnishing Your Outdoor Patio
By adding a few relatively simple and inexpensive furnishings, one can use the patio at night, maintain privacy, and sit in the shade. These furnishings thus make a outdoor patio more versatile.
9. Choose the Right Lighting for Night Use
To use the patio at night, one needs to purchase outdoor lighting. LED and solar lights are environmentally-friendly solutions. The former uses little electricity, and the latter, renewable energy. Sensor lights automatically come on when you enter the patio area, and garden lights provide a pleasant atmosphere by keeping the light close to the ground.
10. Maintain Privacy
Privacy is more important to some people than to others, so you should consider enclosing an outdoor patio if you desire isolation. It is a good idea to erect a fence or high shrubs around a patio that is visible from the street or neighbours' properties. Not only is this an aesthetically pleasing option, but it also affords more privacy to the homeowner.
11. Provide Shading
An outdoor patio's ability to soak up the brilliant Australian sunshine may be one of its appeals, but you may need a break from the bright light every now and then. Consider using a retractable awning or an umbrella for shade. These furnishings also enable you to use the patio even when rain falls.
How to Use eBay to Furnish Your Outdoor Patio
You can buy outdoor patio furnishings from local and online garden furniture shops. eBay also offers a large selection of outdoor patio furnishings. You can search for the furnishings you want from any eBay page with the search bar. Use a term, such as "teak outdoor furniture", and choose the appropriate series of categories when eBay returns the results. Most outdoor patio furnishings should be listed in categories related to home and garden.
Outdoor patio furnishings can be expensive, but you should be able to find competitive prices on eBay. You can check the outdoor furniture section of the eBay Deals page for deeper discounts on the furnishings you want. Furnishing your outdoor patio can be inexpensive when you shop on eBay.
Conclusion
Following the tips on furnishing an outdoor patio enables you to use the patio as you choose and set the kind of atmosphere that you want for it. The right furniture for a patio is weatherproof, matches the home's exterior, gives the patio functionality, and makes efficient use of available space. The right plants transform an outdoor patio into a place that appeals to the sense of sight, smell, touch, hearing, and taste. They also enable you to customise the outdoor patio's natural setting. You can also make a patio more versatile by installing lights for night use, fences or shrubs for privacy, and shade for relief from the sun.
You can buy everything you need to furnish an outdoor patio on eBay. By learning how to use the site's search tools effectively, you can quickly find the furnishings you want and potentially save money as well.