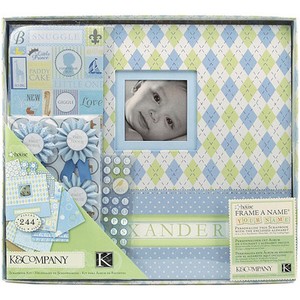 Scrapbooking is a wonderful way to preserve special memories, and what memories are more precious than those of a newborn baby? Designing a new baby scrapbook doesn't have to be difficult. It does require time and patience, but the process is fun and the result is well worth it. Perhaps the most challenging aspect is coming up with the unique and creative ideas that will serve as the basis for the album.

What is Baby Scrapbooking?
At its simplest, a scrapbook is a decorated photo album, but at its best, it's a rich storytelling device. Scrapbooks contain photos, and other mementos and souvenirs, and provide them with context through effective use of themes, layouts, journal entries, and embellishments. Scrapbooks can be about anything at all. The most common kind of scrapbook preserves family history, and there is arguably no aspect of family history more important than the birth of a child.
Traditional vs. Digital New Baby Scrapbooking
The traditional new baby scrapbook is one that the scrapbooker makes by hand using scissors, cardstock, and glue. The modern option is to create the scrapbook on a computer using photo editing software. Each solution has its own advantages. A traditional scrapbook lets the reader touch and smell and provides a lasting physical treasure. A digital scrapbook, on the other hand, is more versatile, more convenient, and easier to keep safe. Some scrappers will use both formats in order to get the best of both approaches.



Creative New Baby Scrapbooking Strategies
An effective baby scrapbook must capture the sense of wonder and blessedness that comes with having a new child in the home. It should emphasize milestones and give the reader an appreciation for the baby's world as those big moments transpired. Although that may seem difficult to do, it's possible to achieve it all with just some simple techniques. The following list includes twelve ideas that will work regardless of the storytelling approach and for both traditional and digital scrapbook albums:
1. Begin the Story at Planning or Pregnancy
A photo album stores pictures. A scrapbook tells a story. Keep that in mind when determining how to begin the book. One of the best ways to commence a baby scrapbook is to start at the beginning, the very beginning. Tell the Mom and Dad love story. If getting pregnant was difficult, explore that process. It just makes the joy of success that much sweeter. Tell the story of planning for baby, and tell the story of the pregnancy all the way up until the big moment.
2. Design a Creative Ultrasound Page
An ultrasound picture is Mom and Dad's first glimpse at their new baby. This is a big deal, and it should have at least one or two scrapbooking pages dedicated to it. These aren't typical pictures, so the scrapbooker has to be creative. One option is to use the ultrasound picture as the centerpiece and the rest of the space for journal entries. Express thoughts and emotions upon seeing the photo for the first time, and discuss the experience of finding out that the baby was a boy or a girl.
3. Create a Baby Shower Page
The baby shower is a highlight of the preparation process. It should use a two-page spread at least, so plan accordingly. During the shower, assign someone as the official photo/video taker. Have baby-themed die cuts prepared, and then have each attendee fill one out. The content can be a message to the baby or advice for Mom. Save all wrapping paper, bows, ribbons, and so forth, since the scrapper can use these as embellishments for the scrapbook pages.
4. Tell the Birth Story
The birth story should feature at least three prominent aspects: labor pains, birthing experience, and the first few minutes of baby's life. The labor pains section should include photos but should accentuate journal entries, which Mom can write while reflecting after recovery. Scrapbooking the birthing experience can be difficult because there will be private content. If Mom isn't modest, then go for it. If she is, then consider using sealable pockets that can hide photos that aren't intended for everyone.
5. Show Mommy and Daddy's Story Too
When new baby scrapbooking, the scrapper's natural inclination will be to focus on the baby exclusively. Avoid this by making a point to include Mom and Dad. When there are tough photo decisions to make, opt for the ones that have Mom and Dad in the frame. Milestones are a big deal in scrapbooking. Another way to include Mom and Dad is to incorporate their milestones as well. A series of shots of Mom feeding or Dad cradling the baby can show their evolution as they acclimate to their new roles.
6. Record Important World Facts
Provide the baby scrapbook with a real sense of time and place. What was the world like when baby was born? Consider answering that question in a two-page spread or more. Dedicate a half or full page to all of the interesting world facts that took place on the day of birth. Use the rest of the space to include important world happenings as they occur during the baby's first year. Include anything that seems like it will still be important 18 years from now.
7. Create Milestones Using a Month-By-Month Grid Pattern
Establishing milestones can be tricky during the first year of a baby's life. The milestones are usually small blessings, such as new facial expressions. A great way to scrapbook these small milestones is to create a grid or other arrangement. Create twelve positions for milestone photos, or if more are desired, create them in multiples of twelve. Use the remainder of the space for mementos and embellishments.
8. Include Spiritual Life and Ceremonies
Each community has its own unique way of welcoming a new child into the fold. Christians celebrate through baptisms. Jews celebrate through the brit milah and brit bat. Muslims celebrate through the aqiqah. Non-religious families often hold naming and welcoming ceremonies as well. These events hold a great deal of significance and should be included in the scrapbook in a way that reflects that importance. Even if the book uses a lighthearted approach, set aside these pages to be solemn.
9. Dedicate Pages to Going Places
During that first year, wherever Mom and Dad go with baby, it's a big deal. Everything is a first, so feature these excursions in the scrapbook. Include the first trip to grandma's house, the park, the zoo, the beach or pool, and even the grocery store. Highlight the first car ride, train ride, airplane ride, and overnight trip. In addition to pictures, emphasize journal entries: What was the destination? Who else was there? How did baby react to new experiences? What mistakes did Mom and Dad learn from?
10. Make Pages for Moods, Likes, and Dislikes
New baby scrapbooking should capture the infant's unique personality. Capturing the personality of a person younger than one year old can be tricky, but one way to do it is to create montages or grids of moods, likes, and dislikes. For instance, set aside a page for smiles, and give it 52 squares; then snap a photo of the baby's first smile each week, and put it in the book. This technique works for frowns, crying, laughter, and even disgustful reactions to new foods.
11. Devote a Section to Doctor Visits and Growth
Doctor visits are frequent during the first year and thus very significant in the baby and parents' life. Pediatricians tend to be very understanding and will embrace and participate in the efforts to scrapbook a child's first year. In addition to the visits themselves, consider building scrapbook pages around the growth record and the shot record. Facial expressions during shots can create an adorable montage.
12. Conclude the Baby Book with Birthday Number One
No scrapbook can be large enough to include an entire childhood, which is why it's best to organize child scrapbooking efforts into stages and unique scrapbooks. The new baby book has a great beginning. It should have a momentous ending as well, and the baby's first birthday is the perfect event. Make it a happening. Invite family and friends. Have birthday-themed die cuts prepared, and have each partygoer fill one out with a happy birthday message to baby.

Find Baby Scrapbooking Supplies on eBay
eBay offers an amazing crafts selection, particularly paper crafts. Hobbyists will find all the scrapbooking tools and materials they desire as well as unique items not found anywhere else. The eBay selection also serves as an excellent source of inspiration for those times when the scrapper needs a creative kick-start. In addition to its selection, eBay provides low prices, free shipping, and a stellar buyer protection policy.

Conclusion
New baby scrapbooking doesn't have to be difficult. Create a plan. The mom-to-be can start preparing for the scrapbook long before the decision to become pregnant. Be patient. Gather the supplies. Collect everything that might have any scrapbook value. Make the tough decisions later. When the scrapbooking starts, don't be in a rush to finish. The best finishing touches may come long after baby's first birthday has concluded.