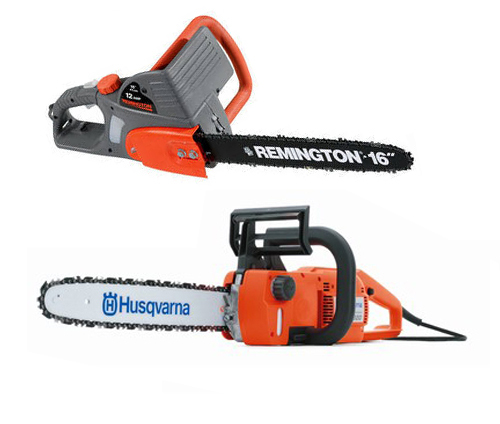 Chainsaws are employed for taking care of overgrown trees and other thick materials. This tool is useful for both homeowners who occasionally need to prune their trees and professional gardeners who do yard work for a living. When choosing from different chainsaws on the market, shoppers need to figure out the right bar length, which refers to the chainsaw cutting area and dictates the circumference it can effectively cut. In fact, if one considers buying a 12-inch chainsaw over a 16-inch chainsaw, one should know the key differences. Whether new or used, both types of chainsaws may be purchased on eBay. Smart shoppers make sure they are well-informed so they can make the best decision.
12-Inch Chainsaws
12-inch chainsaws are used primarily for cutting limbs and saplings. This chainsaw, which measures 30.48 centimetres, is meant for homeowners and individuals who use it only from time to time. Chainsaws with this bar length may be powered using petrol or electricity. Many 12-inch chainsaws on the market, however, use electricity as their power source. Some require to be plugged in, while others may also be operated using rechargeable batteries. Petrol chainsaws, however, are the best for those who do more heavy-duty work. When it comes to horsepower and engine, 12-inch chainsaws generally range from 1.2 to 1.5 HP and 24 to 32 cc respectively. Because it is meant to cut down saplings, this chainsaw is lighter and easier to wield compared to those with longer bar lengths. Its weight ranges between 2.73 to 5.44 kilogrammes. As for features, chainsaws can have vibration reduction, automatic oiler, quick tensioner, chain brake, and a digital ignition system, among others. Popular 12-inch chainsaw brands include Echo, Homelite, Stihl, Husqvarna, and Oregon.
16-Inch Chainsaws
16-inch chainsaws , measuring 40.64 centimetres, are meant to be used on limbs, saplings, and mature trees. This type of chainsaw is normally targeted towards homeowners and professionals who need to use a chainsaw on a daily basis. It may also be electric-powered, requiring a power outlet, or fuelled by petrol instead. Professionals who have to be in locations with no available electricity may find petrol chainsaws more convenient. Most 16-inch chainsaws have horsepower ranging from 1.5 to 3.5 HP and weigh between 3.18 to 5.90 kilogrammes. They also contain an engine ranging from 32 to 51 cc. Depending on the weight of the particular chainsaw, it can take practice to learn how to wield it properly. When it comes to features, 16-inch chainsaws normally have chain brakes, vibration reduction, an adjustable oil pump, side tensioning, automatic oiler, air purge, quick tensioner, and a digital ignition system, among others. While there are many brands offering chainsaws with a 16-inch bar length, the better known ones areStihl, Dolmar, Echo, Husqvarna, and Jonsered.
12-Inch vs. 16-Inch Chainsaws
The first key difference between a 12-inch and a 16-inch chainsaw is the bar length. For starters, the 12-inch chainsaw measures 30.48 centimetres, while the 16-inch chainsaw measures 40.64 centimetres. In terms of use, the 12-inch chainsaw can be used on tree limbs and saplings, while the 16-inch chainsaw is more versatile and can also be used for mature trees. When choosing between the two, it is important to consider the frequency of use and the type of items that need to be trimmed and cut. One important tip to remember is the bar length should not touch adjacent limbs or trunks.
As for the power source, both chainsaws are able to utilise petrol and electricity. However, the 16-inch chainsaw is not available as a cordless electric, because the saw needs to be sustained by more energy than can reasonably be stored in a rechargeable battery system. People who plan on using their chainsaws in remote locations should go for petrol-powered ones. While corded chainsaws are great, some users find that the cord can get in the way of the blade. As for horsepower, 12-inch saws have a 1.2 to 1.5 HP compared to the 16-inch saws at 1.5 to 3.5 HP. When it comes to the engine, the former has 24 to 32 cc, the latter 32 to 51 cc.
Another difference is overall weight, with the 12-inch chainsaw at 2.73 to 5.44 kilogrammes and the 16-inch chainsaw at 3.18 to 5.90 kilogrammes. Some of these chainsaws can accommodate various blade lengths, which is why a 12-inch chainsaw can weigh the same as a 16-inch one. The weight also has a lot to do with the features and durability. Both chainsaws can generally possess the same features such as vibration reduction, quick tensioner, chain brake, digital ignition, and automatic oiler, among others. Shoppers must choose features that are most important to them. However, it is vital to keep in mind that the more features the chainsaw has, the higher its retail price.
How to Buy on eBay
Shoppers in need of a chainsaw should make eBay their first stop. To begin browsing, simply key in the item on the search bar found on every page. These results can be filtered based on the product's location, condition, and price. When going through the listings, make sure to prioritise eBay Top-Rated sellers to ensure a great customer experience. For those who intend to purchase a used chainsaw, it is best to exhaust all questions about its frequency of use and overall condition by clicking on the "Ask a Question" link at the bottom of the listing. Whether you plan on buying a Stihl, Husqvarna, Echo, or an Oregon, there are plenty of great eBay deals on Chainsaws & Accessories.