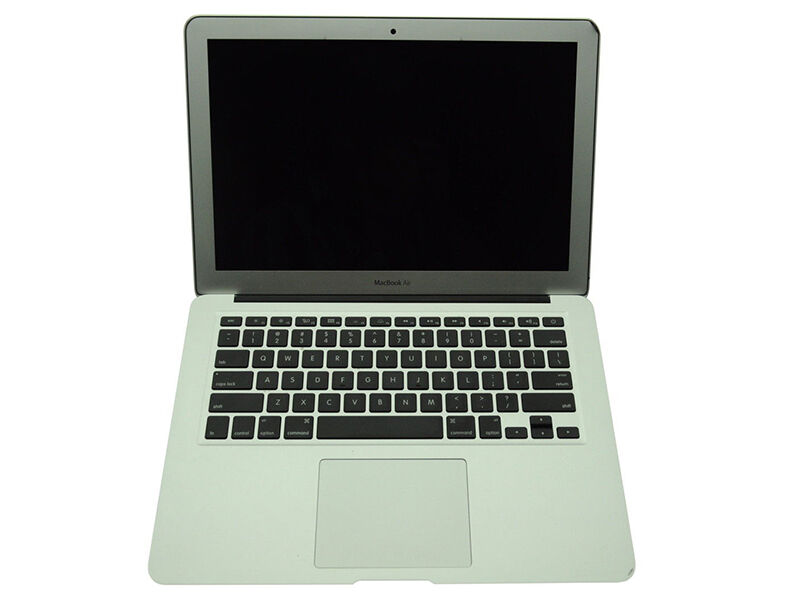 Battery Life
The MacBook Air is touted as a small computer with a ton of battery life, and it really delivers on its promise. It weighs only 2.91 lbs. but packs a battery that lasts for upwards of 12 hours or more.
Display
The screen on the 2014 MacBook is LED-backlit with a 1,440-by-900 resolution. Unfortunately, Apple didn't offer this MacBook with a Retina display, but the colours are still rich and crisp, so users may not even notice the difference.
Performance
The MacBook Air comes with a 1.4 GHz i5 standard processor, though buyers have the choice of upgrading to an i7 at an additional cost. The 13" MacBook comes with 128 GB of flash storage standard, with 256 GB available as an upgrade. The standard RAM is 4 GB, with 8 GB also available. The graphics card is an integrated Intel HD Graphics 5000.
Features
Because of its small size, the MacBook Air doesn't have a lot of room for additional storage slots. It does, however, come with two USB 3.0 ports, a headphone jack, an SDXC slot and a Thunderbolt slot. This computer is lacking an Ethernet port and HDMi port, but it does have Bluetooth 4.0 capability.
Students, writers or users who work well into the night will appreciate the backlit keyboard, which automatically brightens when it senses a decrease in ambient light. All users are sure to appreciate the 802.11ac WiFi and 720p webcam as well.
Software
Apple includes a few different software packages with the MacBook Air, namely iWork, iLife and iCloud. iWork is a suite of programs used for word processing, spreadsheet management and other tasks. iLife is a suite of programs used to create music, organize photos, create slideshows, and more. iCloud is a cloud service that users can implement to back up their data and sync it to other Apple devices at home or work.
Pros
The battery life is the most obvious advantage. Few computers can boast 12 hours or more of usage time on one battery charge.
The weight of the MacBook Air is another favorable element. Many ultra portable laptops hover around this same weight, but few offer as many features and as much capability as the MacBook Air.
The processor for the 2014 MacBook Air is also impressive for such a small computer. The i5 should be sufficient for most tasks, although heavy users like computer programmers or technicians may want to consider the i7 instead.
Cons
Unlike other computers in the same class, the MacBook Air doesn't offer a touchscreen; however, desire for it varies from user to user so this doesn't present a universal problem.
The lack of an onboard HDMI port provides cause for concern, but buyers have the option to purchase a converter for an additional cost. This converter adapts the Thunderbolt port to allow for an HDMI hookup.
Unlike many laptops, the RAM on the MacBook Air can't be upgraded. It is soldered to the motherboard, so what you buy is what you get. Because of this, most users should consider buying the 8 GB if they worry that 4 GB won't be enough for their needs.
The storage capacity is low, even for such a small computer. 128 GB of storage won't go very far, and even 256 GB is a small amount when compared to a standard laptop.
Conclusion
The 2014 13" MacBook Air is a great choice for any buyer who wants a lightweight computer without sacrificing power or capability. Though the MacBook Air lacks a few key elements, it makes up for it with useful features and extensive battery life. Its shortcomings aren't enough to forgo its versatility, and it makes an excellent computer for anyone often on the go. If you are interested in a used MacBook Air, try searching eBay for a good deal on the 2014 or past models.