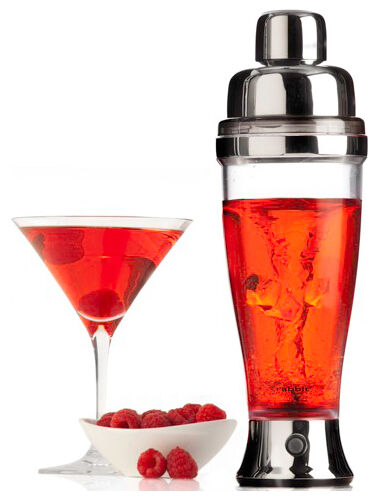 Having a bar in the home is a dream for many people, but that can be a reality with some of the fantastic bar items and novelty products on offer. Whether you are an export cocktail maker or just want to have the facilities to make a simple drink after a long day at work, then there is a large range of bar items available that will allow you to do just that. The best bar items are readily available to bid on or buy in the Home and Garden: Kitchen category on eBay.
The Top 13 Must-Have Bar Items
Whether it's a glass of wine, beer or a margarita cocktail you enjoy the most, all of the items below will help you to enjoy a drink with ease:
1. Bottle Stoppers
Bottle stoppers are designed to keep bottles of wine fresher for longer which means the bottles do not need to be thrown away after having one glass of your favourite tipple. Bottle Stoppers fit snugly into any wine bottle and are easily pulled out when another glass of wine is needed.
2. Coasters
Coasters are great for use around the home and not just the bar area. Coasters can come in cardboard form like they have in pubs and bars, but there are also a large range of plastic and glass coasters with various designs on to match the style of the bar area/kitchen.
3. Cocktail Shakers
Cocktail shakers are basically two steel cups which interlock and allow the drinks maker to mix and shake your favourite cocktail with ice, herbs and the various spirits and mixers needed. Cocktail shakers will also come with a strainer to stop any bits of herbs staying in the drink.
4. Corkscrews/Bottle Openers
There is a large range of corkscrews and bottle openers available to open any bottle. Many will come with both the corkscrew and bottle opener attached but can also be bought separately. They are small and can easily fit in the pocket so it is there when needed.
5. Drink Dispensers
If you want the bar to be stocked up and have a real authentic bar feel, buy some drink dispensers for the most popular spirits. These dispensers attach to the top of any bottle and can measure the regulation measurements for spirits so you don't over pour and get the perfect balance for the drink.
6. Flasks
Flasks are great for keeping any short drink with you if on the move. They are great at keeping the beverage cool and are discreet and small enough to fit in the back pocket of jeans or jacket pockets. The top of the flask has a screw on lid to make sure that the beverage won't leak.
7. Glasses/Cups
A huge range of glasses and cups are available on eBay for any type of drink including wine glasses, pint glasses, shot glasses, cocktail and champagne flutes. A whole range of different types and styles are on offer so there should be a set to suit your needs if searched for well enough.
8. Home Brewing Kit
For the avid beverage drinker, there are some great home brewing kits which help to brew your own beer or ale and also make homemade wine. The process is easy to do but very difficult to master, but what better than to have a pint of your own beer.
9. Ice Buckets
Ice buckets are great for keeping large bottles cool when at the dinner table or when serving sporadically. Ice buckets will usually be made of steel and some can fit two bottles in at any one time. Many will come with a mini scoop to place ice into the bucket.
10.Novelties
Novelties are great to give the bar area a quirky feel and help give it character. Some of the most popular bar novelty products are peanut and crisp dispensers which dispense small packs of your favourite snack. Other great novelties can include small games like darts and mini pool tables.
11.Signs
There is a good range of novelty signs available on eBay. Many of the bars come in the form of flashing neon and usually 'BAR' but it is possible to buy more bespoke items which allow you to have a personalised sign or name for your bar.
12.Stubby Holders
Stubby holders are brilliant for keeping small cans cool whilst holding it. They are normally made from an insulating foam material and ensure the warmth from the hand isn't transferred to the can meaning the last few sips of the beverage aren't warm and generally unpleasant. Stubby holders can come in a variety of styles and are a perfect gift for anyone who enjoys a few beers.
13.Bar Towel
There is always going to be a few spillages when mixing and preparing drinks in the bar/kitchen so it is important to always keep a small bar towel to hand to mop up any spillages. There are a lot of novelty bar towels available which can include sports team crests and can also be personalised.
How to Buy Bar Items on eBay
There is a large range of bar items available on the eBay store. Type 'drink dispensers' into the search bar at the top of any eBay page and a search page with drink dispensers will appear. Buy these items in the following ways:
· Bidding- Just like buying in an auction house, bid for bar items with your best offer for that item. It is easy to increase all offers at any time until the listing has finished. The bidder with the highest bid will then be the owner of the item after they have paid for the item.
· 'Buy it Now'- To save time, find the bar item you are after and buy it at a 'Buy it Now' price. Searches can be filtered by auction and 'Buy it Now' posts in the search results page on the left hand side of the page.
Listings can be filtered by using the advanced search results page. Results can be narrowed down by "Any of these words," "All of these words," or "Exact phrase." Search in "All Categories" to start a search as well.
When purchasing bar items on eBay, make sure you research the seller and find out all of the information of the item that you are purchasing before actually buying the product. eBay and PayPal protect customers to give piece of mind when buying.
A few key points to find out about the eBay seller are:
· Have previous customers submitted good comments about this sellers overall service?
· Does the seller have a great Feedback rating?
· Has the seller completed a lot of transactions?
· Many eBay sellers work just as real stores would do and have return policies for all customers. Can you find the seller terms and conditions?
Conclusion
Having a bar area in the home is a wonderful thing and there are so many cool bar items available on the eBay website to really help personalise the bar area and help prepare your favourite drinks in the comfort of your own home. All of the items mentioned in this guide a readily available to bid on or buy in the Home and Garden: Kitchen section on eBay.