1780 Maria Theresa (Theresia) Thaler


First Things First
The first thing to note about these coins is that they were not struck in 1780, but have been issued ever since, as an official restrike by the Austrian Mint. Similar thalers were issued during the Empress' lifetime, but these are all dated before 1780. All examples dated 1780 are restrikes.
Please spare two seconds to click the YES link at the end of this page if you find our guide interesting, useful, or informative. It make all our effort feel worthwhile, thanks.


Tradition
Austria has a tradition of issuing commemorative coins after the death of an emperor, with the date frozen.
Millions have been issued over two centuries, and they have, and still are, used as a "trade dollar" in parts of the Middle East.
They have also been issued by a number of other mints, presumably under the auspices of the Austrian government or mint.
There is at least one book about these coins, A Silver Legend: The Story of the Maria Theresa Thaler, by Semple, Clara. We have not yet seen or read a copy of this book yet, but intend to acquire one, and will add our comments about it here.
The various issues can apparently be distinguished by the mintmarks, but unless you have specialised knowledge of these coins, assume all are modern restrikes.
We have seen many of these coins bought and sold on flea markets and car boot sales at quite high prices, bought by greedy people who thought that they were going to make a quick vast profit, and sold by less-than-honest sellers, who knew the truth!
We also receive hundreds of e-mails and telephone calls every year from people demanding to know their value. We suspect that many of these enquiries are from people who have bought one at a bargain price on a market stall, and hope to be able to sell it for many times what they paid. Sadly we often have to disappoint them!
World's Most Beautiful Coin
One good reason for every coin collector to own one of these coins, is that they have often been described as one of the world's most beautiful coins. They are certainly impressive!
They are produced in two versions, proof and normal.
We usually have single pieces of these coins listed in our eBay auctions, and sometimes also offer them in quantity as silver bullion.
The Empress Maria Theresa (1740-1780)
Maria Theresa succeeded her father, Charles VI, in 1740 at the age of 23. Her father had tried to guarantee the female succession through the Pragmatic Sanction, although Prince Eugene of Savoy believed he would have done better to have left her an efficient army and a full treasury! She was Queen of Hungary and of Bohemia, Archduchess of Austria (the title of Empress came in 1745 when her husband, Francis Stephen, was elected Holy Roman Emperor), and she defended her lands and rights courageously in the War of the Austrian Succession against Frederick of Prussia and his allies. Internally her reign was marked by great reforms in the areas of justice, finance, education, agriculture and medicine. Maria Theresa created the foundations of the modern state.
Marriage
Her marriage to Francis Stephen of Lorraine was a love-match. She bore him 16 children. Francis Stephen was an able businessman, but had little in the way of political ambition. Even after he became the emperor, he preferred to leave the business of governing to his extremely capable consort. He died in 1765 and was succeeded by his son Joseph II, who now became the frustrated co-regent with his mother, Maria Theresa.
The 1780 Taler
The silver taler was the currency of the Empire and of the Austrian hereditary lands. The silver taler was very important for trade with the Levant (parts of Turkey, Lebanon, Syria) and the Maria Theresa Taler became the best known and most popular silver coin in the Arabian world. After the death of the Empress, Joseph II permitted the mint at Günzburg (today in Bavaria, but at that time Austrian territory) to continue striking with the 1780 dies in order to meet the demand from the Middle East. The 1780 taler was the only silver coin that the Arabs trusted and would accept. Thus began the long minting history of the "Levantine Taler" of the Empress Maria Theresa. Since then the Günzburg taler has been restruck for trade purposes at Vienna, as well as at mints in Prague, Milan and Venice from time to time. The taler became the unofficial currency of some of the lands in North Africa, and it can still be found today in many Arabian bazaars. This version of the taler became so important that it was restruck even in London, Bombay, Paris and Rome. The "Levantine Taler" lost its status as legal tender in Austria in 1858, but thanks to an imperial edict of 1857 as well as the present laws of the Austrian Republic, the mint at Vienna still produces this famous trade-taler down to the present day.
Description
The obverse has a portrait of the mature Empress. She wears a widow`s veil (which was reduced in order to meet Arabian demands) and a brooch with nine pearls. The inscription "M. THERESIA D.G.R. IMP. HU. BO .REG." translates as: Maria Theresa, by the grace of God Roman Empress, of Hungary and Bohemia Queen. Below the bust one finds the initials "S.F.", which stand for the names of the two Günzburg mint officials in 1780, Tobias Schöbl (S) and Joseph Faby (F). The reverse shows the imperial double-headed eagle with the arms of Austria at the centre, surrounded by four quarters representing Hungary, Bohemia, Burgundy and Burgau (Günzburg). The inscription reads "ARCHID. AUST. DUX. BURG. CO. TYR. 1780" and translates: Archduchess of Austria, Duchess of Burgundy, Countess of Tyrol, 1780. The raised edge of the coin has the motto of the Empress "Iustitia et Clementia" (Justice and Clemency) with various ornaments. The story of the Maria Theresa Taler is undoubtedly unique in the history of money and numismatics. It is not only one of the most beautiful silver coins in the world, it is also the most famous and most widely spread. The Maria Theresa Taler belongs in every collection because of its special history. It is, however, also a gift of unusual interest and a souvenir of lasting value!
How Many?
According to Krause, there have been an estimated 800 million Maria Theresa thalers struck since 1780.
Strangely enough, since we included this page on our website, we keep getting offered large quantities from the middle east. We wouldn't normally wish to cast doubt on the accuracy or honesty of the people who contact us, but most of these sellers (or their agents) claim to have very large quantities for sale. Most own a few million, one agent claimed to be acting for two vendors, one of whom owns one billion, and the other owns two billion coins. Since each of these two gentlemen owns more than were ever minted, it makes us wonder! Needless to say we don't bother to reply to such enquiries unless the vendors wish to establish their bona fides with us in advance.
Specifications

Unfortunately, eBay's system will not allow us to insert this table from our website using HTML, so we have supplied it as an image.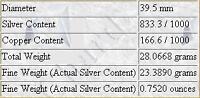 Prices

In a guide such as this, we can also give general advice about prices, because of fluctuations in the price of silver in the commodity markets, but you should expect to pay from slightly over the value of the intrinsic silver content, up to about double, depending on condition. Make sure you don't allow yourself to be "ripped off" by paying £25 for a coin which can be bought for about £10. Many flea-market traders will omit to tell you about these coins being restrikes. Of course, this would never happen on leading internet sites!
Part of our reason for posting this guide is to try help people to avoid being duped.
We hope you have found it helpful.
Was This Guide Useful?
If you found this guide interesting, informative or useful, please spare few seconds of your time to vote for it by clicking on the "Yes" button below, thanks.

Other Guides
You may be interested in viewing our other guides:-
How to Photograph Coins - Advice, hints, tips & more...
Gold Sovereigns - History Information & Specifications

Mints & Mintmarks on Gold Sovereigns - All Seven Mints
Krugerrand - One Ounce Investment Gold Coin

Buffalo - 9999 Fine Gold US Bullion Coin - 24 Karat Au

Pink Diamonds - One of Nature's Rarest Gemstones
Sniping - Is it Good Strategy for Winning Auctions?
£2 Two Pound Coins Queen with Necklace Rumour & Facts
Winning Auctions - Or Spending Money?
CGT Capital Gains Tax Exemption on Gold Sovereigns Britannias UK Coins
Definition of Investment - VAT Exempt (Tax Free) in UK & EU
Spellings - Is Good Spelling Important - A Few Howlers
Second Chance Offers on eBay - Should You Use Them?
Gold Coins Which Are Not Gold - Including German & € Euros
Postage Packing Shipping Insurance Charges - Fair or Excessive?
The Difference Between Proof and Uncirculated Coins
London Gold Fixing Price
Gold Bullion Bars For Investment
Author & Copyright Notice

Images

The images shown are our own copyright images. Our text and description is also copyright.