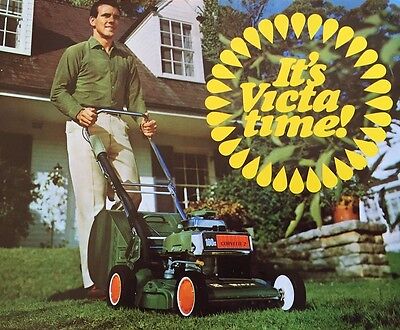 American Tecumseh engines were in the 1960s Corvette impulse start Victa rotary mowers, known to Australians as 'WIND UP' Victa from their folding winder handle, that lasted only half the 40 year motor life. They were probably the most

beautiful and prestigious domestic lawnmowers of all time. The 1967 Corvette 2
left
on account of its lighter weight was the most effortless to push, although the 4-stroke had far more mowing power. On the left hand side, is seen the lawn edge trimmer cover, in 1965 it sported a real attractive orange and white 'Caution' sticker, here incredible, early metallic paint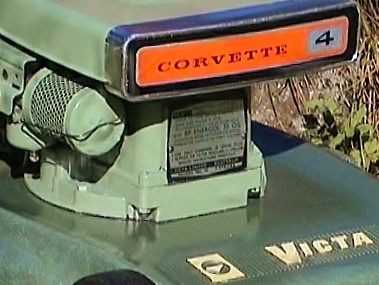 , dark green on the deck and light green metallic on the motor. With the clip-on plate removed, it was highly dangerous so that after a few terrible accidents, later models didn't have it. More intelligent owners had enjoyed the feeling of risk posed by the edge trimmer or Victa wouldn't have offered it. Note the old mesh air filter on the 4
right
before it was mounted up on the push bar. New, they'd mulched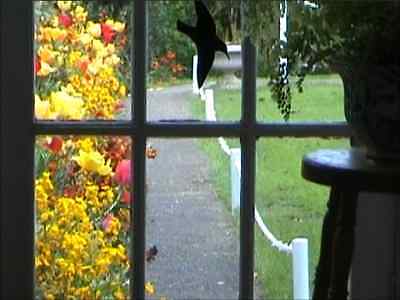 grass into powder, by the 1990s making mowing real hard, wheel bearings worn out, wheels much smaller than the 1980s Vortex, in the end they didn't mulch grass, the Four-Stroke leaked oil and wouldn't start without a start of season service. A click position Oil Change reminder just behind the winder doubled as a fuel filler cap on the 1965 Corvette 4.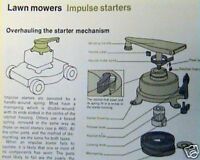 Below
the fuel filler a nylon washer with two tiny holes in it eventually broke up, another one made up of fiber glass or fuel leaked from the filler cap taking all paint off steel petrol tanks. Original Victa Tecumseh exhausts were a pipe with two vent slats, the noise just terrible, until later when rusted away, a bigger Tecumseh exhaust gave more reasonable mower sound, recent sales advertise mower noise levels in dB. Worst of Four-Strokes are oil changes with flushing oil.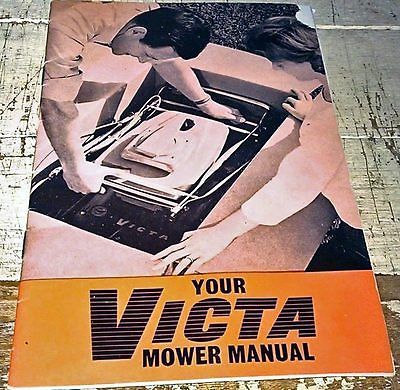 Original 1960s steel grass catcher
above
is about twice Victa Commando Power-Torque capacity. Victa Cortina is a late 1960s Two-Stroke, seen
down page
in the zip start version, Impulse Start Cortina has cast yellow Victa logotypes as the 1965 Corvette 4.
Back in the day, folks who bought these mid-1960s 'wind up' Victa mowers did look just like the Hollywood hero since Victa were expensive machines. Note the fuel filler located behind the winder, as on the 1965 year machines. The top was a hammered light green and the base a hammered grass green paint. But compared to the later machines like the 1984 Vortex, these Tecumseh mowers were immensely hard work to mow with. With the 1984 Vortex we can mow the whole lawn and feel like we never did and it takes no time at all. The bigger rear wheels on the Vortex help a great deal. Below an Australian Holden car, that in England wasn't a Vauxhall, like the Leyland P76 it was for Australia only.
Why buy a vintage Victa?
Unrivaled cutting width in the most compact mower possible.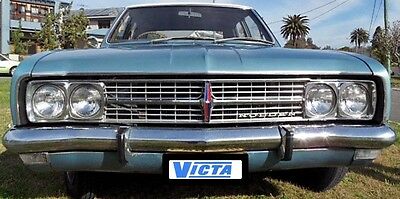 People rate Honda high on easy starting or reliability but they're so heavy compared to Victa that only self-propelled Honda mowers compete on ease of pushing and self propelled move at a snail's pace.
Garden birds seen in Australian yards.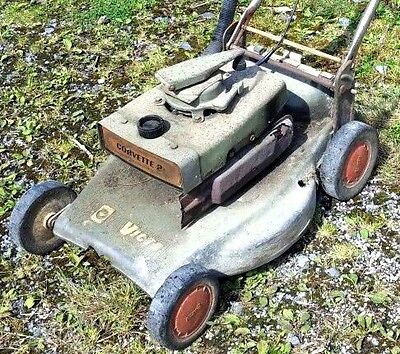 Left
the Two-Stroke 'Wind-up'
Corvette 2
had to be easier to push than the 1965 Corvette 4 though even it is half the weight of a modern 4-STROKE Honda push mower. This is what Australians call a 'moss lawn' and it's over moss, at a very low cutting height, much lower than the 1980s machines go, that the power of the Tecumseh 4-Stroke shows itself to be a real sleeper. The motor has a governor and on encountering resistance from moss the mower suddenly growls into a dog-like savagery, able to clean the surface to bare soil, it's just incredible. The power torque engine makes a laboring noise over moss and sounds like its struggling. No matter how good a mower the lawn keeper has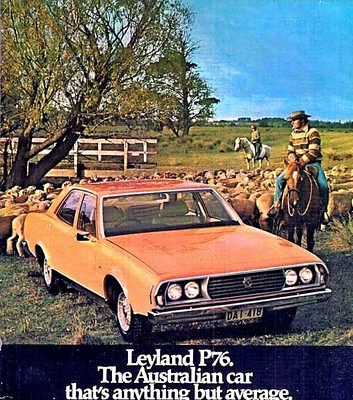 to do a load of quality work, it's not all down to a prestige brand name.
Right
the agricultural suited Australian
Leyland P76
. Quality of owner mixed Two-Stroke petrol and oil mix fuel is the weak point of buying Power-Torque mowers. The Victa motor is top quality but oil and lubrication make a key component of engine service life. The owner mixes petrol and 2-stroke oil himself, in a measuring cup if he cares and fuel/ oil mix may be compromised making eBay Two-Stroke Power-Torque machines a risky buy. What you're looking for are listing photos of well kept gardens showing owner attention to details. There are two mixes for Two-Stroke 'petroil' that cause confusion, 50:1 is for brands of thicker oil that say 50:1 on the bottle and 25:1 is for thinner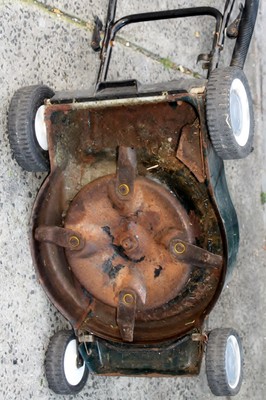 oil brands that say 25:1 on the bottle - the problem is that some Two Stroke Oil bottles don't say any mix. So if you get a measuring cup and take a 50:1 measure with a 25:1 oil by mistake, you get piston scoring and wear out your motor.
Left
a rusted-in swing blade system on a steel deck mower. It's no use for tree roots but will cut any lawn suitable for a bar cutter. The slight satin black paint left on the blade pan and deck show what remains at the end of season when the grass isn't hosed off after every mow. Hosing after use follows repainting of the underside during the winter season. Once refinished in satin black and hosed, the grass comes off quickly. Vortex have a deep cast alloy grass mulching chassis.
eBay sellers claim Victa motors all take a 25:1 measure, and Victa's own brand 50:1 Valvoline V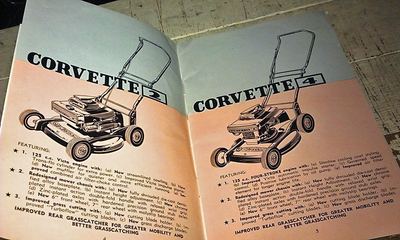 Two-Stroke oil is now superseded with Ethanol Shield. With 50:1 at 25:1 the motor won't start.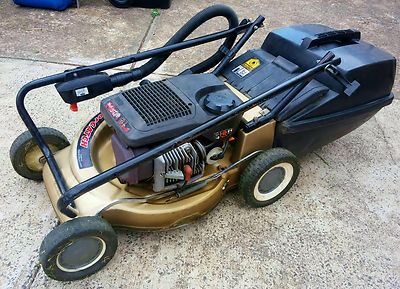 Left
a limited edition gold Victa marks the 6 millionth Victa mower produced. It's recommended not to leave the push bar folded down like this as the air hose is known to tear where it's bent, letting unfiltered air get drawn into the engine causing more wear. Note the red type sparking plug cover. This has a nail in it that might give difficult starting and dying out. Sellers are best to get the new stable running black rubber spark plug cover, fitted with a sprung clamp instead.
Briggs and Stratton conversions
of Victa Two-Stroke mower decks offered on eBay with thirsty 3.5 hp Briggs Four-Stroke motors are not recommended due to oil changes and their much greater weight!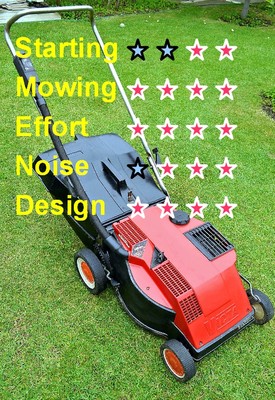 Left
The G.T.S. start system of the video above -
'Guaranteed To Start'
means that Victa Vortex (Veecta Voah-hteaks, in Aussie dialect) will
start quickly
at the beginning of the season but is a real knack even with a good serviced model. First you probably need the new black rubber sparking plug cover. Turn the engine with throttle lever on the Start position with the minimal specified choke, pushing the rubber button about four times. If you put too much 'petroil' in the choke and it's not starting on the first or second pull, move the lever down to RUN and as soon as it fires move the control back up to start so it turns over best.
The Vortex grass boxes are a great design for hosing out, the grass collects under the mesh and can be poured out from a chute at one side. These machines were at one time the prestige mower. But lawns lost favor in drought ridden Australia.
Mowing
as the grass shows here, is nice but blades need to be sharp as with all machines, scrape along the blade cutting edge with a pen-knife at the start of season. The wedge shape front of the Vortex and VC-160 is for getting under bushes avoiding snagging branches. Red color Victa logo here suggests the plastic cover has been repainted.
Effort needed
for mowing is quite simply the best of all time, no mower will ever mow quicker or leave you feeling better than this Victa Vortex model. The older green Victa

Mustang has a better pushing sensation but lacks the Victa 'pointless' starting system so essential to starting the mowing season without the old Start of Cutting Season mower services. These Victa machines are designed for Australia where the owner has to service machines, they're real easy to work on but the electronic ignition means it starts better after winter.
Noise
is real good if the muffler is good and if it's not, is real easy to replace when you know how, just amazing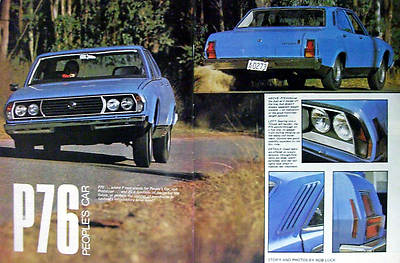 Aussie engineering, the exhaust is held in place with a couple of rusty spring clips, makes for easy piston wear checks.
Design
is great, one of the best ever mower styles, especially in red, they come in white, yellow and grey too.
Pricey Victa Power Torque need pix of exhaust removed, inspecting lower piston skirt in a torch beam, looking for shiny horizontal scores in the grey metal, although only one or two may be seen through the exhaust port, these scores are all around the piston indicating the beginning of the end for a Two-Stroke machine, it starts and runs readily but loss of compression doesn't make cut grass into powder as designed to. If it dies out during cutting it may be the carby or ethanol in modern fuel. Whilst the most effortless push mowers ever made, Victa Two-Stroke may give so much trouble that buyers regret buying and sell at a bargain price on eBay.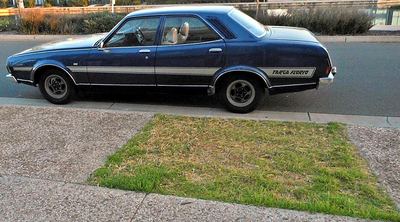 The exhaust outlet develops a five-cent size triangle wedge after a time, filling with coke or carbon making piston black grooves. Wedge needs cleaned out, barrel chamber checked for particle damage. New piston and chamber re-bore may cost over $90AUS Oz. - $600AUS in the UK!
Left
a
Leyland P76
driver's lawn has become a real small part of his life and
Victa
mowers sell well to owners of the Australian 'People's Car'. The Victa company has been bought over a few times since it first opened. In England, owners of lawns like this would have them all real carefully maintained despite their size, thanks to good rainfall, grass cut in a drought turns it yellow. When buying Two-Stroke machines on eBay we want to see evidence of careful owner sellers, a nice machine suggests care in petrol oil mixing ratios.
Tree roots in your lawn? used to be only a Swing Blade Victa, now Husqvarna, Masport and others!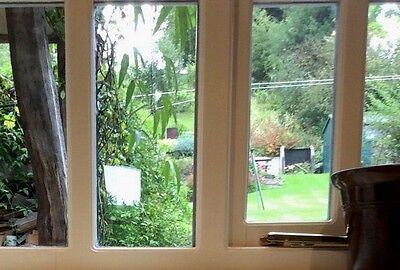 Dead man's handle is the BIG problem of newer Victa, making mowing harder in the interests of safety, having to re-start the motor every time you loosen your grip. Another problem of these old Victa is the modern ethanol in petrol. All major brands have 5% and 10% is likely to ruin the motor. 0% Ethanol is the one to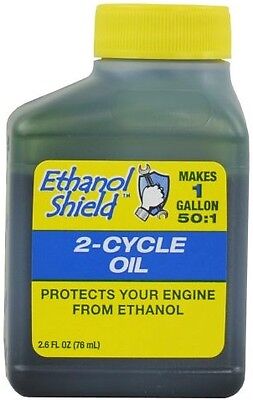 use for elderly Two-Stroke and 4-Stroke lawn mowers. Ethanol shield Two-Stroke oil is the only practical fix for many consumers using the Victa motors and makes one gallon at 50:1. Four-Stroke engine mowers from the leaded petrol days need a fuel additive like Redex Lead Replacement to lubricate their valve gear, a pink Ethanol Shield is available for them. However in addition to Ethanol Shield, Lead Replacement Redex further reduces heating in Victa Two-Strokes like the Power Torque from the year 1983, making warm up much smoother and further reducing heating whilst running. A small mixing bottle is now available in garden centers for Two-Stroke oil mixing in small quantities, using fresh fuel. Although an outdated claim that super-unleaded has 0% ethanol this is no longer true of Shell V power and whilst true of Total Excellium it's no longer available in the U.K.

The remarkable canoe-like steel catcher, seen only once on eBay Australia is a feature of side eject 1960s Victa utility mowers and has huge capacity. eBay Australia constantly removes any pictures of the catcher, making it pointless to provide more. However the 'canoe grass box' looks wacky.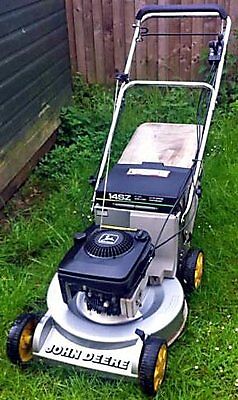 The Corvette 4 type Impulse Winder and chrome air-cooling cowl gave a 'low profile' look fashionable in 1965. Owner's Manual says the Consul 4 has a shrouded die-cast 'densified' alloy base plate.
Left, the U.S. John Deere 21 inch was a real prestige mower back in the day, it has the poor individual wheel height adjusters but on an alloy deck ,and customers traveled far see it as a possible replacement for worn out Victa. The Deere has fearsome weight as a 2-speed self-propelled Four-Stroke, but was truly high prestige in status. The John Deere was no match for older Two-Stroke alloy deck push mowers like the red Victa Vortex.
Four Stroke cold starts needed warmed up before cutting any grass or the valves loosened in their seats, the cylinder head then had to be taken off and valves tightened up again. Once a Four-Stroke was started the control was brought back to SLOW for its warm up. A catcher is fitted with the mower motor off. On the Consul down page right can just be seen the 'wet' oil filter, an ancient 'oil bath' type, on the side of the motor under the petrol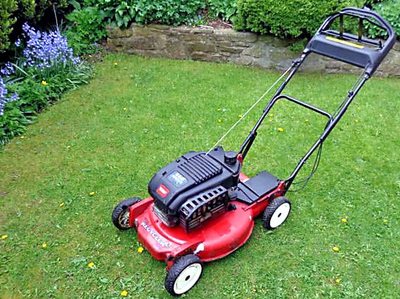 tank, all dust would stick to the sponge oil, with the sponge under the mesh washed in petrol during the oil change, after 5 hours running. Flushing Oil got the used black oil out of the engine, today Flushing Oil is so harmful to the environment that it needs special disposal treatment. Burning the oil with the petrol in a Two-Stroke gets around Four-Stroke used oil dumping problems but Two-Stroke lawn mowers were banned from sale in 2007 as unkind to the planet! Some folks reckon used Four-Stroke oil applied under the mowing deck with a brush prevents grass sticking and associated rust.
Right above an example of a U.S. Toro self-propelled owner's lawn, a bit rough looking whilst Toro have the name with Golf Course green keepers. Have a look at the standard of lawn care in eBay adverts. Long grass like that in the John Deere above, suggests the machine is either real hard to start or unpleasant to use. The kind of lawn owner who bought the Toro has a lawn full of weeds that may suggest the blades were not real sharp. Bar cutter mowers are less easy to sharpen than fitting new swing blades and all this tells in the look of lawns.
"In Australia where grass growth is prolific more Victa lawn mowers are sold than all other makes combined and in many countries throughout the World Victa is keeping grass tidy under varying conditions..."
Left though they looked real good, the small wheels made these 4-stroke real heavy to shove around and the Two-Stroke had to make life easier, no more oil changes.
WHERE VINTAGE VICTA WAS SOLD:
Australia - United Kingdom - Republic of South Africa - Central African Republic - West Africa - Japan - Philippines - Brunei - Sarawak - Sabah - Malaya - Mauritius - Jamaica - New Caledonia - New Guinea - British Solomon Islands - Norfolk Island - Lord Howe Island - New Hebrides - Fiji.
1980s Victa Vortex Starting Problems may result from throttle lever position and Carby choke valve adjustment. The rubber primer button is pushed one time only for a hot start. Moving the throttle lever down from STOP, about 20MM, switch on a mag and sparking plug. If it doesn't start good with the Electronic Ignition at the START / choke position, check the fuel tap is on,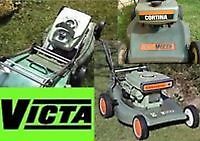 surprising Is there Two-Stroke fuel in the gas tank mixed to the ideal proportions? Remember these are Air-Cooled mowers. Clean Carby and fuel mix start easily but warm up slow. On Tinker fixed machines, throttle lever may never be advanced as far as RUN so as not to rev too high. This is when the carby choke valve has become rotated out of its ideal setting.
Back in the 1960s most Australians used mowers like this Ogden here, a push cylinder (reel/ barrel) mower that separated the movie stars from all the others. Victa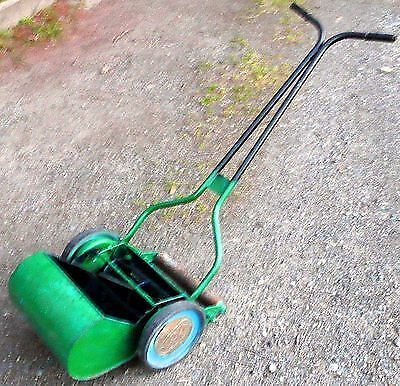 Vortex air filter was of the 'dry foam' type up on the offset push bar lever control, the foam is often replaced in services with a paper cartridge. Rubber sparking plug cap of the new black kind says the original red one had caused the mower to die out. Motor head is not facing the back of the machine as on the Tecumseh engine Corvette 4 and to prevent the VC160 problem of arcing out high ignition voltage on wet grass, shocking the operator, the spark plug was given a red rubber cap. Two-Stroke has no sump oil problems like dragging the cylinder or starving the pump, depending on whether you mow across or up and down slopes. Elderly 160cc Power-Torque motors are weaker than elderly 125cc Tecumseh.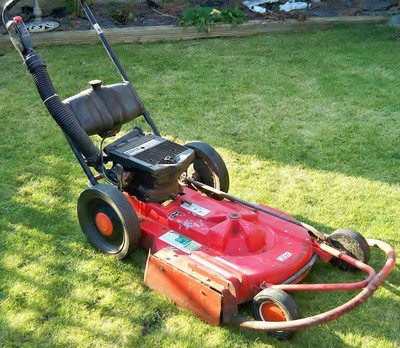 1980s Vortex Power-Torque has a unique 'A' mark poppet valve face setting, suggesting 1980s Vortex engine is a bit different from all other Power-Torque with 'C' facing the venturi. This gives the Vortex a slower engine speed. Fuel richness 'ramps' on the poppet underside correspond to these letters. Taking the carby off is real easy to ensure the poppet valve face is set right for your mower model. Left, the Victa Super Slasher 600 (similar to Hayter 21 or Gravely Professional 8 and 1536 'out front' mower) is for knee high long grass in orchards and around 'the rough' at the edge of golf courses where it's allowed to grow uncut for three years.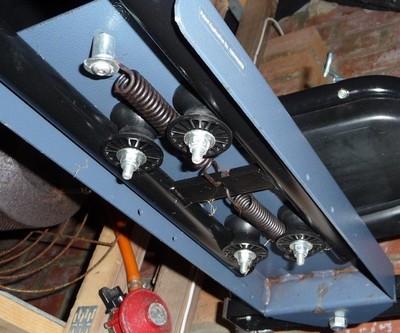 The cut grass is then divided into strips and used for turfs. Turfs are layered around golf tees to help sculpt features. Golf has a playing season and an off season because in the wet and cold months the grass is easily damaged. Frosted grass should never be walked upon as the footprints get burned into it and may be seen for weeks after. Note the wooden border of the flower bed to prevent birds throwing soil onto the lawn.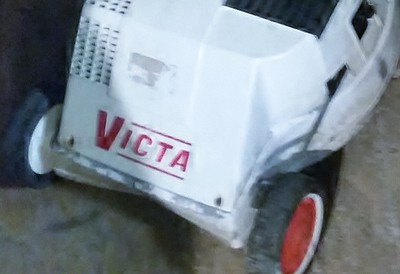 The odd shape of the 600 is from a 2:1 step down belt drive that doubles the moment of force available to cut tough long grass. Right the 'Iso-Vibe' system found on the 462 and other professional push mowers coming after the 460. A diamond shaped handlebar has a padded P.V.C. grip to reduce vibration to a minimum. Left later Victa V40 with black sparking plug cover, chassis bashed in at the front, often seen in abused Vortex style mowers.
Usual misleading 'over sold' claims about Two-Stroke Victa Power Torque engines:-
"ALL ALUMINUM cutting deck so no rust issues" (lies). Alloy decks and aluminum itself suffer from a kind of rust,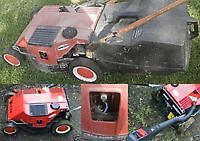 weakening in time, a few develop cracks and get welded! Under deck parts are steel and rust including the blade pan and blades, axles, structural steel parts, bolts, screws, back door and springs. How rusty are the chrome push bars? There was a fashion once when owners lovingly polished bright work with light machine oil. Most rusty push bars get painted over with satin black enamel. A fair looking chrome push bar may be affected by steel wool cleaning and Chrome Polish so in listings is no guarantee of a careful owner! Alloy deck's main advantages are longer mower life, lighter weight and lower noise.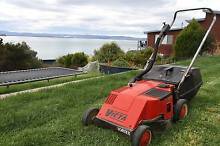 "Alloy decks for seaside and coastal locations" (stinking lies), structural parts of alloy decks are steel and rust. Steel decks were about a third the price of the alloy and much heavier to push, even with Two-Stroke motors.
Victa Panther looks half like Victa Pace above and late Victa Vortex below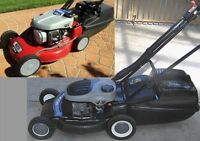 A number of names like Corvette, Mustang and Vortex are in modern Two-Stroke mower styles!
"Superb rough cutters designed for tough long grass" (not really). Victa had a cylinder/ reel type mower for moss removal, it was called a scarifier. The Victa Twin was a 2-cylinder mower made special for tough long grass, its blade pan had a wall above it, stopping tough long grass from winding up on the blade pan shaft, damaging the bottom motor seal and making starting impossible.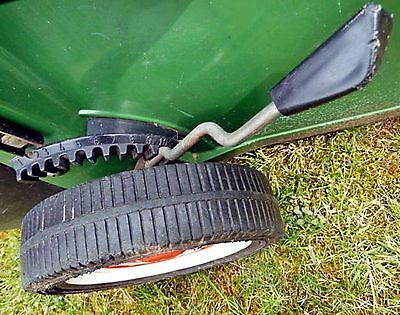 "Very rugged and very powerful" (not). Domestic Power Torque are not rugged, alloy deck height adjuster teeth are made of plastic! These real pretty wheels are the plastic shell tire with a strip of rubber in the center - it feels like rubber but is easier to push! The early Vortex have the heavy rubber tire of 1960s, Victa wheels with a plastic inner, the inner wheel is brittle plastic and breaks so these are useful eBay seller parts! The Tecumseh Four-Stroke engine above, is far more rugged and powerful, although only 125cc to the Two Stroke Power Torque 160cc motor!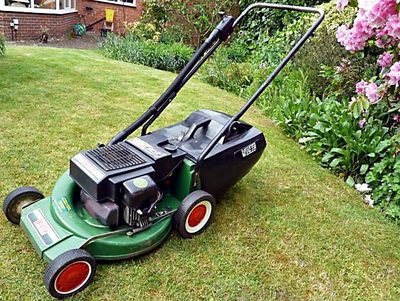 "Great for professional use or just a very large garden" (not), Victa professional had long range fuel tanks located up on the push bars, built to run professionally with much stronger alloy decks. Domestic Victa mowers don't have big fuel tanks, just enough for a 'cutting day' in the average Oz suburban yard.
Victa Carby Mouse problem, Mice eat rubber fuel primer button so protect it in over winter storage!
Left, 18 inch/ 46cm Victa Corvette 2, alloy deck. Two-Stroke, 160cc. Blades are 3 seasons old. There's a load of moss in this lawn, probably not fed and forked by the look of it, possibly cut at too low a height all season. Likely cut every weekend come what may, not taking

real care. Note the push bar is not of the best Victa 'Offset Handle' grip so the operator may be of short stature. - Stunning looking Victa from this angle.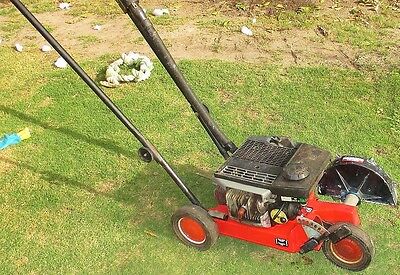 Dealers and deliver-to-your-home eBay sellers may appear to get tired machines to start by lubricating the cylinder walls, but real soon you'll have more than starting problems! If the machine gives a puff of white smoke upon starting ask the seller to try starting it again after a few minutes running. Next time you try to start it remember there's no lubricant in there. A puff of white smoke is often overlooked. Left the Tilt & Cut Victa Edge Cutter seen on a golf course beside some sand being used for improve drainage in clay soil. The edge cutter is used for cutting turf strips as well lawn edges. Sand doesn't offer a remarkable drainage improvement and is used with tractor hauled implements on Football fields, such as the sand slitter.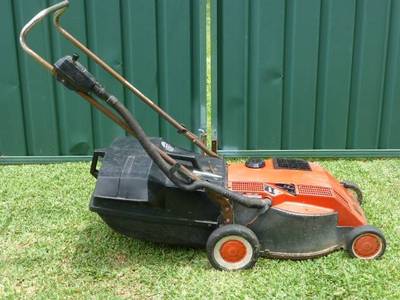 Rust bucket ready for the junkyard? Vortex seem to cut well in piston scored condition, good build quality. Electronic Ignition G.T.S. module in Victa Power-Torque see Commando and Vortex beat often preferred classic Mustang's old aged mechanical 'points' ignition needing annual services; 1980s Power Torque motors are disliked by repair shops as expensive rebuilds, secondhand piston scored Power Torque - claimed as 'Beyond economic repair' are sold on to unknowing customers, the dealer steals them to sell as used, so old Victa Two-Stroke are best kept as do-it-yourself mowers, if it doesn't start, maybe just a crankcase rubber 'O' ring needs replaced, top one's easy, main one is difficult if blade pan and swing-blades are rusted in place! Tinker repaired machines seen cutting good are probably worth buying.
Victa Valiant Power Torque motor shows silver and black exhaust mufflers.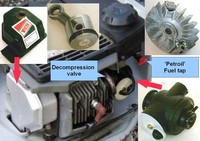 Plastic carby needle valve is one of the smallest parts on the Power Torque machine, later issues (1999 year) are yellow to make the part more easy to recognize, since the original (1984) black one could so easily be mistaken for a piece of trash. The needle valve could be overlooked unless it was known to be on the fuel

bowl primer cap, the float grabs attention, the needle valve waits for the best moment to make its escape! Like easily misplaced wheel circlips, losing small parts in a rebuild seriously ruins your life, ordering them from anywhere always hassle. Try putting all removed parts in a cardboard box kept for the purpose.
Plastic G4 Carby poppet valve differs on the Vortex with a shorter stem and two gaps opposite each other in the closed ring around the underside of the Commando poppet, both are white nylon. A, B, C letters on the valve face refer to air flow over the venturi, C has most air passing and A least - most fuel rich. VC, Mustang poppet is black with no ring or adjuster ramps on the underside. Full throttle moves poppet back into its seat. >>>Right Victa Two-Stroke engine steel deck Tiger with chrome wheel and push bar detail.
<<<Left Briggs engine steel deck rusting and rough lawn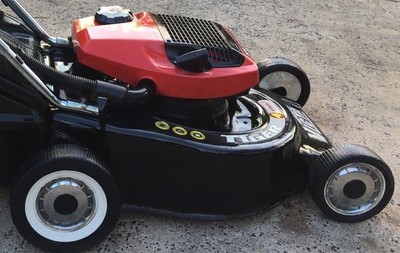 dying, sums up the more affordable Victa mowers, their bar cutters and lack of the prestige model swing blade system. Even though Victa has given this so-called, 'Lawnkeeper' model a real hopeful name, 4-STROKE steel decks are real torture to slug around the yard and the way an owner feels about his machine begins to show. An alloy deck swing blade mower was three times the price, an alloy deck is recommended.
G4 Diaphragm is thicker in the Commando G4 carby, different tension in Commando and Vortex springs, care in mixing spare parts, Vortex shorter stem alone attributed to over-revving mounted in Commando Carby body, different spring tensions are noted and must also contribute, Vortex diaphragm is lightweight plastic compared to heavier Commando diaphragm,

both black. Mustang G4 diaphragm, grey. Diaphragm operated by governor vacuum is affected by hose clogging, wash hose out in petrol.
SELLERS SHOULD LIST THE MOWER MODEL ORIGIN OF PLASTIC CARBY SPARES!
Plastic G4 carby finish is shiny and smooth on the Vortex, feels strong, Commando G4 carby feels brittle, the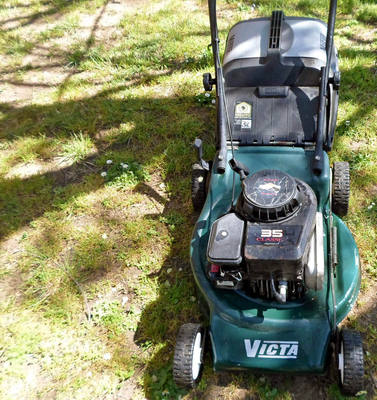 body walls thinner and the exterior finish matte. Fuel bowl primer caps vary in shade, white to cream. Vortex carby has a brass washer under the throttle plate which slightly affects position, its diaphragm lifter is black in color not gray and the tolerance of these different color components cannot be assumed. Vortex carby body differs from the Commando inside at the fuel bowl baffle, lacks the grey venturi cap, while working parts are interchangeable, similar overall throttle control cannot be assumed, the gray venturi cap narrows the port! Tinker repaired machines may work best at odd throttle positions as a result.
Right another shocking lawn from a Briggs 4-STROKE Victa owner. After all the oil changes, flushing oil and mowing, these folks just don't like grass and it shows!
Throttle plate cable wire is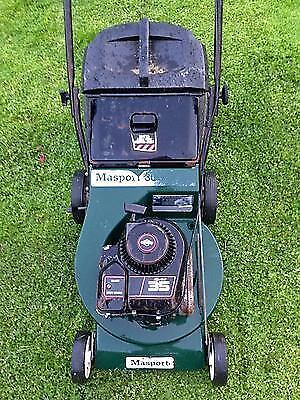 best fitted with the carby in its position on the manifold and the rubber air hose correctly positioned on the mower deck with the throttle cable on the offset bar. Air hose pinch grip lugs should be opposite the kill wires nozzle or topmost about 4MM back from the hose edge. Air hose is wiped on the inside with petrol jelly. If the throttle plate wire is the wrong tension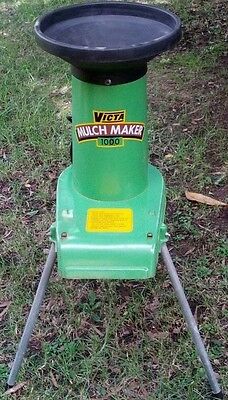 it can pop out with the carby built up! Be real careful at each stage, work with the mower up on a workbench and take no shortcuts. >>>Right Victa Mulch Maker 1000.
Left Briggs engine 4-STROKE Masport alloy deck, real easy to push and great lawn. Masport gets a load more views on eBay Australia but recent Chinese origin machines are disappointing. Take care to compare engine cc cubic capacity as such mowers allow lighter weight in pushing with a loss of mowing power. The Webb Rotary is one such popular mower, compact but a compromise.
Red rubber sparking plug cover, inside of these really is ... a factory origin ... nail through the ignition wire! Many klutzes find the red rubber cover has perished and starting is difficult, only after a few pulls the Power-Torque motor starts to feel hard work when it's not going to start, a decompression valve on most machines keeps us optimistic in trying too hard.

Masport mower with bush trim mulch utility and real nice lawn.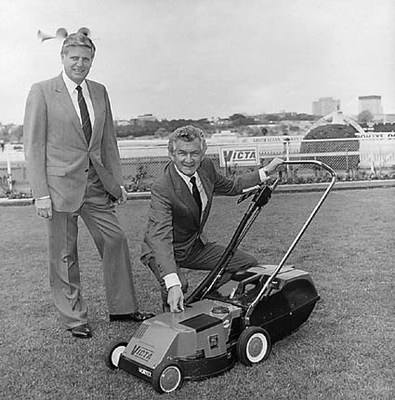 Left Bob Hawke then Australian Prime Minister in 1983 at Randwick Racecourse launches the Victa Vortex as designed by Graeme McDonald at Design Field. A decompression valve makes the engine less effort for a Prime Minister to start but when plebs can't get old Victa machines to start after even 40 pulls, they start looking for reasons, pull off that red rubber spark plug cover and find a nail isn't contacting with the sparking plug terminal. They suspect this is an aftermarket modification, a nail hammered through the ignition wire but to be sure but it's quirky Australian ingenuity and if we turn the rubber plug cover it will contact, but seems to only for a few minutes, just long enough so that with the 41st pull and the 42nd and the 43rd and the 44th, yes and the 45th and 46th and 47th we learn that such Australian inventions can seem stupid. When the red rubber cover is perished it doesn't work like new or insulate real well so it's not recommended to try moving one when the motor is running. Machines affected soon have the newer small black rubber cover which has a nail too but works a trick.
Mervyn Victor Richardson's No.1 Oz mower seller but how about the footwear, head wear etc?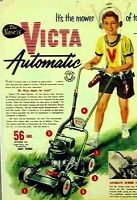 "Seller refurbished, Victa 2-stroke lawn mower like new" - How new is it? Check the tire tread, if there's a load of wear on there and it's almost bald, it's covered a load of miles. Most folks don't bother buying new wheels when they're getting rid of a worthless mower. Look for details, badges, trims, things twisted out of shape, how hard has it been hashed? A quick spray coat of paint easily hides the evidence, fiber glass matting reconstructed crumbling alloy or rust holed steel deck! How many kangaroo land klutzes operate these old machines with sandals on? Bad idea, use steel toe cap work boots every time!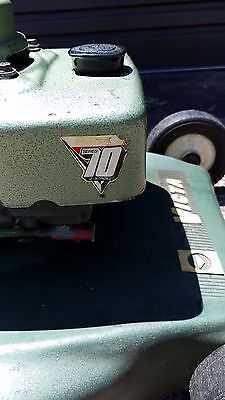 Exhaust/muffler is a hard to place by Seller's imagination alone, the original branded item shown above is black painted steel and has the silencer mesh wrapped only around the inside edge of the muffler. The silver muffler on the Victa Valiant was seller painted. Mostly these mufflers look a rusty brown color in service, the professional machines with protective cage. On eBay, the after market, GA Part No. MUF762 mufflers have gauze visible through the exhaust port, unlike the original item, it's a inferior build with the out pipe bent flat . Original items have Victa stamped center on the front of the muffler. The mufflers are strongly located with steel clips at the top and base, ingenious 'old school' Victa engineering, the long bottom clip goes near the lower corner of the muffler, just beside the exhaust outlet which passes to the underside of the deck, the exhaust mixed with cut grass. The Commando machines have space at the front for over-size mufflers used around Hotels, Hospitals etc. These giant Victa Power-Torque mufflers are not usually seen on eBay. Left the Victa hammered green two tone paint of the 1960s wind-up Victa machines had a fine finish unlike Hammerite. Note the white inner wheel that was real nice on grass. EMI speakers had a similar light green finish.
Vortex series Flywheel seen above, have two boxy bits for flywheel magnets and governor.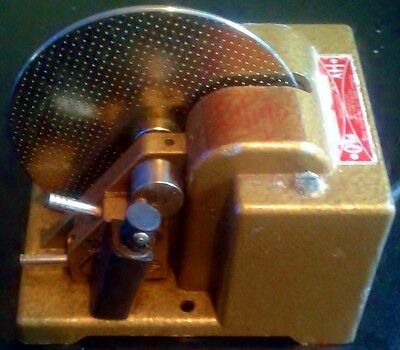 Carby kill wires, (pronounced 'keel woyehs' in the Ozzie dialect, nothing to do with yachts) give some folks a load of hassle, "the lazy way's always the hard way". Left Medcalf Bros Hy-Flo aquarium silent air pumps had the Victa hammered paint finish, nice back in the day, though a later product called Hammerite had a similar finish. Usually the same kind of owners finding a nail in the ignition wire a little bit below icon brand expectations, start looking for clever ways around the carby kill wires. They're just a switch you can adjust instead of a problematic manufactured switch part, they're something to tinker with. With mag voltage, conventional switches could easily weld their poles closed on contact! First remove all the hoses and the throttle cable taking care not to break any nozzles, particularly the decompression valve nozzle, the 'kill wires' are then real easy, the throttle plate in the carby rotates the brown mag wire long pole against the black ground wire short pole, the mag pole is actually allowed to rotate via the mag pole's rubber grommet which fits into the body of the carby, a long or short grommet depending on the mower model. With the carby in position on the mower manifold, remove the carby governor cap, checking the position of the brown wire pole below the diaphragm. The kill wires plastic cover has its flat edge facing the governor cap.



Decompression valve hose, Ozzie Tinkers reckon the D plastic hose has to be cut off the D valve nipple and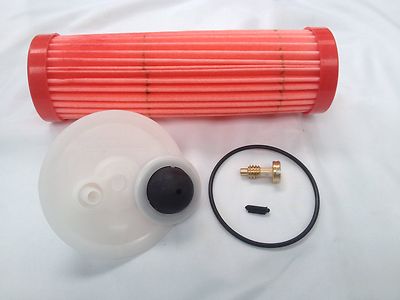 it's one way but shortens the hose! Instead boiling water should be carefully poured on the hose part over the nipple, tissue dried, then in a pair of pliers, the hose coaxed off the nipple - it slides off real easy then! Don't pull at the hose, when squeezed in the jaws of the pliers up close to the nipple it backs out itself.
Fuel bowl primer cap O ring, most folks from the 1980s will recall the NASA Space Shuttle meltdown eventually explained as an O-ring issue in the fuel ballast tanks. The O-ring in the Power Torque G4 plastic carby introduced in 1974 is equally serious in replacement dangers ... could burn up the whole mower with a carby 'petroil' fuel leak.
Con rod roller bearings rust if not maintained real well through storage, take care to look in listings as to why the price starts real low as it means there's usually an extra bit of work to do.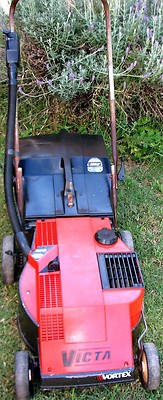 Victa Mustang with 1965 year Corvette 4's shining chrome Offset Handle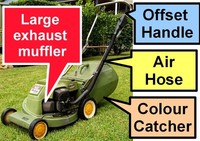 Victa Mustang, Silver Streak and VC are mid 1970s Two-Stroke plastic carby Power-Torque with large exhaust mufflers, when working as new about the quietest Power-Torque motor mowers. They're an older Power-Torque motor though with a round cylinder head, not the square Vortex air flow design. Throttle control comes out of the left hand side for left handed operators but it's the way they seem to glide over the surface that has owners so fond of the mid-1970s Mustang above, a screw wheel release folding push-bar, blade pan and deck both alloy, their old mechanical ignition flywheel points can make them real troublesome starters, check in exhaust port for piston scoring. Early 1970s VC model has a different motor.
DuraTech, Honda 4-STROKE engine mower with Offset handle, alloy deck, swing blade cutting system. 5.5hp claims it can cut grass just as rough as it's sitting on but why didn't it? Dry weight is 32 kilograms and that could be real heavy, blade pan looks like steel, looks small too.

Honda seen still running with a Dead Man's Handle and average Joe's lawn.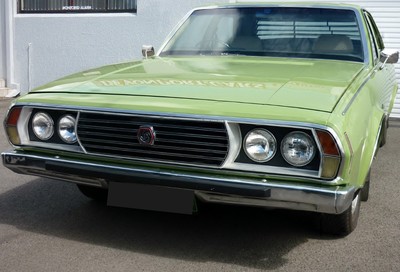 Offset Handle enables operator to change arm height readily, considerably reducing arm muscle fatigue and giving much greater control of the mower when cutting around contours of gardens. The offset handle was improved on the 2004 year Victa Razor by the optional and unique, ergonomic 'Aerogrip' handlebar design for superior maneuverability (manoeuvrability UK spelling). Vintage Victa 18 or Consul 4 buyers note the older push bar's less relaxing features help you dislike mowing! Left a Victa mower green color Leyland P76.
Air hose and filter is up from the lawn to avoid dust that may cause engine wear or the control throttle filter to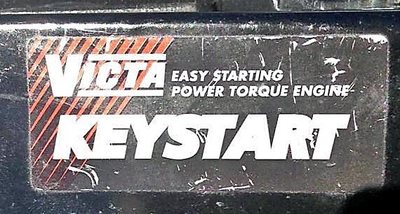 block early. Since sand is used on lawns to improve drainage, it's a good idea.
Color coded catchers, a feature of 1960s Victa mowers, lost after affordable prices were everything!
Zip pull start elastic bands often found falling off old machines were protecting the fragile metal part from the return impact of the cord handle, about 3 thick elastic bands should be refitted as a buffer!
Key start on the real popular Victa Commando model with moped battery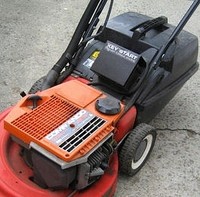 Key start, appeared on the Commando in the early days, today Dealers insist key start only comes with self-propelled mowers, just by turning the key located below the throttle control, elderly operators could start the mower without shoulder strain but key start involves a lot of hidden indoor recharging unsuitable for many. The moped battery recharged overnight, poor starting caused by metal points of older machines reacting with dampness in the air, becoming poor conductors of electricity. Servicing the points was part of the annual service list, poor starting developing in machines not taken to the repair shop for a start of cutting season check over. Victa electronic ignition introduced on the Commando did away with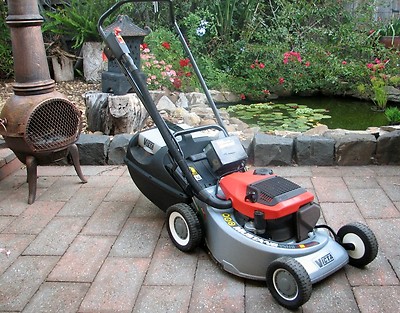 unreliable points, starting with ease if the carby is okay, Victa Mustang is the older plastic G4 carby machine still troubled by points services today but is the easiest Victa to push! Victa Craftsman looks like the Commando. Right below, later Victa Commando Keystart beside some other nice garden center pieces.

Electronic ignition, Commando, Vortex etc have Victa's Integrated Circuit ignition system advertised widely in Australia as the world's first and best mower ignition, it gets rid of the old points and capacitor of the Mustang and earlier mowers, an early gold color case module was unreliable and gets replaced by the silver color. The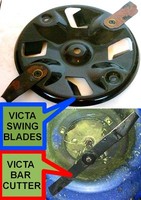 system seems to have a mind of its own, often seeming to work after a pause, giving a real powerful start. When not starting, check the kill wires.
Steel deck Victa often have only the bar cutter, alloy decks with Victa Swing blades!
Two Blade or Four Blade? - affordable Victa Two-Stroke two blade, Dealers claimed just as good, flatly denied only half as good! Is this mower safe to use?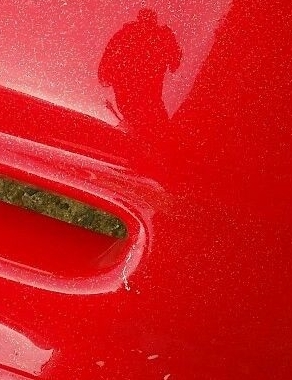 Blade/ pan condition? Anybody who studied propellers and original Victa owners know the blade pan must be balanced, the blades must all weigh about the same or it's real dangerous! Rusted swing blades? Blades opposite sides a different shape? Bar cutters must be balanced or they could break your motor, as they will if they hit any tree roots, hence swing blades!
Left, Ford XR3 Sunburst Red bumper, the color of a red plastic Victa Vortex cowling's underside, protected from sun-fading, a real orange red suited to the lawn mower's orange wheel hub covers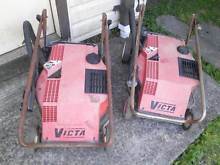 and meant to set off the black trims of an XR3 car. The Vortex logo at the front is quite difficult to repaint but using cotton buds to trim the newly painted flat black, it makes the lettering smaller than the original raised area seen right. Ford Sunburst Red is a European color, applied over red plastic primer, amazingly deep and bright in the sun. All red cars today still end up looking pink, like the Vortex right so there's no advantage in buying a more modern red color. The pink finish of red cars kept outside explains the pink Vortex cowling being used as a shelter from all weathers, in machines kept out of doors. These machines usually suffer from blades rusted into the cutting disc so that on eBay, mowers ought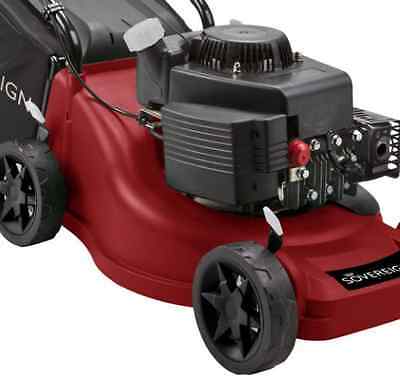 to show the underside of the mower. The original vortex logo has flat black covering the whole of logo including the lines. Repainted cowling may have no logo painted or just the lettering, with less of the lines. Repainting the cowling is expensive, labor intensive and time consuming, the main reason owners do it is for pleasure during mowing and perhaps prestige, a glossy plastic finish is pleasing to onlookers. Left plastic body lawn mowers are light and much easier to push than their steel deck equivalents. The Sovereign shown has a 40 cm cutting width, meaning two inches less than the Victa Vortex. In pushing, plastic petrol mowers feel slightly wobbly. Individual wheel adjusters have the deck at a single height rather than being adjusted when the motor is running with the single lever for longer and lower parts of the lawn. The Sovereign single lever height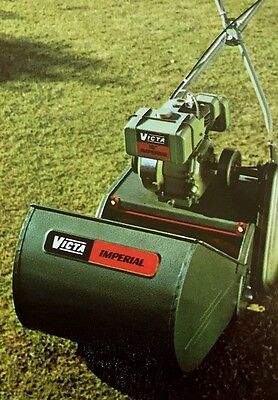 adjuster version costs an extra £50, it's only needed with lawns with longer and shorter grass areas. Compared to the Victa Vortex, the plastic body Sovereign looks and feels low cost but is roughly the same size, a foam air filter is on the engine where there's more dust, not up on the push bar. Although Four-Stroke steel decks have the spring and single height adjuster, they're far, far heavier to push around than a Two-Stroke Victa. Heavier still is the Victa reel mower known as the Imperial and named after a car made by Chrysler corporation for America's rich set. The Victa reel mower was made for lower social class bowling and cricket areas needing a stripey lawn that's created with a mower roller, a feature the rotary Victa lacked. The attempt of Victa to make such a mower is surprising since it's a whole different elite-thinking and probably snobbish market with strong loyalty to a few traditional pommy brands. The 'Imperial' is apparently simpler, lacking a slip clutch and this loses it friends with folks favoring more expensive designs. Reaction to the Imperial is just what we'd expect from comparing products of some elite traditional boarding school to those from a city council estate. In either it's just a case of making do with what we have. In England there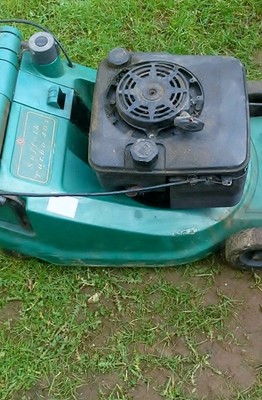 are rotary mowers with a roller at the rear instead of rear wheels and like the Imperial are nearly twice the price new, of equivalent rotary mower models. In the picture shown a secondhand Qualcast is spotted on a rough lawn but roller mowers are for fine grass stripey lawns. Grass comes in different seed species mixes. The rotary mower is for rough to medium maintenance lawns while the reel mower is for high maintenance decorative lawns. The roller rotary is meant for small area, high maintenance decorative fine lawns. High maintenance is often done with other machinery, scarifiers remove moss after it has been killed. The patchy grass is then reseeded, so that in March before the start of the cutting season, the lawn is covered in carpets of fleece, stopping birds from eating the newly seeded grass. This grass is allowed to grow very long under the fleece and may still be growing late into the month of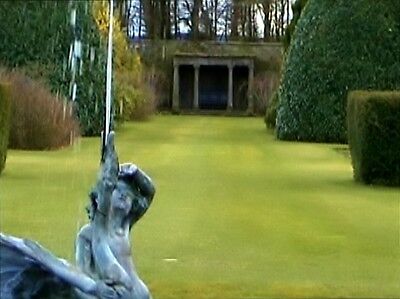 May while other parts of the lawn are being cut weekly. Some lawn owners dislike fleece on the lawns and so gardeners may not reseed. Such decorative lawns as shown are often full of moss and weeds but look remarkably level. The secret to such lawns is their time exposed to the sun, away from trees or shadows cast by nearby buildings and their use of very heavy, professional self-propelled reel roller mowers, some having a riding seat. How would the lower social class lawn keeper begin to create a classic garden lawn of the elite? Well the answer of course is that they couldn't. The large scale garden has an atmosphere created by its expensive lawn architecture and professional gardening teams. In such places the grass almost seems to behave out of respect for the owners in residence. Small lawn keepers may well marvel at such formal lawns of the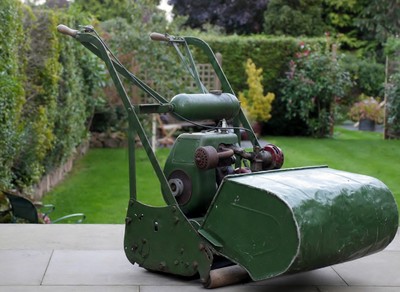 aristocracy as the cherub appears to be 'looking up to' what has come from the swan's bill. Best known pommy brand of the 1950s style reel mowers is Villiers, here shown in a mature formal garden, with the roller and milder stripey effect it has made since not newly cut. The Villiers owner is no less in love with his machine than the 'Victa time' owner top of page but is a different kind of owner and one that loves holding these handles with what look like brake calipers on each side. A vintage motorcyclist takes pleasure in country roads where a lawn keeper really likes the lawn, the birds and surrounding garden. So the lawn keeper here would be sitting in that chair to the left of picture and looking across the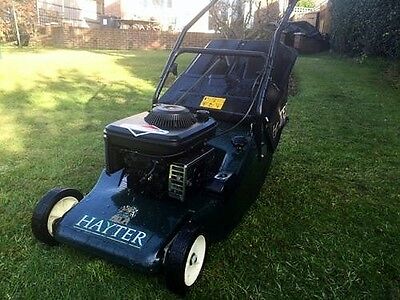 rather large space, with the steps behind to his right. The Hayter Harrier 48 petrol self-drive is seen in its large urban garden. At the front there's the 'By Appointment to H.M. Queen Elizabeth II' motif on the cast alloy deck. These large rear garden spaces are used mainly for garden parties, the Queen also throwing such a party annually. This is a good example of the lawn belonging to these rotary mowers with the heavy steel rear roller, there's no visible stripey effect perhaps due to 'the line of sight' being elsewhere, the lawn is however quite lush. This Hayter has a single 'bar cutter' type blade.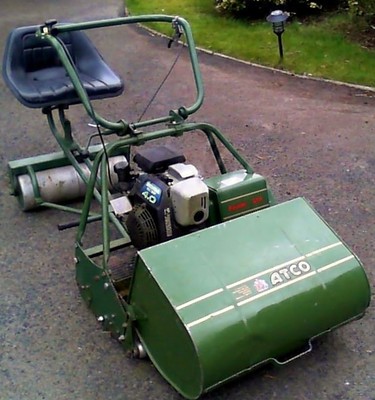 Honda engine ride-on Atco are based on traditional riding mowers still available for larger gardens. A large lawn roller located under the now molded plastic chair, the mower seen here sitting on a large driveway belonging to the property. In years past such machines were pulled by a single horse and steered from behind by a walking gardener. After the year 1900 small steam engines were used before the early internal combustion motor. Atco bears the Royal decal on the grass box. Professional gardeners asked for their opinion of Victa retort in disgust that they're "rubbish!" Some folks aren't so sure Victa are, contempt for both rotary mowers and Victa Imperial reel mowers may stem from the 'Little Englander' outlook. When lawn area to be covered by a self-propelled mower is bigger than the Hayter Harrier 48 lawn seen above, a seated position is welcome, these mowers very slow going compared to Two-Stroke alloy decks but when the grass surface is wet, particularly near banking, a fall by a speeding operator may bring his hand into contact with the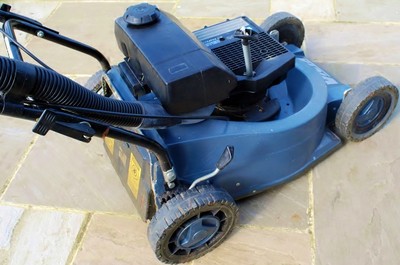 cutting blades, a 'dead man's handle' aims to avoid such accidents. Banks may cause problems with Four-Strokes due to oil level in the sump and Two-Strokes may stall at times, the Flymo hover mower claimed best for steep sloping banks. The semi-professional 20 inch Master Catch 510 right and professional Master Catch 460 (£175, 10 bids) below, from the year 2005 are interesting but rare machines. Note the Vortex height adjuster style lever and the raised zip start handle to waste no time. The air tube is larger diameter but feeds the same 160cc Two-Stroke motor found in the domestic machines. The fuel tank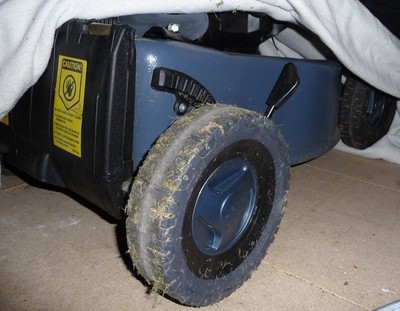 is larger and the cables seen are for the dead man's handle, the throttle shares the air tube. The catcher is a cloth bag of the John Deere type. These grey machines had a certain appeal so that folks bought them in the hope one day, they'd have a lawn to cut, ending up in the attic waiting for a move to a retirement place with a lawn, the 'bargain too good to miss' professional Master Catch 460, left covered by a blanket, has a plastic height adjuster and plastic rear flap to the metal Vortex style rear flap on the 510 above. The 460 Master Catch has a steel deck brother known as the Master Cut, both with a push bar system known as the 'Iso-Vibe', a number of rubber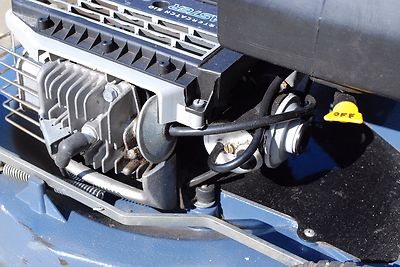 grommets and springs acting to damp out vibration that in long haul mowing may lead to 'white finger' claims against an employer. However vibration in domestic machines like the Vortex with the same Victa 160cc 2-STROKE motor isn't excessive, cutting is completed in only a few minutes, not the case with a 1965 Corvette 4, their push bars are quite likely to give temporary white finger after a few minutes use. Why would a 4-STROKE vibrate more? There's valve gear in a 4-STROKE and the firing stroke torque has to keep the engine turning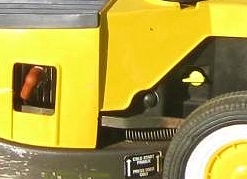 for an extra two strokes, so push bar vibration will be more. There's a great many professional Victa machines and not all can be mentioned, they're increasingly found in web searches but weren't when this guide was first offered. The Vortex left is seen with a plastic panel over the fuel tap right, not all still have them on eBay, its purpose was to draw more air over the cylinder's air-cooling fins, exiting the black panel above. If missing, it isn't greatly needed as the 510 semi-professional has no such panel. The Vortex plastic cover has a metal heat shield and engineers doubtless hoped to maximize the cooling effect. Note the superior black rubber clamping sparking plug cover instead of the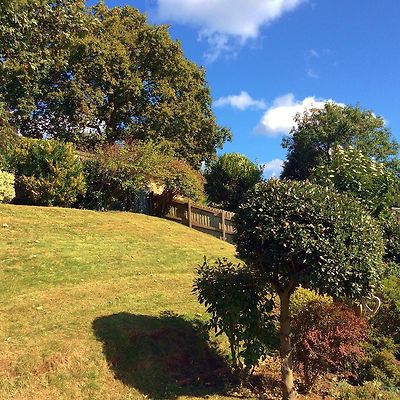 troublesome Vortex wire nail clip over red one. The height-adjuster spring is located nearer the back wheel of the Vortex. Right an example of a lawn bank ideally cut by the lightweight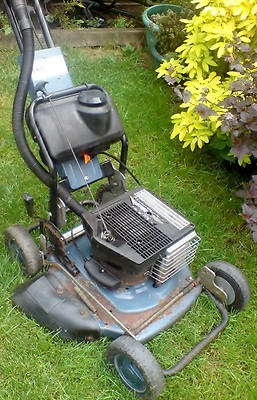 2-stroke Tecumseh engine Flymo, the Briggs 4-Stroke version has push bar wheels as too heavy to carry. The bank here hasn't been well kept by a Master Cut 460, left the later 462XV steel deck with Iso-Vibe push bar. Folks say they like its toughness but it's a heavy steel deck, push mower and so not self-propelled. What's wrong here? -The grass is being cut when it's too long. In the summer season shown, the grass needs cut frequently at a low height, it's being cut too high and there's a lot of dead grass. Many owners of this kind of property just want grass short, they don't need it to look green and pleasant afterwards. Unfortunately the best lawns need a great deal of work. A lawn like this probably isn't seen by anyone but the owner of the house. So below is the culprit 460 from 2008, missing its professional capacity fuel tank, note the yellow fuel line to nowhere and how the plastic in the rear wheel has already degraded, the tire actually holed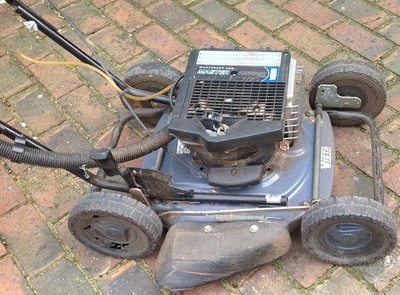 ! Note the rugged steel height adjuster plate and length of the push bar rods over the deck. Note the side eject cover, highly dangerous when often missing. These features prove Victa mowers aren't all alike. Since the year 2000, plastic has by law had to be degradable and this has affected many Victa self-propelled machines. Secondhand on eBay, self-propelled Victa aren't new, and subject to failure of the self-drive system due to crumbling plastic cog wheels. On the bank above, people want self-propelled machines to pull them across, (never up and down) but we must be real careful an eBay Victa self-drive mower still pulls its weight. Victa self-propelled are virtually useless over 8 years old, unless the eBay seller can reassure a buyer of the self-propelled mechanism using a video link, for example on You Tube and having had a technician look at it or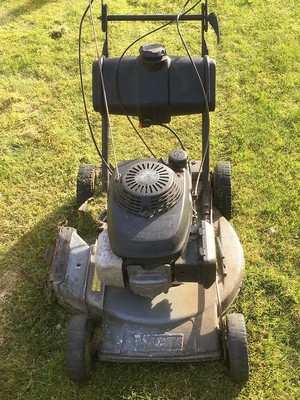 renew the drive cogs, with paper receipts copied in the listing. The 550 PRO self-propelled right is able to carry its very heavy Honda 4-stroke engine, lawn results shown here are fairly good, but these machines are feared for self-drive mechanism failure. The 550 self-propelled also comes with the Two-Stroke Victa motor, red or grey finish and the self-drive problem. For half the eBay price of a self-propelled Victa motor 550, comes the 550 push mower with seller claimed 'mulch' description but the pushing weight may be a shock. On the underside two, unremarkable 'one time swing blades', may be completely rusted into the plain steel cutting disc. Note the 550 are wider machines than the Vortex and may pose a problem if your shed door is too narrow. Victa MSD 552XE are self-propelled 21 inch Two-Stroke mowers between £100-200 on eBay. Sellers describe them as having been expensive new, but so was a car and they wear out. The 552XE may develop a turning problem on one side that doesn't affect its going forwards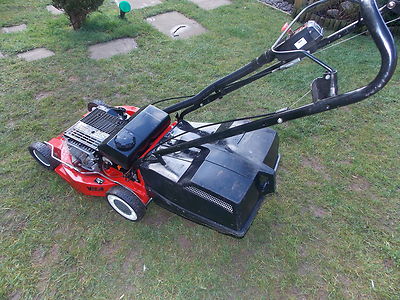 or backwards. Failing self-propelled machines are not as good as new mowers at a similar price, unless described as serviced with clear photo evidence for believing them to have been refurbished. The Victa professional 505 left is self-propelled, a beautiful looking machine in red finish and varies in price on eBay between £0.99 - 350, based on condition, ninety nine pence is a worn out motor. Care must be taken to look at the state of the lawn in eBay listings. While machines may be free of push bar vibration or capable of delighting owners in any number of ways, ultimately they're going to be judged on the quality of lawn they're able to create.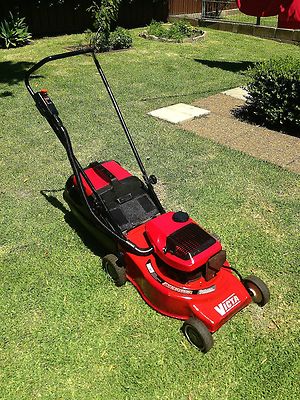 Left is seen a 505 lawn, rough and denuded of grass. Note the concrete flag stones intended for walking on, rough lawns that get a lot of footwork need as much maintenance. Grass in this state probably has a lot of issues besides rusty blades. Probably bought secondhand, the original owner afraid of self-propelled mechanism failure, it's briefly used afterwards on a utility lawn before becoming troublesome and offered on eBay. Right although this steel deck Victa Charger has rusty blades and is real heavy, it hasn't a big area to cut and its New South Wales based Australian lawn speaks for itself. Compare the red Charger's lawn to the alloy deck self-propelled 505 above left. A bad lawn keeper has picked up an ageing 505 at a bargain price and used it for his rough lawn. Next onto the grey finish 4-Stroke Victa PRO 560 self-propelled with Honda GSV190 engine, another interesting alloy deck on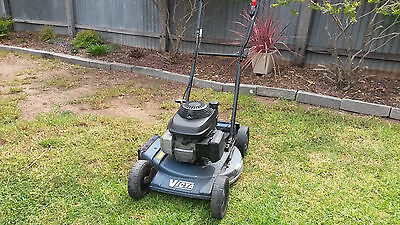 eBay, posing with a poor lawn as if the seller hasn't the first clue about keeping one. Listing probably says 'seller refurbished', but 'working order' isn't good enough for a self-propelled Victa, the plastic working cogs are going to get brittle in time and they're going to break. Left note the red plant in the pot placed on top of a flower bed, the dead sticks of a badly pruned leggy bush and the poor edge stones. If a PRO 560 is offered on eBay for $500AUS, 'seller refurbished', we're looking for receipts to prove its self-propulsion mechanism has been stripped and rebuilt, a lot of book reading effort not shown in this garden, although the flower bed is weed free. If the listing doesn't boast that the self-propulsion has been serviced then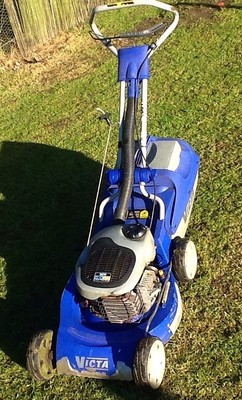 it probably hasn't been and the seller is blissfully unaware of what $500 is supposed to buy. It has to include a fuel tank and as this 560 hasn't got one, it's not fit for purpose and the listing doesn't point that out. 560 have a push bar mounted long range fuel tank. Credit a seller that his mower has indeed been 'seller refurbished' but has no fuel tank, and more likely it isn't even going to start, maybe he'll say when you arrive that he's been told by someone else it's fully refurbished. So where has the fuel tank gone and why has it been removed from a fully refurbished mower? Well this Honda 4-Stroke isn't fully refurbished, the seller is hoping to get away with that claim on the basis of a buyer hoping it's an old photo. A hard to stop fuel leak would explain the missing tank. Next up is the once super prestige Victa VSX-160 from 2007 when old Victa was bought over by somebody else and made into something thought at the time, more attractive to new buyers. Today all we need to do is look at its lawn to see what's what. Looked nice in a catalog but nine years later with paint peeling off the deck at the front and its lawn looking like a chicken run, no more need be said. To return to the Victa Vortex, why buy one? They make a good job of the lawn as designed back in 1983 when a Victa name meant something to buyers. The Vortex plastic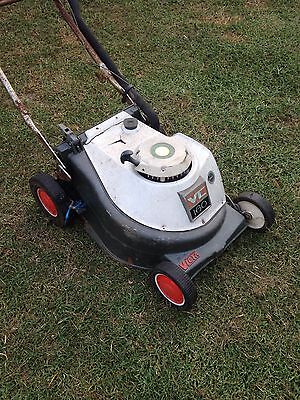 cover dates to the VC160 and eBay listings show even its 1970s plastic is now degrading badly. The line at the rear left is a crack in the plastic cover. The machine is looking nice for its years, the lawn looking okay, one or two brown bits in the grass suggest blades are blunt or rusted. The VC160 was ugly, like something pulled out of the deep ocean. eBay traders aren't helping restorers, wanting the full mower listing price for just a plastic top, what's needed is for any good tops to be listed separately on eBay. Restorers need folks willing to strip mowers otherwise out of order and sell parts at reasonable prices. The VC 160 left has its own rubber back tires but new 'shell tires' at the front. The VC 125 has the Tecumseh 4-stroke, early VC has the old Tecumseh Two-Stroke. Any 4-Stroke also has a fearsome quantity of push-bar vibration, you're going to be moving your hands around constantly to be rid of the pain. Recent Chinese made Masport machines suffer only the usual 4-Stroke vibration but owners coming from 2-Stroke Victa are horrified. It's probably better to buy a Victa 2-Stroke alloy deck than learn through the school of hard knocks. Sellers reckon as summer comes, buyers feel the need of machines they would have avoided in spring when waiting for a better buy, so these machines aren't available for spares, all the more needed on eBay.