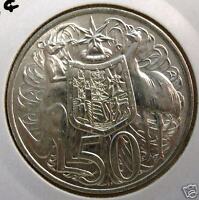 The 1966 Round Fifty Cent coin is known to most Australians as the "Round Silver Fifty". That's a great name for an excellent coin!!
Produced back in 1966, nearly thirty-six-and-a-half-million (36.45m) of these wee beauties rolled out of the Royal Australian Mint. They were withdrawn from ciculation the next year when the silver value came to exceed the face value! Made from 80% silver and 20% copper, three of them make one full ounce of silver!
So they're not rare. Nevertheless, they are precious! With silver at around A$17/oz. at the time of writing, each 1966 50c piece is a useful $6 or so in bullion value! So when you shop on Ebay for silver bullion, these coins are ideal! For bullion purposes, don't worry too much about the condition of them. A good soak in coca-cola(tm) will shine them up! (Note: Never do this for collectable coins - only bullion - collectable coins become less desirable and less valuable when cleaned.)
In higher grades such as Uncirculated, Choice Uncirculated or Specimen, the 1966 round fifty cent coin can fetch up to triple the bullion value, or whatever the market will pay. I've seen some great bargains go through here at Ebay. Good Luck!