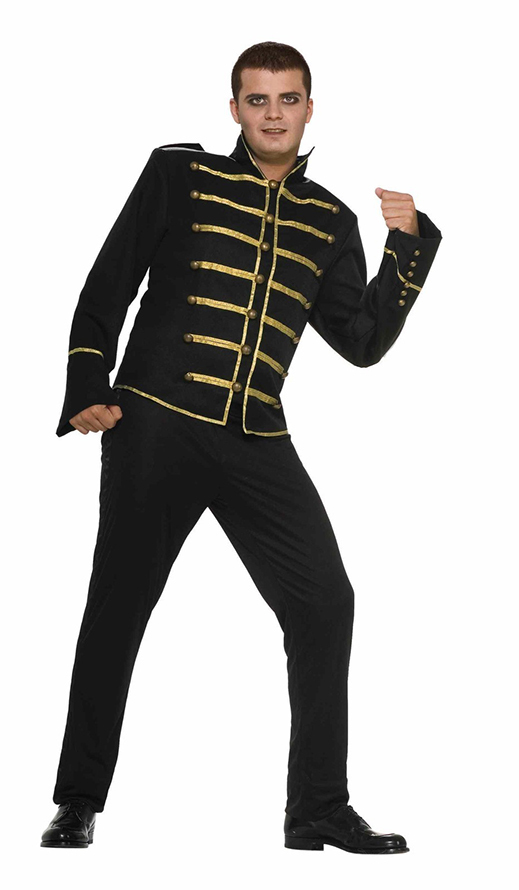 Costume parties are exciting, enjoyable occasions for all involved. When the costume theme involves a particular time period, the party can be even more fun, with plenty of opportunities for memories, laughs, and photos. Party planners should consider a 1980s inspired costume party, since much of the clothing and many of the products from the era are still familiar and easily accessible. Party goers may be able to find parts of their costumes in their attic or in a relative's storage closet. Some local brick and mortar costume shops and thrift stores may also sell 1980s costumes and accessories. For other necessary items, or for an entire 1980s costume, buyers can shop online via eBay.
Costumes Inspired by 1980s Music
The music of a particular era usually reflects something of the soul of the period and the desires and conflicts of the people who lived through those years. To pay homage to 1980s music, buyers could choose to dress up as an iconic musician or singer whose career started or peaked during that decade. For example, a Michael Jackson costume is sure to be a hit at any 1980s party. A Madonna costume is another fun, sexy choice.
Costumes Inspired by 1980s Products
Some 1980s costumes can feature particular objects or products that were invented or became popular during that time. A Gummy Bear costume or Rubix Cube costume should draw plenty of positive attention at the event. As an alternative, party attendees could wear a simply coverall or an old shirt and jeans and cover their clothing with '80s buttons and pins.
Costumes Inspired by 1980s Fashion
According to experts and those who lived through the era, the 1980s were about being bold, going beyond the expected, and celebrating excess. Hair was big, make-up was heavy, and accessories were large and overstated. To achieve a true 1980s look, party goers should remember to go big with every aspect of their costume. They should choose bright colours and plenty of them.
1980s Fashion for Women
One popular 1980s costume for women is a tight black T-shirt or sweatshirt with a wide neck pushedoff one shoulder. Pair it with skin-tightblack leggings, and add brightly colouredleg warmers in a hue such as neon pink.Sneakers, giantpink hoop earrings, and a big pink bow for the hair finishes the look.
Alternatively, the jumpsuit enjoyed popularity throughout the 1970s and 1980s. Women can purchase a glittering jumpsuit with a broad pointed collar and wide, flared pants for an authentic '80s look. They should combine the jumpsuit with big, frizzy hair or a side ponytail secured by a glitter-covered scrunchie.
A Madonna-inspired costume featuring 1980s fashion can include ablack mini dress with a tulle skirt. Underneath, users may choose black lace leggings and ankle boots. A sheer black jacket with elbow-length sleeves, heavily embellished with sequins at the edges, completes the look. Wearers can add a headband adorned with a large black velvet bow for extra flair.
With the right clothing items, anyone can create an '80s look for a costume party. Almost any combination ofripped T-shirts, leg warmers,tights,fingerless gloves,tutu skirts, and double-string bead necklaces results in a 1980s vibe. Add big hair and colourful hair accessories and the effect should be complete.
1980s Fashion for Men
1980s costumes for men involve a few key elements. The hair needs to be 1980s, so party goers may want to invest in amullet wig or a wig with long hair. A full, messy wig that involves two-toned dark and bleached hair could work as well. Next, invest in sometight jeans in anacid wash or a pair of leather pants. A stereotypical look for men of the era is the mesh shirt or muscle shirt. Those who are rocking the mullet look should probably wear a muscle shirt, work boots, and a bandana to round out the outfit.
A man who wants to dress as a 1980s breakdancer has a lot of options beyond these basic pieces. A boombox is a vital accessory. Buyers also need fitted clothing such as a nylon track suit, or they can use a hoodie and jeans.Converse sneakers, track shoes, or fat-laced shoes with shell toes are also essential. Some party goers may choose to wear a beanie,kangol, or skully, which are all types of hats worn by breakdancers during the 1980s. Sweatbands, wristbands, white gloves, or fingerless gloves can add authenticity to the look as well. For extra impact, buyers should convince a few friends to dress in matching or coordinating 1980s breakdancing gear.
If the weather is chilly, a layered 1980s costume may work well. Men should start with a white waffle T-shirt and add a loose, partly buttoned red flannel shirt over the top. Next they need a denim jacket and a pair of loose-fitting grey pants. Fingerless black gloves and a pair of boots with a bandana tied around one boot gives wearers the look of a character in the classic 1980s movie The Breakfast Club.
How to Buy
Costumes for any party, including a1980s inspired costume party, are widely available on eBay. The number of costumes and accessories may vary depending on the time of year. By searching for "1980s costume" on eBay, in eBay Stores, or on eBay Deals, you should see a long list of results. Use the search filters to find your preferred size, price, condition, seller, and other options. As you read through each listing, give priority to the ones that include a Top-rated Plus seller seal. Such a seal marks the seller as one of eBay's most highly rated merchants. Remember to save a search if you want to keep track of the eBay listings for 1980s costumes until you find the perfect deal.