How to identify the Australian 1981 20 cent Canadian minted 3.5 claw mint mark die variety coin as per my own searches of this Die Variety coin,
Canada minted 50,000,000 % 3.5 claw unknown, Must be all 50 mil cause I have only found coins with the 3 traits mentioned below and Tons of Error coins but I Couldn't even tell you what a Canadian minted coin with No 3.5 claws looks like . Canadian 3.5 claw Variety Identification- Looking at the Paw under No2 it will have a short half claw closest to the body with the next 3 claws (L-R) full length. Be careful you can find Error coins that were minted at Canberra or Wales (They also minted 1981 20c coins) that have the same 1st claw with a very thin spike where the rest of the claw should have struck and 99% will have a thin or broken 4th claw sometimes 2nd & 3rd claws are thin or broken but there are 2 more areas on the 3.5 claw Canadian minted coin that are different. These being Curved/Fish tail Based lettering/Font to most of the Legend & Date 1's and Flat planchet Fields (easy to see Flat Planchet Fields = the Queen is sitting on the planchet Fields. A Concave Planchet (Bowl like shape) is due to stronger die pressures used at Wales/Canberra mints this caused the Queen to be pressed down like it's in a shallow Hollow or bowl. Canberra and Wales minted coins have Flat based letters and Concave planchet and No 3.5 claw mint mark (unless it has an Error claw as mentioned above).
So if you find or are thinking of buying a Canadian minted 3.5 claw 1981 20c coin the very next thing to look at after seeing the half claw is the curved/Fish tail based letters, this never lets you down.Due to wear not all the letters show their curve but I find the 1's in the date ,E,L,H,II will normally be good to see the curve. Eyebrows and nostrils ? Well, Do they really matter when looking for the 3.5 claw canadian die variety type coin ? to me they don't matter because they change from wear or reworked Dies etc etc and with that wear etc they could be found on any of the 3 coins from the 3 mints for the variety of reasons just mentioned, so no matter what, the 3.5 claw Canadian minted coin must still must have the other 3 traits mentioned above for them to be the 3.5 claw Canadian minted Die Variety ,just having 1 or both of the eyebrow/Nostrils error?/variety? does not make it the 3.5 claw coin but having the 3 traits I have mentioned will always be a Canadian minted 3.5 claw coin. Meaning I have Never waisted my time with those extra 2 areas, the 3 traits I have explained will always be a canadian 3.5 claw variety. Also to me I would never put my mint mark on the 2 highest areas they'd wear to the point we are at now, that is (not me) but others can't make them out properly so the charade continues. Don't look for them unless your looking for them as Varieties on a Variety or errors on a Variety or errors on an error coin..
Rule is 1st claw Half = Curved/Fish tail base letters = Flat planchet.This is True for all the canadian minted 1981 3.5 claw variety 20c coins that I have found (Hundreds). All 3 traits must be showing on the coin.If the seller doesn't show the curve/fish tail base letters ask first for a photo or confirmation before buying. Too many sellers are selling Welsh/Canberra Die filled Error coins as Canadian 3.5 claw Variety coins because they don't check the bases & planchet.You will want to see a clear close up shot of claws & letters if possible.
You can find Errors on the canadian minted coins,might have other claws missing or short or even the 1st claw completely missing , but if there's No accompanying curve/fish tail based letters and flat planchet fields then it is an Error / Variety Coin minted at either Canberra or Wales their coins as far as I am concerned have no mint marks that I have identified ,all Canberra & Wales have in common is Flat based legend letters and Concave planchet and Claw Die fill errors.
If buying these Canadian 3.5 claw varieties,if it's not written or shown in the listing ask the seller if the coin has the 3 traits mentioned check or ask for photos including the curved/fish tail letters,if they can't ,won't or don't know then it will more than likely be an error coin minted at Canberra or Wales Don't rush more will be listed to purchase on ebay so look around and buy the right coin.
Hope this info helps and the picture below to buy the correct Canadian 3.5 claw Variety coin.
All information is based on my experience with finding 1981 20 cent coins on the whole mintage figures meaning all 3 coin Mints used for 1981 and these 3 traits always appear together for the Canadian minted coins only and never! on the other 2 mints coins for which I have only ever found Error coins meaning they had Claw/s missing/Half from a Die that had some Fault/ Fill to the Claw area on the Die.

Above/below shows the Curve/Fish tail Based Letters & 3.5 claws = 1981 Canadian minted coins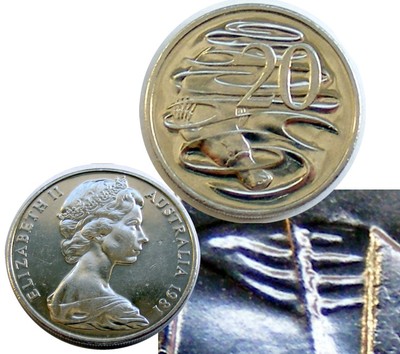 All photos and Videos are copyrighted to me. No photos or Videos of mine are to be used anywhere without my permission.See eBay / Australian copyright section Regards H.