1999 to 2004 Jeep Grand Cherokee WJ and WG Rear Upper Control Arm Replacement Guide
DIY Warning:
This is a guide from our personal experience and knowledge that we gain by working on Jeeps. We Take No Responsibility of personnel injuries or damages cause by this guide. Common sense is the key factor to prevent personal injuries and damages on any property.
First you need level ground to work on your Jeep.
Second Secure Front Tires both sides Front and Rear of the tires by placing Tire stoppers again Front Of the Tire and Rear of the Tires need to be secure.(fail to do this your jeep can roll off while you trying to work on it and the results will be catastrophic)
Tools needed:
21 mm Spanner
21 mm Spanner Auto With Gears (To make things faster)
21 mm Socket
15 mm Socket
1x Ratchet
1x Torque ratchet
2x Jacks
2x Jack Stands
2x Strong Wood Plank
3. Loosen up the Nuts on the rear wheels, leave the nuts on the wheel.
4. Jack up each side rear of your jeep on the body frame until you see one to two inches gap from the Ground to Rear Tires and place Jack stands on Body Frame Each side.
5. Place a jack from back of your jeep on middle of the differential with a strong wood plank between the jack and the differential so you don't damage the differential. Raise it enough to make contact with the differential.
6. Remove rear tires from both side, place it under the vehicle close to jack stands. (This is a fail safe for the jack stands)
7. Raise the jack on the differential about one to two inches more.
21 mm Spanner loosen up the (3) Bolts holding the Ball Joint On The Differential by spinning Anticlockwise.
8. After Loosen use 21 mm Auto Spanner to loosen up rest of the way by spinning Anticlockwise,sometimes the ball joint bracket on the differential get stuck so you may need to lower your jack on differential But Make Sure You Don't Lower To Much as the Compressed Springs Sit On The Rear Differential.
(Few of us like to hammer the ball joint while is still connected to differential it's a BIG NO NO)
9. Now the Ball Joint bracket is disconnected from differential.
Undo (2) 15 mm Bolts one on each side of the control arm, these are very long bolts.
10. Now you can remove the control arm, if it's stuck use a flathead screwdriver to pry to get loosen from the body bracket
in this process of removing control arm you're needing to watch for the brake lines as they get in the way.
11. Now you got the control arm out you can now hammer the ball joint out and press old bushings out.
12.
Now you're needing to press new bushings in, this is where most of us make mistake and this cause the bushings to fail way before their expected Life. On the middle of Bushings (Metal Bit Attached with Rubber Were Bolt Goes In) their is round cut and flat Cut. The Flat Cut needs to be lined with the ball joint But 12 to 14 Inches to back of the vehicle away from ball joint. (It's like you want to make a V shape but bit bigger then Control Arm) (Our Product Only)
13. Vacuum Differential where ball joint was sitting on differential if possible.
14. Place New Ball Joint on differential.
15. 21 mm Socket: Place ball joint bracket bolts and Hand tightened First Then tightened With Torque ratchet to 95 and then to 100 lbs.
16. Instal Upper control arm Hand tightened First Both Bolts Then tightened With Torque ratchet to 72 and then to 74 lbs.
17. Jack up the Jack on the differential Stop where you see rear of the vehicle wants to lift itself.
18. Now place the second jack (Wood Plank) on the nose of rear differential where driveshaft is attached to on rear differential. You need to Find A Strong Place on That Rear Differential Nose to place a Jack on.
19. Now you can line the Ball Joint With the Control Arm with Both Jacks in Place and by jacking the jack on the Nose of the Differential.
Place Ball Joint Nut Hand tightened First the Nut Then tightened With Torque ratchet to 100 and then to 105 lbs.
First time doing this work will take an hour and a half. Difficulty is 5 out of 10.
We hope everyone find this information helpful.
If you think this guide need amending please do share information with us, as this guide is here to help people.
Best regards
Australian Best Services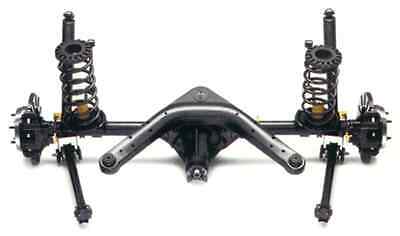 1999 to 2004 Jeep Grand Cherokee WJ and WG Rear

1999 to 2004 Jeep Grand Cherokee WJ & WG Rear Upper Control Arm How To Replace and Repair Guide.

Want to Buy Ball Joints and Bushings Follow The Link Below.

Front and Rear Complete Repair Kit: ebay.com.au/itm/322307403304
Front and Rear Control Arm Bushing kit: ebay.com.au/itm/322427073533
Rear Suspension Repair Kit: ebay.com.au/itm/222294839405
Front Suspension Repair Kit: ebay.com.au/itm/322424215274