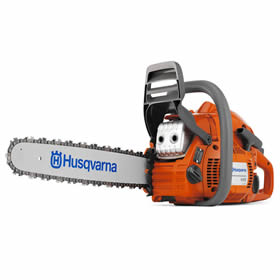 Whether cutting logs in the forest or simply pruning a tree in one's backyard, most people find that doing the job with a 2-stroke chainsaw makes it easier. For the uninitiated, however, shopping for a brand new chainsaw can be overwhelming due to the wide range of choices available. This is because while most petrol chainsaws today run on a 2-stroke engine, there are still many key differences like bar length, features, horsepower, and more. These 2-stroke chainsaws, both new and used , are available on eBay. Smart shoppers who are serious about finding the best one for their needs should thoroughly evaluate the different types.
2-Stroke Chainsaws
The 2-stroke chainsaw is a motorised petrol-powered tool with an internal combustion engine. Compared to 4-stroke engines that are normally found on vehicles and a few, select chainsaws, 2-stroke engines do not possess valves, making their construction more simple. Next, they fire on every engine revolution, which means that they possess more power. Lastly, 2-strokes can easily be used in various orientations, which is crucial for tools like chainsaws. As for bar lengths, 2-stroke chainsaws range from 22.86 to 71.12 centimetres. Bar lengths refer to the diameter the chainsaw can cut through effectively. And when it comes to horsepower, 2-stroke chainsaws can have 1.2 HP to 8.6 HP. Normally, the higher the horsepower, the heavier the chainsaw. Weighing between 2.5 to 10.5 kilogrammes, they can also have an engine displacement of 30 to 80 cc. Features for 2-stroke chainsaws include vibration reduction, lateral tensioning, chain braking, automatic oiling and adjustment, and a digital ignition system. Popular brands include Husqvarna, Dolmar, Jonsered, Stihl, and Echo, among others.
How to Shop for a 2-Stroke Chainsaw
Shopping for a 2-stroke chainsaw is not difficult. Among the first things to consider is the bar length. The rule of thumb is the longer the bar, the larger the trunk or limb diameter. Shoppers should determine the right length for their needs by taking stock of the dimensions of the items they frequently cut. Ideally, go for a bar length that is 2.5 to 5 centimetres longer than the item. To simplify, keep an eye out for chainsaw models that are compatible with bars of various lengths. Most homeowners should find about 40-centimetre bar lengths to be good enough for yard work.
Shoppers should also consider the chainsaw's power-to-weight ratio. Ideally, the chainsaw should have high horsepower, while keeping the weight as low as possible. For the professional who spends hours operating the chainsaw, having a high power-to-weight ratio gets the job done faster, while keeping user fatigue to a minimum. Depending on how often they use the tool, homeowners may or may not find this important.
Evaluating 2-Stroke Chainsaw Features
When evaluating 2-stroke chainsaws, shoppers must also consider the included safety features. One of these safety features is automatic oiling. Chainsaws with 2-stroke engines require about two to five per cent of oil in their petrol mixture. However, the oil gets depleted fast and constantly needs to be replenished. While some models do this manually through a press button, it is advisable to look for one with an automatic oiler to keep the bar, chain, and motor lubricated.
As a reminder, read the user manual to find out the right mix of oil and petrol as it varies depending on the chainsaw model. Shoppers may also want to pick a chainsaw with a translucent oil tank so that they know the oil levels at all times. Having a well-oiled chainsaw reduces the risk of getting a broken chain and overheating.
Along with the automatic oiler, shoppers should look for models that adjust the oil being pumped as well, especially when the chainsaw is idle. Some 2-stroke chainsaw models waste oil by continuously pumping it through the motor even when it is not cutting anything. Another important safety feature is vibration reduction, which protects the user from physical ailments like white finger, tendonitis, or hand-arm vibration syndrome (HAVS). Having this feature decreases user fatigue and increases productivity.
Those who want to protect themselves from deadly kickbacks should invest in a chainsaw with chain brakes. Kickback occurs when the user tries to cut the wood with the tooth located at the upper portion of the chainsaw's nose. This actions throws the chainsaw back up into the user, causing serious injury or even death. Depending on the model, a chain brake stops the tool from jerking upwards manually or automatically.
Lateral tensioning is also an important safety feature for 2-stroke chainsaws. As the chainsaw keeps running, the chain becomes loose, hence it can fly off the tool, and hit the person's legs. Some chainsaw models use a thumbwheel lever to increase tension, while other chainsaws have the user manually tighten the chain using a screwdriver or wrench. Those who do not wish to carry extra tools in remote areas should make sure their chainsaw has this feature.
How to Buy on eBay
Shopping for a 2-stroke chainsaw may be overwhelming, but eBay makes it easy. Find the search field on any eBay web page, type what you are looking for, and press enter. You can narrow the search results further with filters like location, price, condition, and more. Those who want to be careful when choosing sellers should purchase only from those with a minimum of 99 per cent feedback rating. These are people who have an established history of exceptional customer service. If you want to inquire about a particular second-hand 2-stroke chainsaw, scroll down to the bottom of the listing to the "Ask a Question" link. You can also find great bargains from eBay by checking out their deals on Chainsaws & Accessories.