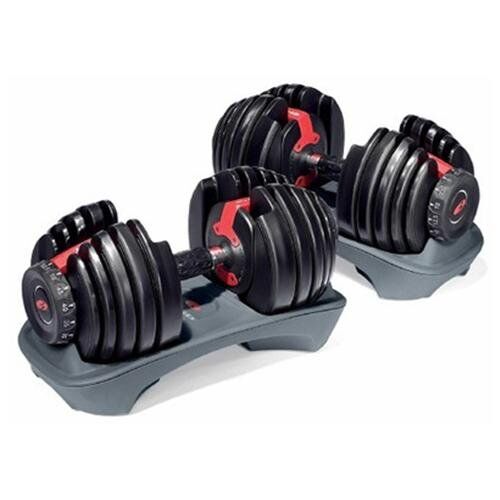 When it comes to exercising, the right equipment to use will be different for everyone. It can be difficult to know what equipment will work best for any one person. This guide will pinpoint three pieces of exercise equipment that are essential to a good workout. No matter what kind of exercise equipment is of interest most, if not all of it, can be found quickly and easily on eBay.
The type of equipment best to use is heavily dependent on what kind of workout is wanted, or which muscle group is the focus of the training. The following three pieces of equipment are in a range designed for different types of exercise.



· Resistance band – Resistance bands are large rubber bands which are used for resistance training. The bands can be pulled on in various different exercises to strengthen certain muscles.

These bands are both good for a workout and very convenient. They are light and small so they can be taken anywhere. They can also be bought in different strengths to make it easier or more difficult to pull the bands. This way the workout will match muscle strength and can be good for beginners as well as people with more practice.


· Stability Ball– A lot of people do not believe that stability balls can have much of an effect on your fitness. There are, however, many advantages to using a stability ball.

Using this piece of equipment can make a big improvement to balance and coordination, which will help the user throughout life in all sorts of situations.

Another benefit of using this type of exercise equipment is that it is versatile and light. and can be carried anywhere. There is also a wide range of activities that can be performed with this exercise equipment. Some of these activities are easy and some are more difficult. This makes the stability ball perfect for beginners, although the stability ball is used by experts too. An exercise routine can be undertaken at any pace and workout activities can be changed at any time without the need to change the equipment.



· Treadmillor Exercise Bike– Using a treadmill or an exercise bike provides another completely different type of workout. These pieces of equipment are good for a cardio workout. Cardio workouts are good for many things such as; improving the heart and lungs, increasing energy levels, improving mental health, and much more.

The downside to using this type of equipment is that it can be relatively expensive. However, this can be worked around by buying a cheaper model or purchasing a second hand model, both of which can be found easily on eBay.

As well as having a treadmill or an exercise bike, there are other ways to get a good cardio workout, such as: running, swimming or cycling which could prove to be a cheaper option. Having this equipment, however, means that if there is a lack of time, a workout can be achieved quickly without the fuss of leaving the house.

Treadmills and exercise bikes also have different settings on them so that the user can decide how difficult a workout should be. There are even settings which enable the user to increase or decrease the angle at which the user runs or cycles.
Things to Remember

There are many more items out there that may be of interest besides these pieces of equipment. It is important to remember, when buying exercise equipment, the type of workout that the user aims is to achieve. If this is not fully understood, a lot of money might be expended on kit that will not do the job it is intended to.

A good idea is to have an exercise regime. Try to incorporate a certain amount of exercise into daily life. By doing this, the exercise will become easier to complete as the level of fitness is raised. The more experience the fitness fan has of all of the different types of exercise equipment, the easier it will become to make a choice. This will help when buying exercise equipment in the future.

Before proceeding to buy the equipment, a good idea is to try things out beforehand. Find out if a friend or family member has one of the items of interest and try it out. With some pieces of equipment, the size needed is something to be considered before buying. If nobody in the area has any of this equipment, try a local gym and ask for advice from an instructor or someone else there who uses the equipment.



How to Buy Exercise Equipment on eBay

Now that you know what you want for exercise equipment, you can find this quickly and easily on eBay. While you shop, give thought to stopwatches and supplements.
To start shopping, go to the sporting goods category, followed by fitness, then choose your desired equipment from the list available.

Categories
The categories list on the left side of each page will help you narrow down your listings by item type.

Product Finder
Use the exercise equipment Finder to quickly narrow down item listings by brand and condition (new or used).

Keyword Search
Search eBay listing titles for specific words. For example, if you want to find new exercise equipment, type the keywords "exercise equipment new" (without quotation marks) into the search box. Click, "Search title and description" to expand your results. Visit eBay's Search Tips for more tips on searching with keywords.

If you can't find exactly what you want, try browsing eBay Stores or tell the eBay Community what you're looking for by creating a post on Want It Now. Alternatively, use the save a search option on My eBay and eBay will email you when a matching item becomes available.


Don't forget to check out the Daily Deals page to hunt for bargains.
Buy Exercise Equipment with Confidence
Make sure that you know exactly what you're buying and understand how eBay and PayPal protect you.
Know Your Item
Read the details in the item listing carefully.
Remember to add delivery costs to your final price. If you're buying a high value item, check that the seller will insure it until it is delivered to you.
If you want more information, click the "Ask seller a question" button on the seller's profile or the "Ask a question" link at the bottom of the item listing page.

Know Your Seller

Research your seller so that you feel safe and positive about every transaction.

· What is the seller's feedback rating?

· How many transactions have they completed?

· How many positive responses do they have?

· What do buyers say in their feedback?

· Do they offer a money-back guarantee?

· What are the terms and conditions?

· Are buyers positive about the seller? Most top eBay sellers operate like retail shops and have a returns policy.

Conclusion

Now that the fitness fan has an initial idea as to what type of exercise equipment to get, consider which of these will be most beneficial and will fit best in to a specific routine. Also give some thought to the space requirements for each of these pieces of kit.

Remember, many of the sellers on eBay are friendly and helpful exercise experts; try asking them some questions about the best combination of exercise equipment.

Once sure what kind of equipment is of interest, find it quickly and easily on eBay.