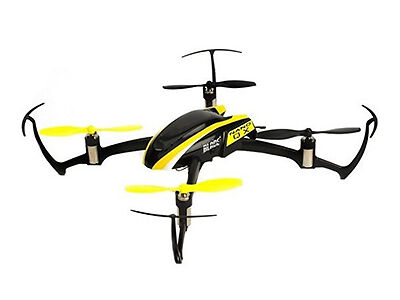 Drones, also known as unmanned aerial vehicles (UAV) or remotely piloted aircraft (RPA), fly either autonomously via programmed GPS coordinates or remotely via radio control. Although they draw inspiration from military surveillance tools, drones have filtered into the consumer world, where remote control hobbyists and aerial photographers have embraced the multi-rotor machines.
Which Drones to Fly
Both beginning and experienced pilots prefer models that are lifted and propelled by more than two rotor blades since they allow for easier flight control and depend on simpler rotor mechanics. The most popular drones for recreation, photo, and video use are quadcopters, hexacopters, and octocopters, although drone choice ultimately depends on your budget and intended use. For simple backyard fun, go small. For mounting bigger cameras or for greater flight time, bigger is the way to go. Below are a few of the noteworthy contenders vying for a piece of the drone/UAV/RPA market. Look for these models at retail stores and online on sites such as eBay.
Blade Nano QX RTF
Beginner pilots or those needing to buff their skills would do well to start with a less expensive trainer drone, such as this palm-sized, ready-to-fly quadcopter. Known for its easy set-up and its ability to endure multiple crashes, it will fly for about 10 minutes on a charge. Small enough to fly indoors and tough enough to withstand a reasonable amount of wind and rain, the Nano QX RTF with SAFE technology features flight control software that stabilizes the drone in a hover if the pilot gets in trouble. The main rotor diameter measures 50 millimetres and the full quadcopter measures 140 millimetres long with a gross weight of just 16.5 grams.
DJI Phantom 2 Vision+
This high-performance drone sets the standard within the industry and is recognised as the model to which backyard hobbyists and aerial photographers/videographers aspire once they've earned their wings with a trainer drone. It's easy to control and has excellent battery life, range, and safety features. Plus, it offers value for its higher price tag, with advanced features, such as its exclusive three-axis gimbal and 1080p camera. An onboard GPS and "position hold" setting enable the unit to know exactly where it is, giving it the power to stabilise itself against moderate winds. The Phantom 2 Vision+ requires an iOS or Android smartphone or tablet, as well as the free DJI Vision app, which lets users control and view real-time video through a mobile device. This drone's gross weight is 1,242 grams, and its diagonal motor-motor distance is 350 millimetres.
Hubsan X4 H107C
This affordable unit is another great option for those seeking a drone with which to hone their skills. The mini quadcopter includes a dedicated remote control and a standard definition, 720x480 resolution, 25-frame-per-second camera that records video on a micro SD card. Four-channel operation and 6-axis flight control with adjustable gyro sensitivity promotes stable flight. That said, wobbly landings and crashes happen in the radio control copter world. Consider buying the Crash Pack, which includes an extra battery, rotors, and shell. The Hubsan X4's main rotor diameter measures 55 millimetres, and the full quadcopter measures 8x8x2.5 centimetres with a gross weight of 520 grams.
Parrot AR Drone 2.0
This Wi-Fi-enabled, smartphone- and tablet-controlled quadcopter comes ready to fly via the free AR Drone app for iOS and Android devices. Its 720p HD camera captures 30 frames per second, while its lightweight and sturdy carbon fibre and foam frame helps it withstand multiple crashes. In fact, the AR 2.0 comes with two shells--one for indoor use and a lighter more aerodynamic version for outdoors. It will fly about 12 minutes on a full charge via the included AC adapter. The indoor hull weighs 420 grams and measures 517x517 millimetres. The outdoor hull weighs 380 grams and measures 451x451 millimetres.
How to Fly Your Drone Legally
In Australia, drones can't fly over populated areas, such as beaches, other people's backyards, or sporting events, or within 30 metres of people, buildings, vehicles, or boats. Also, flying with the ability to see what the drone's camera is filming, known as First Person View (FPV), requires an Advanced Amateur Radio Licence. Drones must fly only during daylight, in good weather, and in Visual-Line-of-Sight. Read Civil Aviation Safety Authority regulations before operating a drone, then get ready to take flight.