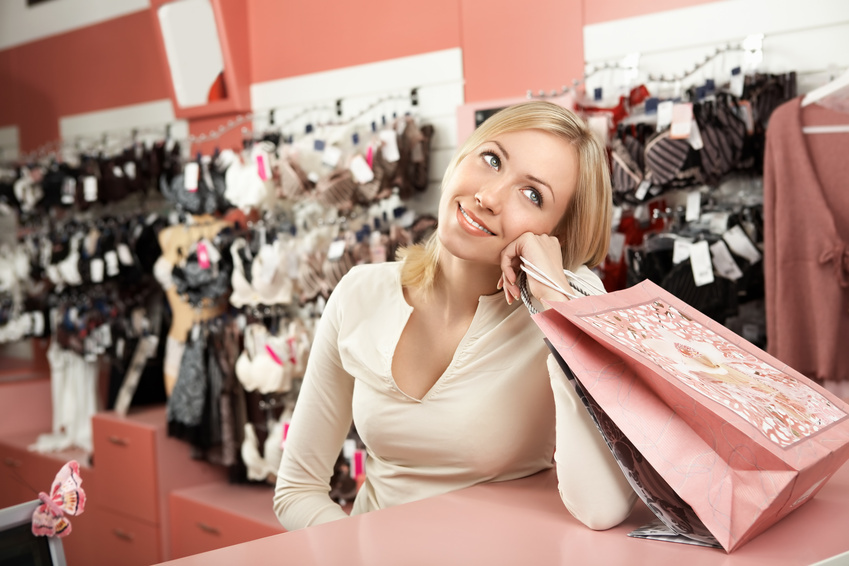 The bra is an essential piece of clothing, and can be found offering an enormous range of different designs and materials. Designed to support a woman's breasts, the bra has also become a fashion accessory, with styles available which can fit well with certain types of clothing, for example, plunge bras are designed for dresses or tops with a low neck line. As a bra will be worn a great deal, it is important to find one which fits comfortably and offers enough support. There are a number of ways this can be achieved, including measuring carefully to ensure a bra is of the right size. A wide range of bras and lingerie can be found on eBay.
Ensure a Bra is the Right Fit
The first step to ensuring that a bra will be comfortable, is to ensure that the right size of bra is purchased. Measuring the wearer properly is important for establishing what size of bra will be most comfortable.
· Use a tape measure to measure, in inches, around the ribcage, just below the breasts. The tape measure should be fit closely to the back. This is the band size, which is represented as the number before the cup size, which is generally represented in letters.
· It is generally best to use the cup size of a bra which already fits comfortably to determine cup size, as cup sizes can vary between manufacturers, and the shape and size of the breast can vary even between one persons breasts.
· A correctly fitting bra should have no wrinkling on the cups, nor any space between the breast and the cup.
· A bra should also lift and centre the breasts between the shoulder and the elbow, as well as keep them within the frame of the body.
· A well fitting bra can help to greatly improve the comfort of the wearer, as it does not constrict the wearer, and provides support where it is needed.
Choose an Under-Wired or Wireless Bra
Bras are available in both under-wired or wireless forms. Different women often prefer different types, finding either type more comfortable.
· Under-wired bras feature a wire running within the bra, providing support as well as helping to lift the breasts. Under-wired bras can also often retain their shape for longer, but the solid form of the wire often means that the wearer finds them less comfortable. Under-wired bras are typically more suitable for women with larger breast sizes.
· An issue with under-wired bras is that as they get older, there is a chance the wire can begin to poke through the fabric of the bra, causing discomfort.
· Many women find wireless bras much more comfortable, as they do not have the wire in place. However they provide less support, and may not be suitable for women with a larger breast size.
Consider a Strapped or Strapless Bra
Another choice to be made is between a bra which feature straps, or a strapless bra.
· Bras with straps are among the most popular choices, particular for day to day use. Many women find these more comfortable to wear, due to the additional support provided by the straps, which also help to distribute the weight of the breasts more comfortably.
· Bras with clear straps are also available, which can be useful for women who find strapless bras uncomfortable, but who want to wear a backless dress.
· Strapless bras are typically not worn day to day, and are instead generally reserved for special or formal events. Strapless bras do not feature any straps which go over the shoulders, only featuring the back strap. Some women avoid strapless bras due to fear that they may slip or fall.
· It can also often be harder to properly size a strapless bar, and some women find they have to go up a bra size to prevent pinching.
· Also available are stick on bras, which consist of two self adhesive cups held together by a strap. These bras offer considerably less support than other types, but are often invisible when worn under most types of top and dress.
Purchase a Bra with Additional Features
There are a number of features which a bra can offer, which may have an impact on how comfortable it is to wear. When finding a comfortable bra, these should be taken into consideration.
| | |
| --- | --- |
| Padded | Many bras are available which feature padding. These can help to make a woman's breasts appear more even and rounded, and are also often considered to be more comfortable. However, padding can add weight to a bra, making it more tiring to wear. Bra padding can use either silicone or liquid. Some bras also feature padded straps, which can help to make wearing a bra more comfortable. |
| Air Pads | Air pads are often used in bras to emphasis the breasts, and to increase the appearance of their size. Some versions include a pump which can regulate the amount of air used. These bras can be uncomfortable, particularly when fully pumped up. |
| Push Up | Push up bras lift up and push together the breasts, in order to emphasise cleavage. These bras can be less comfortable than other types of bra. |
How to Buy a Bra on eBay
A wide variety of bras, offering different features and designs, is available on eBay.
· The full listing of available bras can be found under the Bras section of Women's Lingerie, Intimates, through the Clothing, Shoes, Accessories portal.
· The listings of bra can be arranged by categories such as price, item condition and item location. This helps to narrow down the selection of available bras.
· It is also possible to choose between the Auction and Buy it Now buying options, offering flexibility in how a bra can be bought.
· Key information about a particular bra, such as the brand, style, material or type of the bra, will often be prominently displayed in the item listing, making it easy to quickly see if an item meets any specific needs. More detailed information, often including pictures, can be found on the item page, helping a buyer to know exactly what they are purchasing.
· Also available on the item page is information about the seller, such as item ratings and feedback reviews, which can help to ensure that a purchase can be made with confidence.
· If a specific bra is required, it may be more effective to use the search function, which can be found at the top of every page. Entering a keyword into the search bar will return any relevant results from within a specific section, or from across the site.
· Don't forgot to look for any deals which may be available on bras and other lingerie items in the Women's Clothing section.
Conclusion
There are many different types of bra available, and finding one that is comfortable to wear is important. Ensuring that a bra fits correctly, either by measuring the wearer or by using already owned bras as a reference point, is a great way to achieve this, and there should be no gaps between breast and cup. Bras featuring additional padding, as well as padded straps, are available which can also help to increase comfort. A wide variety of bras, as well as panties and other types of lingerie, can be found on eBay.