Flemington Melbourne Derby Day Lawn Stand Tickets x 4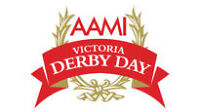 4 x VRC 2008 Derby Day Lawn Stand Tickets ($75.00 each)
for Saturday 1st November 2008 from 7.30am at the Flemington Racecourse, Victoria.
These 4 x VRC 2008 Derby Day Lawn Stand Tickets are selling for $95 each on the Ticketmaster Website...
we are only selling them because we can't make it...damn damn damn ;-]
So don't hesitate, these tickets will go fast at this price!!!
This should be a great day, for you and 3 of your mates
and a great beginning to the Melbourne Cup Carnival!!!
So don't miss out on these tickets at a bargain price!!!
All tickets are governed by terms and conditions which are available on the VCR website.
Returns
As a bonus you also have my 100% Guarantee...
If the item is not exactly as advertised,
just let me know and i will happily refund your money!!!
Good luck with your bidding
and check out my eBay Store for more amazing bargains...;-]
I really hope you find this guide useful and if you have,
please make sure you place a "vote" for it by hitting the Yes button at the bottom of this guide where it says "Was this guide helpful?"
By hitting "yes" you place a vote for it which increases my ranking.
Be sure to check out my other guides and have a wonderful day!