4GB
Ultra-Slim Credit Card Style USB Flash Memory Drive
Need to keep your data safe and with you???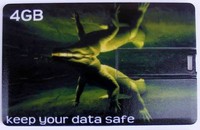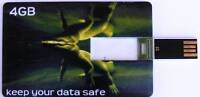 ... well check out this amazing little
Ultra-Slim, Credit Card Style, USB, Flash Memory Drive!!!
This USB Card provides
4GB
of USB Flash Memory
to store and or carry your:
photos, music, videos, documents & any other files,
Best of all ...
this beautifully designed USB Card fits perfectly into your
Wallet or Pocket!!!
The strong, flexible & retractable USB-2 connector
has been integrated into the card and folds out when needed.
This Ultra-Slim USB Card is the perfect item
for all of us who need to carry their USB flash drive in a discreet manner.
It's also an ideal gift for that special Techie in your life,
the newest addition to their "Techie Toolkit" ;-]
Ultra-Slim Credit Card Style USB Flash Drive
Specifications:
Storage capacity:
4GB
Intel Chip
Fits neatly into your wallet or pocket
Size: 84 x 52mm / 3.3 x 2.0in (L x W)
Compatible with:
MAC & Windows PC, Laptop, Notebook etc which use USB interfaces.
Strong, flexible & retractable USB-2 connector (see images)
Modern easy to use design
Safe and reliable storage
Shock, high temperature and moisture resistance
Storage temperature: -50°C / +80°C
Fast data transmission speeds:
Reading Speed: 14.73M/S / Writing Speed: 2.57M/S
Package includes:
1 x 4GB Flash Memory Drive
1 x Case  
Your item will be shipped within 24 hours of receiving your payment, I guarantee it!
These Ultra-Slim Credit Card Style USB Flash Drives
are also a great marketing idea for your company or business...
Your clients will see your brand image every time they open their wallets.
You can even use them as promotional gifts
to increase your brand exposure or to supply your clients your
Company Data, Sales Presentation or Data Application software.
So don't hesitate ... BUY NOW!!!
Contact me for a great discounted deal on bulk orders.
All bulk orders include:
Artwork, logo and or information of your choice,
printed on both sides of the USB Card & delivered directly to you!
(with a minimum order of 25 Ultra-Slim, Credit Card Style USB flash drives)
As always, you have my personal, 100% Money Back Guarantee...
"Quality products, exceptional service & support, on all items sold!!!
I believe in working with my customers to make their experience the best it can be!"
I really hope you find this guide useful and if you have,
please make sure you place a "vote" for it by hitting the Yes button at the bottom of this guide where it says
"Was this guide helpful?"
By hitting "yes" you place a vote for it which increases my ranking.
Be sure to check out my other guides and have a wonderful day!
suan office services
suanofficeservices@gmail.com