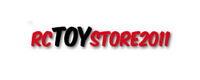 When shopping for 4WD radio remote control monster trucks, you will need to do a little research in order to ensure that you find the right one for all your RC trucking needs. A ready-to-run or RTR remote control monster truck includes the 4WD monster truck, radio control system and equipment required for your truck to run right out of the box. This is great for beginners who are still new to the remote control hobby scene.
The radio control system of your 4WD monster truck will comprise of a receiver and transmitter . The transmitter sends signals to the receiver on your 4WD radio remote control monster truck, while the servos will use mechanical movement to steer the truck and control its speed. You will require AA alkaline or rechargeable batteries for the transmitter.
For beginners, electric remote control monster trucks are recommended. Once you have had enough practice and experience you can go for the more difficult gas powered remote control trucks.
At
Rctoystore2011
with every purchase of 4WD Radio Remote Control Monster Truck you will receive as a bonus free batteries to get you started right away! No waiting start playing!
Visit rctoystore2011 NOW! Indulge yourself you deserve it!