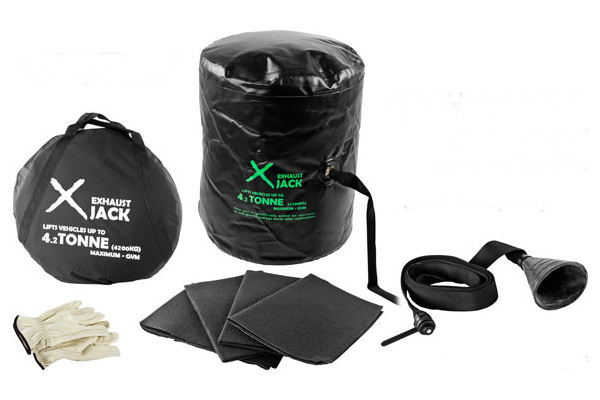 There is nothing fun about changing a flat tyre in the middle of nowhere, or trying to dig a truck out of a mud pit. The traditional vehicle jack comes in handy in a pinch, but it has limitations. For one thing, it is only safe to use on solid, level ground. Additonally, users need some experience to know where along the chassis to place it. Add to that the strength and patience required to work the lever and lift the vehicle, and it is no wonder few people ever use a traditional vehicle jack if given an alternative.
A 4x4 vehicle exhaust jack offers an alternative to the challenges of using a traditional jack, and makes the tough job of lifting a vehicle off the ground much easier. However, before investing in one of these gadgets, users should find out what makes an exhaust jack easier and more versatile than a conventional vehicle jack. They should also learn how to use one, and find out what to look for when buying one.
Using a Vehicle Jack
Mechanics use floor jacks and car lifts to safely and easily raise a vehicle in need of service. But when a car or truck is stuck along a roadway or has a flat tyre, a portable jack is the only option available. The stock jacks that come with every vehicle work well for emergency situations, but are not suitable for use in most off road environments. A hi-lift jack is specifically designed for use with 4x4 vehicles and on rough terrain. A vehicle exhaust jacks offers another alternative for handling off road emergencies.
Safe Use of a Conventional Portable Jack
The small jacks that are standard equipment on all vehicles work well on flat, level surfaces for a quick tyre change. Before using a traditional jack, drivers need to ensure the vehicle is on solid, level ground and take precautions to keep the vehicle from rolling or shifting while it is raised. Although they are handy for everyday driving under normal conditions, these portable jacks are of little assistance when vehicles are stuck in the mud, snow, or sand. For situations in which the ground is unstable or uneven, 4x4 owners need something specifically designed for off road use.
Use a Hi-Lift Jack for Off Road Situations
A hi-lift jack is both a jack and a hand-operated winch. A hi-lift jack works for changing tyres, but is also a great tool for "toppling" a vehicle, or moving it sideways. The winch capability comes in handy in the event a 4x4 vehicle does not have its own recovery system or it is unable to be used. A hi-lift jack is much taller than a traditional jack, allowing it to hoist the vehicle higher.
Benefits of a 4x4 Vehicle Exhaust Jack
An air exhaust jack has all the benefits of a hi-lift jack but requires less effort to use. These jacks were invented by extreme off-roaders, and are therefore designed to handle the toughest situations and roughest terrain. An exhaust jack system consists of a large, reinforced sack and a special heat-resistant hose. To use, simply put the sack anywhere under the chassis of the vehicle and connect the hose to the vehicle exhaust pipe or to an air compressor. In a matter of seconds, the sack inflates and the vehicle is lifted. A release valve allows for safe, quick lowering when the job is complete.
What to Look for When Buying a Vehicle Exhaust Jack
Vehicle exhaust jacks are specialty items made only by a handful of manufacturers. Because there is a limited selection available, buyers need to shop around and carefully choose one that suits their specific type of use and is rated for the weight of their vehicle. These relatively simple gadgets have only a few parts, but shoppers should look for quality components and sturdy construction in all areas.
Durability
A vehicle exhaust needs to be sturdy to withstand the possibility of puncture from sharp rocks and other debris. It also needs to be strong enough to withstand the pressure from the weight of the vehicle. Most systems feature a sack made from three layers of reinforced material. Many are coated with PVC for added protection from sharp objects.
Load Capacity
Vehicle exhaust jacks are widely available in 2-ton and 3-ton models, with a small number capable of handling a 4-ton load. The load capacity of the exhaust jacks need to meet or exceed the weight of the vehicle, to include any cargo.
Hose Length
Most exhaust jacks come equipped with hoses between 15 and 20 feet long. Users should always make sure the hose length is adequate to reach from the exhaust to any of the tyres on the vehicle. The hose should fit securely on the vehicle exhaust pipe to ensure correct inflation.
Compatibility with Air Compressor
Many vehicle exhaust jacks can be used with an air compressor instead of the exhaust. This feature is especially handy with vehicles equipped with onboard compressors or in the event a vehicle engine is disabled.
Valve Systems
Exhaust jacks use a one-way valve to trap the air inside and keep the sack inflated. When it is time to lower the vehicle, a release valve allows for safe, slow lowering in a controlled manner. Check the exhaust jack to ensure all valves are working properly.
Buying a Vehicle Exhaust Jack on eBay
Head to eBay to find vehicle jacks, tyres, wheels, and other parts and accessories for 4x4 vehicles. eBay is a worldwide marketplace with an extensive inventory of tools and other items for off road enthusiasts. A number of sellers offer free shipping, or buyers can search for an air exhaust jack in their local area and simply pick it up. Consumers can also peruse the eBay Deals page to find bargains and last minute sales on a number of tools and other items.
eBay makes searching for an item easy and efficient. To find a vehicle exhaust jack, use the search box on any eBay page and enter the words "exhaust jack". This returns all listings containing those keywords, and buyers can browse through them to find the desired item.
Buyers should try to buy from sellers who have a lot of positive feedback on their profile page. Sellers with a high percentage of positive responses are likely to provide high quality products, and tend to respond quickly to answer questions or resolve any problems the buyer may have.
Conclusion
A vehicle exhaust jack is indispensable when it comes to moving a vehicle that is stuck along a sandy, muddy, or snow-packed road. An exhaust jack provides off road enthusiasts an alternative to calling a tow truck when a vehicle is disabled miles from civilisation. They inflate effortlessly and are great for use on uneven surfaces. A vehicle exhaust jack makes changing a tyre a fast, simple task, no matter where the vehicle is.
Originally designed for off road emergencies in remote areas, exhaust jacks are commonly used by city drivers as an easier alternative to traditional jacks. Although they are durable and capable of quickly lifting a two or three ton vehicle, exhaust jacks are not designed for vehicle maintenance. For the sake of safety, users should never get under a vehicle that is supported only by a jack, no matter what type. The risk of it falling and someone being injured is too great.
exhaust jack|air jack|exhaust jack|jack stand|winch|hoist