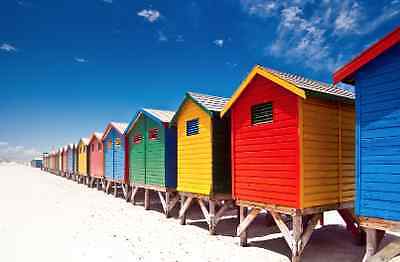 Beach House Style can be described as a relaxed, effortless, casual style of decorating characterised by whites, egg shell blue and beige hues. Stripes, nautical motifs, shells, coral & driftwood have forever etched a place in the hearts of those who love the beach house style.


Here are 5 beach house decorating ideas to create the feeling of a beach style paradise all year round.
#1 Bright colours and stripes

Nothing says 'beach style' like bright colours and stripes!! mix and match with reds, navy, beige and off white for a classic look.
#2 Nautical accents
A touch of classic nautical is a big enough hint that an ocean lover is in the house. White or beech coloured frames or shadow boxes filled with shells will do the trick. Hang a few colourful bunting flags for a classic beach vibe and add Accent cushions with coconut buttons to create a real beach theme.

#3 Bring nature indoors
One of my favourite ways to create an authentic beachy feel in a room, is to add a few shells or driftwood either in jars or bowls amongst books or other treasured possessions.

#4 Decorate with Bold Simple Patterns
Bring life and color to your outdoor room by adding cushion covers in simple patterns but vibrant hues like bright reversible orange/green stripes, chevron (zig-zags) or fishscales to give a coastal yet Summery feel. Make sure your cushion covers are specifically UV, mildew and water resistant for the outdoors so they last

#5 A Beach House Look

There's a fine line between shabby chic and beach style. If you're going for a more relaxed, shabby chic kind of look try using a soft, rustic neutral palette for decorating. When I think 'beach house', I think blue and white or beige and white striped napery or cushions.



For a fabulous range of beach style homewares, visit us at http://stores.ebay.com.au/My-Clearance-House


If you thought this guide was helpful can you please take a moment to vote by clicking 'vote' above so we know what you thought too. Thanks for reading :)