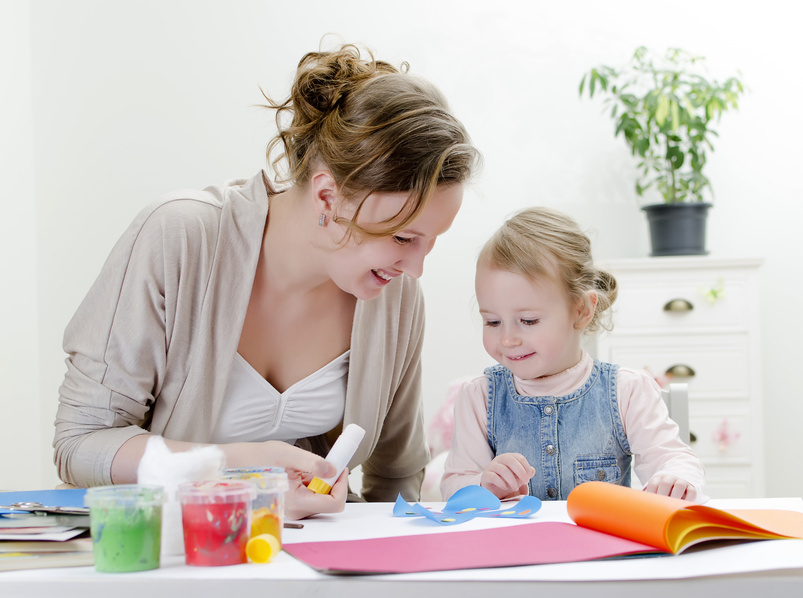 Encouraging crafts is important for children, as these kinds of activities help them foster creativity, break away temporarily from technology, and improve coordination and basic motor skills; not to mention that crafts can be plain good fun. Any of the crafts activities listed below can be completed on a rainy day or any time kids need something to do.


1. Paper Plate Masks
Making paper plate masks is a craft activity that's suitable for kids of all ages. Younger children can enjoy this activity with plenty of help and supervision, while older children can be given free rein. What's more, this craft only requires a few basic items: paper plates, paints or crayons, scissors to cut eye holes, string or elastic (to hold the mask in place), and a hole punch (or something else to make a hole on each side of the mask to attach the elastic). Of course, anyone who wants to get more creative can use all sorts of other items to decorate the mask. After kids decorate their mask however they see fit, adults can get involved to help cut eye holes and attach the elastic.
2. Pine Cone Owls
Using found items for crafts is both interesting and cost-effective. Pine cones collected during a walk can be turned into cute little owls. Depending on age and ability, children might need some help from grown-ups when completing this craft activity. Glue, felt of various colours, and small black buttons or googly eyes will be required to complete this craft, along with the pine cone or cones. Each owl will need two oval wings, a little orange beak, and two yellow feet cut out from felt. Once these pieces have been cut out, glue them in place on the pine cone. Then use the googly eyes or black buttons to give the owl a way to see.
3. Painted Stones
All that's needed to make gorgeous painted stones are acrylic paints, a paint brush, and some smooth, clean stones. Anyone who can't find suitable stones lying around can buy them from a craft shop or online on eBay. The beauty of stone painting is that kids of all ages can join in, although younger children will obviously produce more abstract results. Smooth oval stones look very impressive when painted to resemble a fish or a ladybird.
4. Disposable Crockery Flying Saucers
Any child who wants to believe in extraterrestrial life will love this flying saucer craft. Supplies needed to make each UFO include two disposable plastic plates, one clear disposable plastic cup, some coloured contact paper, scissors, and glue. The child will glue the two plastic plates together, with the top side of one plate facing the top side of the other so that the plates resemble a flying saucer. If desired, the flying saucer can be painted and left to dry before moving onto the next step. The children will then cut out an alien shape from the contact paper (small enough to fit under the plastic cup), decorate him if desired, and place him on top of the flying saucer, as close to the centre as possible. The clean plastic cup should then be inverted and stuck over the top of the alien, acting as a protective cover over his "cockpit" to protect him during his intergalactic flights.
5. Wooden Spoon Puppets
A basic wooden spoon, the type used for cooking, can easily be turned into an effective puppet, with the spoon part serving as the puppet's face and the handle its body. There are multiple ways to create these puppets. Kids can either draw faces onto them or create their features using googly eyes and carefully cut bits of craft paper. String or pipe cleaners make great hair when glued to the head of the puppet. Arms can be cut out from contact paper and stuck to the body of the puppet, or pipe cleaners can work well here, too. Children can even make several puppets and put on their own shows.
Conclusion
Kids of all ages can participate in these craft activities, but some may need more adult supervision than others. Creating these crafts can be a fun and enriching experience for children. Showing off their finished crafts gives them a sense of achievement and can help boost self-esteem.