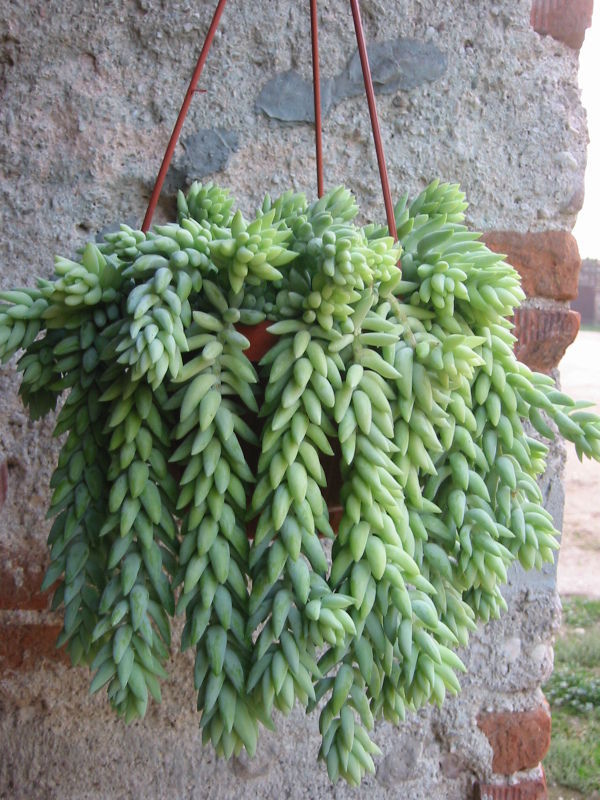 Sedum burrito is a type of succulent plant with common nicknames such as burro's tail and donkey's tail. Belonging to the Sedum plant genus, sedum burrito is a relatively low-maintenance plant that grows well indoors or outdoors when provided with adequate light, proper watering, and protection from temperatures below 5 degrees to 7 degrees Celsius. As a trailing plant with the ability to grow long stalks, there are several different approaches to displaying this succulent.
Display options
Shoppers who are looking for the most creative way to display the donkey's tail plant have a few different options, including some formal and whimsical choices. Ultimately, shoppers should consider what kind of space they are working with. Those who do not have a lot of surface space may want to choose something hanging or mounted, while those who plan to display their sedum burrito on a table or shelf may want to choose a planter designed to rest on a surface.
1. Hanging basket
Many individuals choose to display their sedum burrito in a hanging basket. These containers work well both indoors or outdoors, and are typically hung from a ceiling hook, support beam, or another sturdy area that is at least a metre off the ground. Hanging baskets are a good choice because they allow the sedum burrito's long stalks to achieve their maximum effect by creating dimension and dramatic length.
2. Pedestal planter
Pedestal planters come in a variety of styles, from traditional styles that look like they come from ancient Roman ruins to modern, minimalistic styles. Sedum burrito owners can get creative with the type of pedestal planter they choose. Gardeners should arrange the sedum burrito in the pedestal planter to allow the long leaf stalks to trail down and cascade over the sides of the planter, giving a dramatic look that shows off the plant to its best advantage.
3. Succulent garden
Sedum burrito plants make great additions to succulent gardens. Because succulent plants are so diverse in shape, size, form, texture, and colour, it can be possible to get quite creative with a succulent garden. Prior to planting a collection of succulents in a single container, the gardener should make sure all the plants have similar care requirements in terms of light, water, and temperature.
Indoor succulent garden
An indoor succulent garden typically involves planting several different types of succulents in a single, large planter. Containers such as decorative bowls or shallow terracotta pots are acceptable for indoor succulent gardens. The gardener can arrange the burro's tail plant with other types of succulents in different shapes to create a pleasing combination of colours and textures.
Outdoor succulent garden
Gardeners typically plant outdoor succulent gardens directly into the ground, but those who plan to incorporate a burro's tail plant needs room to trail and should not be planted directly into the ground. Instead, the gardener can create dimension by placing the sedum burrito higher than other cactuses and succulents.
4. Decorative planter
Decorative planters are simple and creative options for those who want to place their sedum burrito plants on a shelf or table. Some decorative planters look like animals or even human heads, making the sedum burrito stalks look like hair or a decorative hat. Not all decorative planters are whimsical, though. Some have a simple decoration such as a colourful glaze or mottled paint finish, while others have form floral or Arabesque patterns painted or printed on their sides.
5. Wall planter
Wall planters are a good option for both indoor and outdoor planting. These planters attach to a wall and allow the sedum burrito plenty of room to hang and grow. If they hang in a location that gets sufficient light, the burro's tail plant can provide a lovely source of wall decoration as it grows and trails. If provided with excellent care, this succulent periodically blooms with bright red-pink flowers, providing even more beauty as wall decor.
How to buy sedum burrito containers on eBay
It is possible to buy both sedum burrito plants and containers on eBay. Shoppers who want to purchase both should search for each item separately to allow for greater freedom of choice. Shoppers can find listings for the plant using search keywords such as "sedum burrito", "donkey's tail", or "burro's tail". Container keywords can be more varied and should zero in on the desired type of planter. For example, using terms such as "hanging basket planter" or "decorative planter" can help narrow down options.