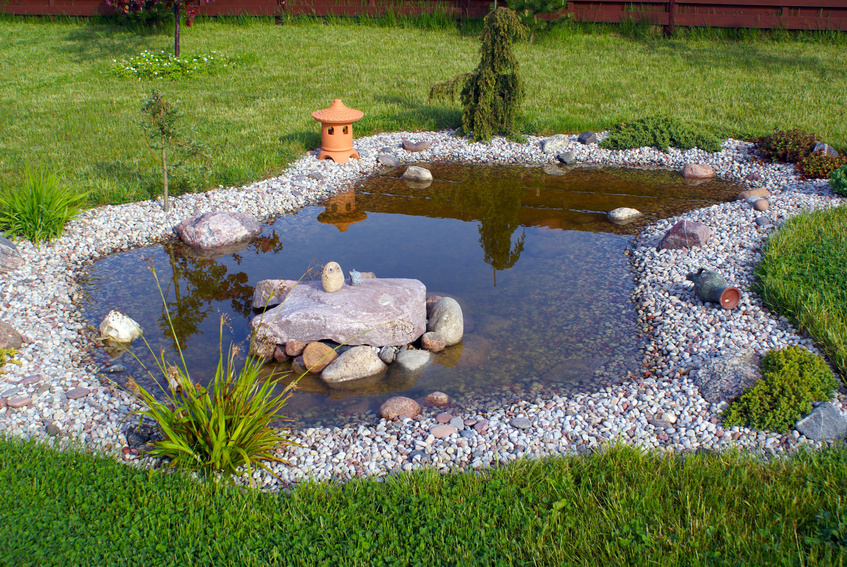 A garden is the heart of a home's exterior, and it often overflows with flowers, foliage, and even fruit trees, vegetables, and herbs. Decorative stones add visual and textural interest to a garden, and pavers, flagstones, and fieldstones provide natural ways to invite visitors into the outdoor space. Decorative stones and gravel add beauty and functionality that even leads to conservation benefits. Natural stones, boulders, river rocks, and coloured glass can either beautifully blend or contrast with flowers, succulents, and evergreens to create a picturesque scene.
1. Paver walkway
Flat stone pavers create a natural transition from the home to the garden and lead guests through the various sectors. Large pavers are a good choice for a patio that connects a home's exterior to the landscaping, and they offer a stable surface for patio furniture, potted foliage, and garden statuary. Large concrete pavers also provide a safe surface to place in front of an outdoor fireplace or fire pit.
Pavers of any size replace thirsty grass, allowing homeowners to conserve water and reduce lawn maintenance. To establish a winding paved walkway through a garden, many owners choose small natural pavers to create serene designs and safely lead visitors.
Paver materials
Slate, flagstone, and textured concrete are good choices for pavers. Precut pavers in subtle variegated colours fit seamlessly together and offer an elegant, sleek look. For a more natural style, homeowners can use irregularly shaped fieldstones and leave some space between the stones to allow slow-growing grass or Irish moss to grow for a rustic look.
2. Garden gravel
To create drought-tolerant landscaping, it is possible to replace a water-intensive lawn with garden gravel. As a stylish alternative to plain grey driveway gravel, decorative stones come in a variety of colours to complement plantings, adjacent walkways, and even home exteriors.
Water conservation
Ornamental, conservation-friendly grasses such as Sea Breeze, Japanese silver grass, and deer grass create a serene space that saves water while highlighting the decorative gravel. Homeowners can cover a layer of weed cloth with permeable gravel to allow water overflow to seep into the soil instead of running off onto the driveway.
3. Multitextured pathway
Homeowners can create visual interest by using contrasting shapes and materials on a curving pathway. Large, square concrete pavers serve as the anchor for the pathway, and pieces of fractured shale look great in the spaces between the pavers. Soft grasses and feathery yarrow look beautiful lining the walkway and create a contrast to the linear edges of the pavers and the irregular pieces of shale.
4. River rock accents
Smooth and varied in colour, shape, and texture, river rocks are a versatile addition to a garden. Easy-to-maintain river rocks give planting beds a natural edge that is visually appealing and tranquil when surrounding a Zen-like column fountain. River rocks can fill a dry creek bed or replace mulch under shrubbery for permanent groundcover that never requires replacement.
River rock veneer
An outdoor fireplace is a welcoming focal point on an outdoor patio, offering warmth and architectural interest. Homeowners can enhance the natural appearance of these fireplaces with realistic river rock veneers.
5. Zen rock garden
Inspired by Japanese Zen rock gardens, a typical rock garden is the product of individual vision and creativity. A raised terrace can protect a Zen rock garden from children or pets, and a lower border of flat rectangular stones set around smooth pebbles creates dimension and visual interest by utilising darker colours.
The interior of a Zen garden often contains mossy islands, an evocative boulder, and raked pebbles. Stacked rocks create a sculptural tableau, and green and azure glass stones perfectly reflect the natural surroundings. To add colour and a variety of textures, many owners place hardy plants like succulents, evergreens, and herbs in the gardens.
Small-scale rock garden
Even apartment dwellers and homeowners with tiny yards can enjoy Zen rock gardens. A large, shallow planter makes a great foundation for a scaled-down rock garden that combines compact evergreens, succulent plants, fine pebbles, and colourful stones.
How to buy decorative garden stones on eBay
Decorative garden stones offer a beautiful, practical way to adorn a garden with interesting borders and pathways. After deciding on a design plan, simply enter keywords such as "river rock" or "concrete pavers" into the search box on any eBay page and then browse the results. Because garden stones are heavy and bulky, you may want to use the filters to find nearby sellers who are amenable to local pickups. Decorative garden stones are available that complement almost any design personality and project.