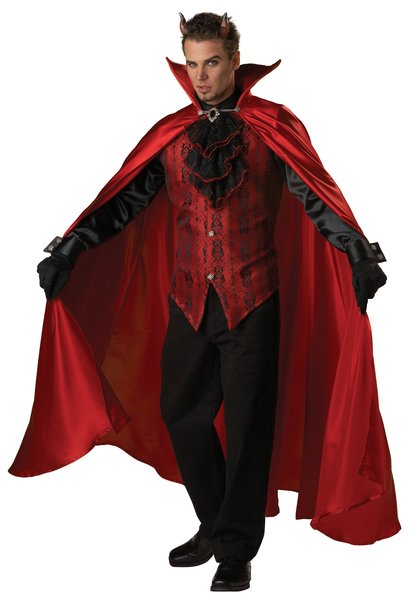 It's no secret that accessories can make or break the appearance of a fancy dress costume. They can be the difference between an outfit looking like normal clothes or a recognisable piece of fancy dress. It doesn't matter whether the costume is intended for Halloween or just a regular fancy dress party, accessories are important in completing the look of an outfit.
Accessories are usually purchased as novelty items, but few realise that they can actually be made from scratch as well. This guide looks at the top five essential costume accessories, and how to go about getting great deals for novelty items on eBay.
Choosing the Correct Accessories
The art in fancy dress is selecting the appropriate accessories to match an outfit. Their importance is often unheralded and shoppers will need to do their research prior to buying. Look at pictures of the thing or person being emulated to see exactly what accessories are required. It doesn't matter whether someone dressing up as Child's Play's Chucky or Charlie Chaplin, accessories will be the difference maker in terms of realism.
1. Fake Blood
Halloween is considered the time of year in which ghastly ghouls come out to play. The best way to improve the fright factor of any outfit is to use some fake blood. Place it all over the outfit and stand out from the crowd on this year's Hallows eve
.
Fake blood can be purchased from eBay, but there is always the worry that it will stain clothes due to its unknown elements. If shoppers want a more natural product they can look at making their own fake blood.
Homemade Fake Blood
The ingredients required to make fake blood at home are non-toxic and completely safe for children to use. Take water, flour, red food colouring and corn syrup and do the following: (Important note: red food colouring can stain the skin, so always wear a pair of rubber gloves during the process)
Blend one-part water to three-parts cornflower in an appropriately sized bowl.
· Add two drops of food colouring and blend rigorously until the mixture turns red.
· Stir for a minimum of five minutes until the mixture is complete.
· If required, adding two to three tablespoons of flour can thicken the blood.
· Leave the mixture to sit for ten minutes before applying it to a fancy dress costume.
2. Sword
There are various costumes that require a sword as an accessory. It doesn't matter whether someone is a pirate, knight, bodyguard or ninja; this fighting implement is an essential part of the outfit. The differences between swords are evident and no one wants to use one alongside an inappropriate costume.
· Ninja – Katana sword.
· Pirate – Cutlass sword.
· Bodyguard – Short knife or dagger.
· Knight – Excalibur sword.
Shoppers will find all these swords and more on eBay, but sometimes something more customised is required. When this is the case people can choose to make their own at home.
Homemade Sword
Making a sword isn't a tough task and can actually be fairly cost effective. Start by acquiring a few appropriate sized pieces of cardboard.
Cut two pieces of cardboard into the shape of a sword; don't forget to include the sword handle in the design.
· Place a dowel rod in-between the two-pieces and glue it into position.
· Strengthen the sword with pipe cleaners by entwining them around the handle.
· After this it will be time to get creative and paint the sword a silver colour and the handle a deep black.
· If paints don't seem appropriate, wrapping the sword in foil is always another option.
3. Christmas Baubles
The festive season is a popular time for fancy dress. It is safe to say that there will be no shortage of Christmas trees at fancy dress parties this winter either. However, a Christmas tree without baubles is just a tree. Those who are dressing up as one should be on the hunt for the shatterproof variation in order to complete their outfit.
4. Angel's Wings
Angels have always been a popular costume choice, in order to make an outfit look as convincing as possible an appropriate set of wings is required. Without such, an outfit goes from angel to alter boy, so wearing a pair is essential. They should have over the shoulders straps and a feather effect. Some may choose to opt for real feathers, while others will want something more synthetic. Either way, shoppers are sure to find what they're after on eBay, even if that means buying supplies in order to create a customised pair.
Homemade Angel's Wings
Making a pair of angel's wings at home is thrifty, creative and budget friendly. To go about making a pair shoppers will need lightweight wire, heavy-duty tape, pantyhose, feathers and some ribbon.
Bend the lightweight wire into a figure-eight/infinity shape.
· Adjoin the wire together to make a complete frame.
· Tape the ends of the wire together with heavy-duty tape for increased security.
· Stretch a pair of coloured pantyhose (black and red are the common choices) over the wings and tie a knot in the end.
· Attach two pieces of ribbon to the middle of the wings to give it a flowing effect.
· If people are feeling really creative, try strategically gluing some feathers to the frame as well.
5. Halo
Whether someone is choosing to dress up as either an angel or a member of the celebrity deceased, it may be worth acquiring a halo for added effect. The halo should either to be white or red to represent 'heaven' or 'hell', and both can be purchased from eBay.
Homemade Halo
A halo is arguably the easiest costume accessory to make at home. All that anyone requires is thin wire, headbands, glue, wire hooks and a feather boa.
Take the thin wire and bend it into the shape of a halo.
· Twist the ends to help keep it in place.
· Place a headband around the circular part of the halo and hook it in place, then use glue to secure its position.
· Wrap a feather boa around the frame and glue it into place.
· Trim up the feather boa to complete the process.
How to Buy Costume Accessories on eBay
There is no shortage of places to buy fancy dress costume accessories from, but there is only one place that has a consistent flow of stock. eBay is the premier website for fancy dress peripherals, all anyone needs to do to find them is to select the clothing, shoes, accessories category. Click the costumes and accessories sub-categories to narrow down the amount of items shown.
If it is a certain accessory that is needed, try using eBay's search functions, to get more information on them visit the search tips page.
After hunting out the accessory that makes a fancy dress outfit complete, it will be time to pay for it. Be sure that the price is suitable, and then make a payment via PayPal, the leading electronic payment management service.
Conclusion
Many people believe that accessories are limited to day-to-day wear, but they don't realise how important they can be to a fancy dress costume. It can be the difference between an outfit being prominent or going unrecognised. The accessories listed in this guide are the five most essential and can actually be made in the home. Always remember that creativity can be a great money saver when it comes to fancy dress costume peripherals.
Whether they're pre-made or homemade eBay provides the best deals on any all fancy dress costume accessories.