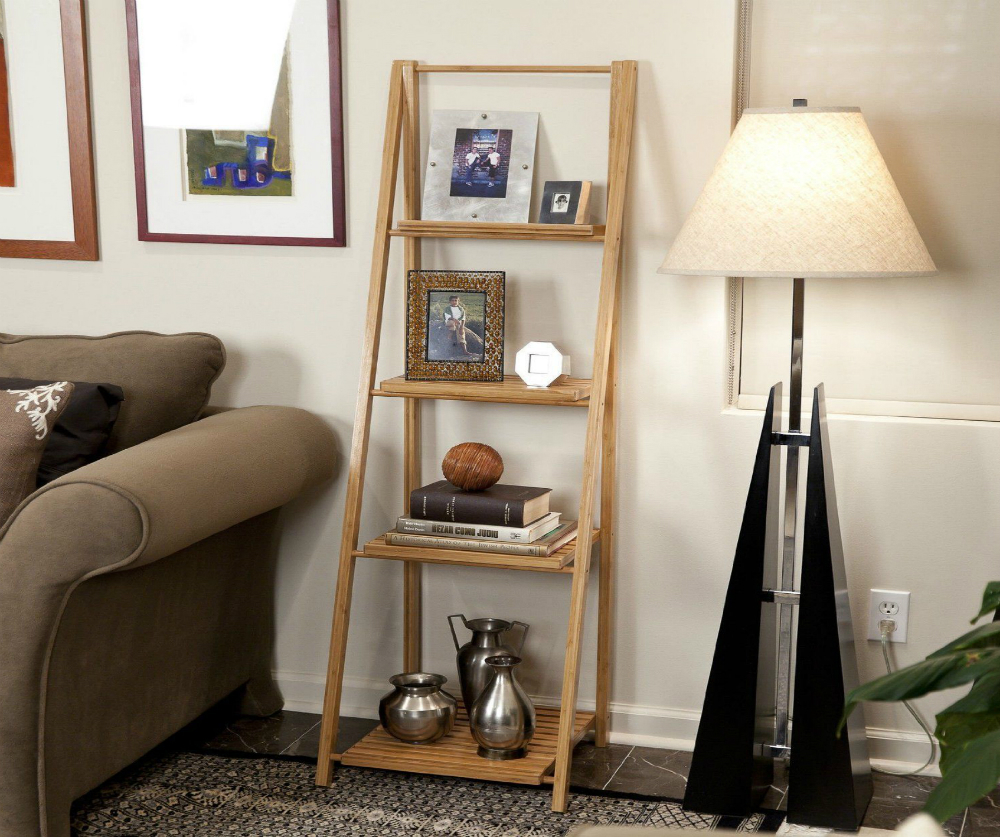 Leaning ladders offer a stylish way to re-purpose an old ladder that may be sitting around the home. These features add a unique design element that can be used to blend in or boldly stand out against the decor. Take full advantage of leaning ladders with the following five ideas that match nearly any design style.
Folding Ladder Plant Stand
A small folding ladder can be re-purposed to hold planters. Strip away any existing paint, sand down the ladder, and paint it the desired colour. Lay pre-cut boards across the front and back rungs of the ladder. These boards will serve as the platforms for the planters. For added stability, the boards can be affixed to the existing rungs with nails or screws. As an alternative to planters, this homemade shelving unit can be used to hold books.
Leaning Ladder Towel Rack
A leaning ladder with only one side can be used as a rustic towel rack. Lean the ladder against a wall in a bathroom, and then use screws to affix the top of the ladder to the wall. Each rung on the ladder can hold a towel. If wet towels will be used on the ladder, or the rack will be used in a moist environment, apply a water-resistant finish, and allow ample time for it to dry before the towel rack is used.
Knick-knack Shelves
Start with the bare structure of a ladder, and then remove the steps that will be replaced with bigger shelves. Measure pieces of wood to fit snugly between the sides of the ladder. Each shelf should be cut slightly smaller than the last to create a stepped effect. This gradual effect will become noticeable when the piece is leaned against the wall. The shelves act as platforms for all types of knick-knacks.
Magazine Rack
This rack is similar to the leaning ladder towel rack, but it uses a smaller ladder. A two- to three-foot portion of an old ladder can be cut and sanded to create a small rack. Create a rustic look by leaving an older ladder distressed, or switch to a more modern appearance by sanding and painting the ladder a uniform colour.
Television Stand
Leaning ladders can be styled as a TV stand when much larger shelves are inserted into the ladder. Remember to remove some rungs to make room for the television. However, it is important to ensure that the shelf can withstand the weight of the TV before it is placed on the stand. Pre-made leaning ladder-style shelving units can also be used as a TV stand; these furniture pieces make an ideal option for people who want to combine the unique look of a leaning ladder with their entertainment centre display.