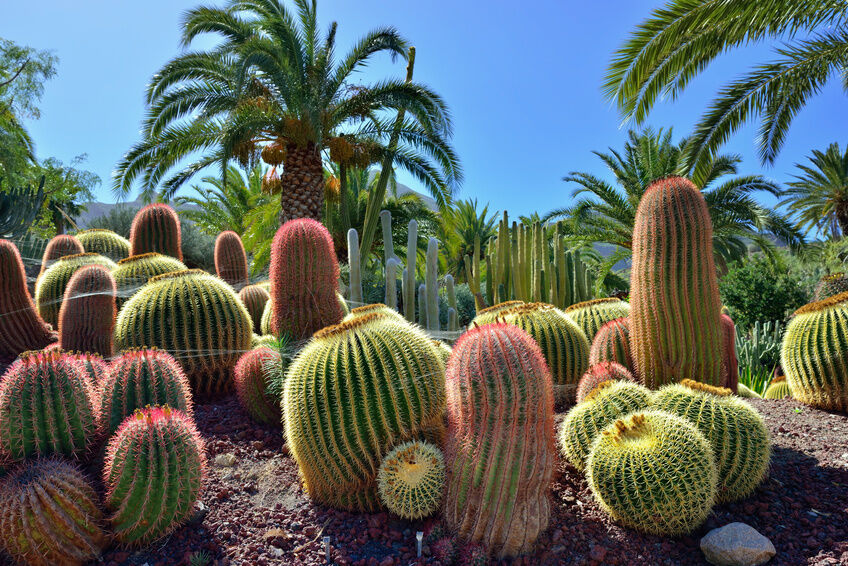 Gardening is a rewarding hobby that adds beauty to a property while also potentially benefitting local wildlife by providing shade and other necessities. Beyond the typical flowers and leafy plants, succulent plants are an ideal addition to any garden for a variety of reasons. They are incredibly low maintenance, surprisingly colourful, and display fascinating geometric structures. They are also versatile in terms of growth locations and containers, while some succulents provide health benefits to their owners.
1. Low maintenance, high satisfaction
It is hard to find a reason not to do a thing that is easy, and growing succulents is among the easiest things to do in a garden. Many plants and flowers are finicky and fragile; they need precise combinations of sun and shade, temperature, and water levels. Not so with succulents. As long as a succulent occupies a nice, sunny spot, it only needs watering roughly once or twice a week in the summer. In the winter, watering drops to once a month, and many succulents do just fine in the cold. Succulents thrive in some of the earth's harshest environments, so they have no problem thriving on a pampered patio or civilized garden.
2. Colourful cacti, brilliant bromeliads
Some of the best known succulents, such as aloe and agave, are basically green, which may lead some people to assume that all succulents are green. On the contrary, aloe plants produce bright red flowers, while some agaves sport vividly coloured leaf borders and stripes. Beyond these two plants, the wider spectrum of succulents actually produces a veritable kaleidoscope of brilliant colours. For example, paddle plants flame brightly in pinks and oranges, and Morning Light echeveria offers blueish pinks and purples.
3. Garden variety geometry
The best gardens are full of interesting shapes and textures as well as colours. The intricate geometry of various succulent plants is a wonder to behold, and it contributes an impressive and memorable element of order and precision to an otherwise free-flowing artificial landscape. Agave plants often exhibit this sort of intense layering, and the various Sempervivum species especially grow and unfold in hypnotic symmetrical fractal orientations reminiscent of lotuses or artichokes. These come in many colours, from bright coral to deep eggplant purple.
4. Creative locations
Many varieties of strong, rigid, easy-to-grow succulents are ideal for fitting into tight spots, growing into creative structures, or potting in imaginative ways. Firesticks, for example, do well enough in ordinary soil that they can spice up the scene next to more conventional, leafier plants. Gardeners can train succulents to grow in a wreath formation and hang it up once the shape is established. Similarly, cone formations make for a charming tree-like effect. They also do well in containers as varied as teacups, hanging glass spheres, and the crevices of garden statues and sculptures.
5. Succulents for health
Aloe is perhaps the most recognisable succulent, and its potential medicinal benefits have been touted for centuries. Uses for aloe include the treatment of cold sores, psoriasis, constipation, and other conditions. Many people apply pure aloe gel to sooth sunburns and rashes or even use it as a natural makeup remover.
Beautiful and delicious
Many succulents that grow wild in Australia are edible and were once staples of the Aboriginal diet. The leaves, fruit, and other parts of tender young succulent Boab plants, for example, are a traditional food that is high in vitamin C and is currently the subject of experimentation by the Department of Agriculture in Western Australia for its potential as a commercial food crop.
Munyeroo is another tasty native Australian succulent, with a juicy leaf and hearty stem that tastes great in salads and soups as well as stir fried or pickled. A lovely garden accent, the pink-stemmed plant grows close to the ground, has paddle-shaped foliage, and sprouts small yellow blossoms. Aborigines have enjoyed its rich flavour and high protein content for millennia.
How to buy succulents on eBay
For a great deal on a hardy garden plant that does not drain the life out of your wallet, enter the terms "succulent plant" into the search box on any eBay page. Read desirable item descriptions for information on the species, growing requirements, life cycle, and other details of the plant or seed for sale. Examine any photos for a sense of its appearance while young as well as in full bloom. Also, take a moment to check the seller's feedback rating and past customer feedback prior to purchasing.