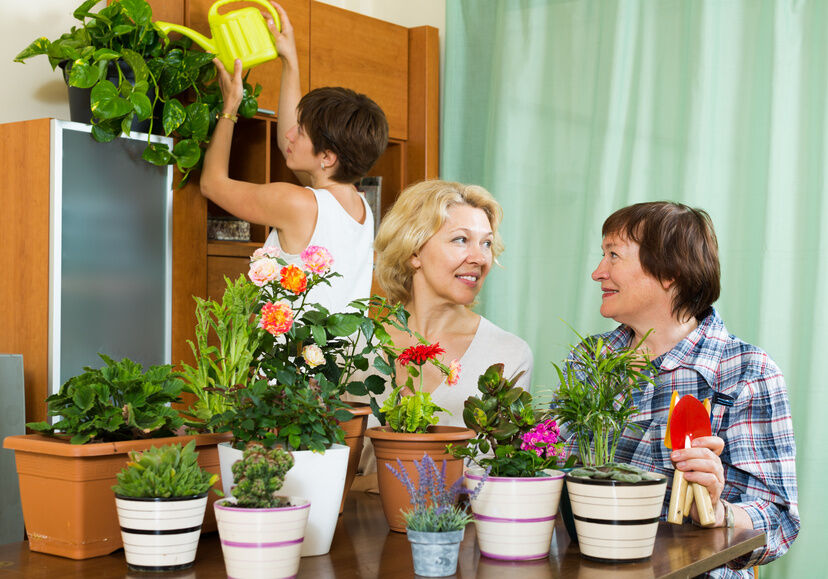 Homes with deep window sashes provide an array of display options for indoor plants. Without these sashes, it can be difficult initially to find suitable, secure areas to exhibit each pot. However, there are many creative options available for homeowners. The following list will offer five creative ways to give houseplants a home and add extra flare to the decor of a room.
1. Log Stands
Displaying houseplants on logs is a rustic, all-natural addition to a room. Find interesting logs that have an average diameter of 15 centimetres, ensuring they are dry and free from insects. Paint the logs, or give them a protective clear coat of lacquer. Cut them to varying heights, and group the logs vertically near a window. Place one plant on each log.
2. Macramé a Hanging Basket
If floor space for plants is limited, go vertical instead. Hang plants from the ceiling or window frames using macramé baskets. Weaving homemade macramé hanging baskets is a craft that can be learned in a few hours; it yields results that add unique, artistic elements to any room. Use a mixture of rope, hemp, clothesline, and ribbons to create hanging baskets with outstanding visual appeal.
3. Inverted Pots
Plants kept the floor can lead to an accumulation of dust, debris, and clutter. Elevate them to window level to clean up the space and give them proper sunlight. For a quick solution, invert large, empty pots, and place the houseplant centrally on top of the pot. This can be particularly stylish if the inverted pot is decorated with creative painted designs or covered with mosaics.
4. Ladder Plant Stand
A wooden A-frame ladder can be transformed into an interesting plant stand in larger rooms. Open the ladder, and lay boards on the rungs to create shelves. To avoid accidents, nail the boards to the ladder, or attach them using glue. Paint the ladder and shelves, or leave them bare for a natural, rustic finish. If left in its natural colour, the ladder should be painted with a clear coat of lacquer to protect the wood from moisture that may leak from the plants.
5. Glass Shelving
A beautiful space-saving solution to displaying houseplants is glass shelving installed inside a window frame. This type of shelving is often called a greenhouse window. To build glass shelving, measure the window, and cut a length of glass to fit the width. Then, cut two pieces of moulding, and nail one piece on either side of the window inside the frame. Place the glass on the moulding, and repeat this process until there are several shelves in the window frame.
This should only be done in windows that are not typically opened on a regular basis. Do not place the shelving in windows used as a fire escape route because this type of shelf blocks access and is not easily removed. In addition, ensure the glass is approved for shelving purposes. Thinner glass may crack or shatter under the weight of the plants.
With a little creativity, homeowners can turn their home into a plant sanctuary. Turn empty space into a functional place for houseplant enjoyment.