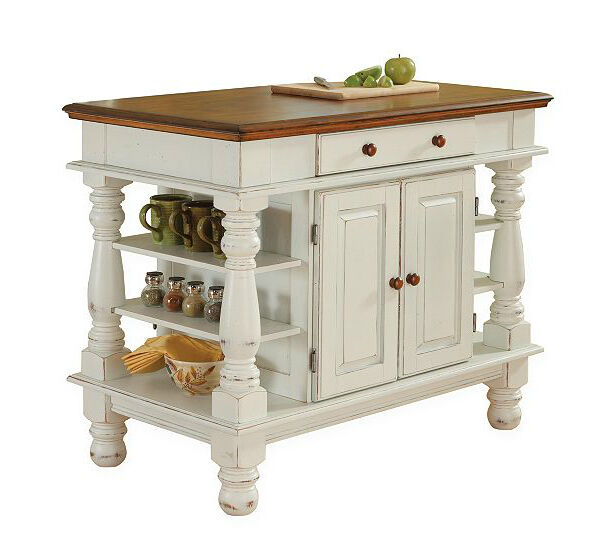 Having an efficient and organised kitchen area saves time and frustration for the homeowner. Nobody wants their food and kitchenware toppling out onto the floor when they open up a cabinet, or having to dig around to find the right spice or kitchen tool.
Using valuable counter space to store kitchen appliances or pantry items creates unattractive clutter in one of the focal points of the home. This is why having the right storage items for the kitchen is so important.
Shelving as Kitchen Storage
Wall-mounted shelving is an appealing option because it doesn't take up any floor space. As long as the items stored on the shelves are kept well-organised and not overly crowded, wall shelves also add a touch of visual interest to a kitchen area. If there's room, decorative elements like vases and small pictures give warm, aesthetic appeal to kitchen shelving.
Freestanding kitchen shelving is an appealing option for those who have larger kitchens or just need a lot of additional storage space. Large freestanding shelving units are useful for commercial kitchens and homes housing large families.
Storage Cabinets
Freestanding storage cabinets are not only handy for housing lots of pantry items and kitchenware, they also look great. Typically made of wood, storage cabinets are available in finishes to match many types of decor, including oak, mahogany, white or black. They may contain interior shelving that slides out for easy access. Kitchen storage cabinets have a solid door or a transparent one, which allows the homeowner to display kitchen decor items within it. Some storage cabinets also have open spaces where decorative baskets can be placed which can hold clutter or other kitchen items.

Glass Containers
Glass containers are popular for storing foods such as coffee, sugar, flour and tea. Kitchen canisters and containers typically have a rubber seal on the lid, to help keep their contents fresh and free of dust and insects. Glass containers may be rounded, square or cylindrical in shape and are available in many different styles to match varying kitchen decor. One can find glass containers ranging from high-end decorative pieces to very inexpensive basic jars with screw top lids. You can even find glass containers which are designed to hold leftovers, for those who prefer glassware over plastic.

Plastic Containers
Plastic containers meant for food storage come in a variety of sizes, with airtight push-on or screw-top lids. Plastic containers can be used to keep cereal and other bulk food items fresh. They're especially helpful for keeping leftovers fresh in the refrigerator. One of the most well-known brands of plastic storage containers is Tupperware. Tupperware makes plastic containers in every style and for almost any purpose one can think of.

Other Kitchen Storage Organisers
Spice racks are also useful in the kitchen. Spice racks may have a carousel design for easy turning, or may simply consist of tiny shelves within a wooden frame. Many spice racks can be found with premium spices already in the containers, so there is nothing more to purchase.
Cupboard organisers have become more popular as the demand for customised kitchen cabinetry is on the rise. They allow several items such as canned goods to be stacked upon one another, saving more space. Cupboard organisers are typically designed to slide out on a metal track, making items in the back of the cabinet more easily accessible.
Lastly, kitchen drawer dividers are another handy organising tool to have in the kitchen. Drawer dividers are manufactured to fit most any size of drawer and may be made of wood or plastic. They are great at keeping like items together and making all kitchen drawer items easier to locate.

How to Buy Kitchen Products on eBay
There are many ways one can locate kitchen storage items on eBay. Begin by typing in 'kitchen storage' and then select 'Kitchen, Dining and Bar.' Doing this will take you to a wide variety of helpful items such as over the sink storage racks, utility trays, dish organisers and magnetic knife holders for example.
One can also perform a search of a specific item by simply typing it in. For example, spice racks, cupboard organisers and drawer dividers can be found on eBay by typing in either of the three items in the search bar and then choosing the "Kitchen, Dining, Bar" tab on the left side of the search results.

Conclusion
Every kitchen could use a little reorganising. With the help of eBay, even the most cluttered and disorganised kitchen can be whipped into shape. Choosing the right shelving and cabinetry is not only useful, it adds to the decor of the kitchen. Filling them with essential kitchen storage items such as the right containers and organisers will make the kitchen area both functional and attractive.