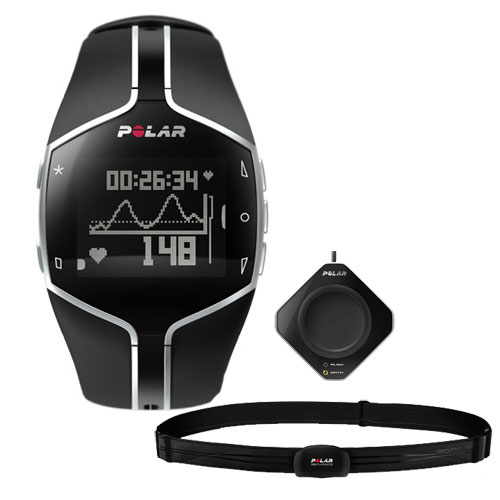 If you are engaging in cardiovascular training, a heart rate monitor can help you supervise and improve your fitness levels.
With the extensive range of heart rate monitors on eBay, selecting the right one may seem like a daunting task.
This guide aims to make the process easier, looking at the five most important features of a heart rate monitor.
The Heart Rate Monitor
The heart rate monitor is an electronic device worn during exercise. It enables the user to:
· track the intensity of a workout
· monitor fitness levels
The heart rate increases during exercise, raising blood flow so that oxygen and nutrients reach working muscles.
Raising the heart rate is a key part of cardiovascular exercise. Exercise is most effective when the heart rate has reached the target heart rate. Your target heart rate depends on:
· your age
· desired workout intensity
· existing fitness level
Reaching the target heart rate makes the most of a workout.
Heart rate monitors provide constant or on-demand readings. The user can adjust the intensity of their workout to increase or reduce their heart rate to keep it on target.
1) Types
There are three types of heart rate monitor:
· Chest-Strap Heart Rate Monitors
The chest-strap monitor involves two devices. The first is a strap, worn around the chest. It includes a sensor, near the heart. The chest strap may be either a stand-alone unit, or built-in to clothing such as a sports bra. The strap continuously records your heart rate, transmitting the data wirelessly to a second device. This is often a watch-like kit worn at the wrist. Some chest straps transmit data via Bluetooth to a mobile phone, such as the Polar H7 model.
· Watch or Armband Only Heart Rate Monitors
Chest straps can be uncomfortable to wear during some exercises. Premium models such as the Mio Alpha heart rate monitor offer continuous readouts without the need for a separate chest strap. Optical sensors on the back of the watch record and display your heart rate continuously by taking your pulse through your skin.
· Finger Sensor Heart rate Monitors
Finger sensor monitors, also known as pulse sensor or touch sensor monitors, are single units, often worn like a watch. An example of this is the Mio Triumph range. There is no need for a separate chest strap to be worn and the device will only display on-demand heart rate readings. To display the current heart rate, simply touch the sensors built- in to the device.
Finger sensor monitors offer a cheaper alternative to other types of monitor, but can suffer from reliability issues and have fewer additional features.
2) Functions
Different models of heart rate monitor offer a varied range of built-in functions. Entry-level heart rate monitors may display little more than your current heart rate and perhaps a stopwatch. More advanced heart rate monitors may offer a number of other functions for people engaging in more diverse forms of exercise, including:
· distance travelled
· current / average speed
· average heart rate
· pre-programmed workouts
· split timers
· GPS
· alarm (for when you leave your target heart rate zone)
· altitude
· backlight
Research the different functions available before deciding what is needed from a heart rate monitor. If jogging in an urban area, for example, choose a basic monitor. If the exercise program involves swimming and altitude training, it would be beneficial to purchase a waterproof heart rate monitor with more advanced functions.
3) Price
The more advanced the heart rate monitor, the higher the price. A basic heart rate monitor will go for between $10 and $20. Recognised brands offer top-of-the-range heart rate monitors for around $800 or $900.
With such a wide range of prices, it is important to look for a heart rate monitor with the right functionality whilst it remains affordable. Set a budget before searching for the right heart rate monitor.
On eBay, you can specify a price range by using the "Price" slider option on the left-hand-side of the search results page.
4) Condition
Buying a new heart rate monitor offers the best condition; expect to pay more than buying the same item second-hand. Some people may beinterested in buying a more advanced heart rate monitor but are put off by the cost, however many sellers can be found offering used items for a discounted price.
On eBay, you can limit the search results to include only new or second-hand items. Select the "New" or "Used" checkbox under the "Condition" option on the left-hand side of the results page.
If buying a second-hand heart rate monitor, ensure that the condition of heart rate monitor is in a working state. Contact the seller with any questions about their heart rate monitor, such as how often it has been used, or whether all of its functions still work reliably.
5) Brands
There are several trusted heart rate monitor brands that offer a range of heart rate monitors, from simple to elite-level models. These include: Polar, Garmin, Timex, Mio, Ekho, Suunto, New Balance, and Bowflex.
Some of these brands, such as Ekho and Bowflex, may have a limited market in Australia. On eBay, however, these brands of heart rate monitor can be purchased from international sellers, such as those from Europe or the United States of America.
Buying a Heart Rate Monitor on eBay
Once you know which type of heart rate monitor you require, you can find it quickly and easily on eBay.
Firstly, navigate to the Sporting Goods category. From here, click on Accessoriesunder the Fitnesscategory.
From the list of categories on the left-hand side of the page, click on Heart Rate Monitors.
You will find several options on the left-hand side of the page to customise your search. If you only want to see items located in Australia, for example, you can select "Australia only" under the "Item Location" heading.
You may also find some exclusive offers on eBay's Deals page. With a range of deals on new products that are updated daily, you may find a heart rate monitor on offer in the Sports Equipment section.
Keyword Search
If you require a specific heart rate monitor, you may benefit from using the Keyword search bar. If you wished to purchase the Polar FT7 heart rate monitor, for example, you would simply type "Polar FT7" (without quotation marks) into the search box.
You can also select "Include Description" to expand your search results. Visit eBay's Searching Helppage for more tips on searching with keywords.
If you can't find exactly what you're looking for, try browsing eBay Stores or tell the eBay Community what you're looking for by creating a post on Want It Now, or save a search on My eBay. eBay will email you when a matching item becomes available.
Shop Around
You should spend some time researching the different heart rate monitors on eBay. The more you shop around, the better chance you have of finding the right item.
Browse current listings and use the advanced search options to include completed listings in your search results. This will give you a better idea of the prices you should expect to pay.
Buy a Heart Rate Monitor with Confidence
Make sure that you know exactly what you're buying and understand how eBay and PayPal protect you.
Know Your Item
Read the details in the item listing carefully.
Remember to add delivery costs to your final price. If you're buying a high value item, check that the seller will insure it until it is delivered to you.
If you want more information, click the "Ask seller a question" button on the seller's profile or the "Ask a question" link at the bottom of the item listing page.
Always complete your transaction on eBay (with a bid, Buy it Now or Best Offer) otherwise you will not be covered by eBay Buyer Protection.
Know Your Seller
Research your seller so that you feel safe and positive about every transaction.
· What is the seller's feedback rating?
· How many transactions have they completed?
· How many positive responses do they have?
· What do buyers say in their feedback?
· Do they offer a money-back guarantee?
· What are the terms and conditions?
· Are buyers positive about the seller?
· Most top eBay sellers operate like retail shops and have a returns policy.