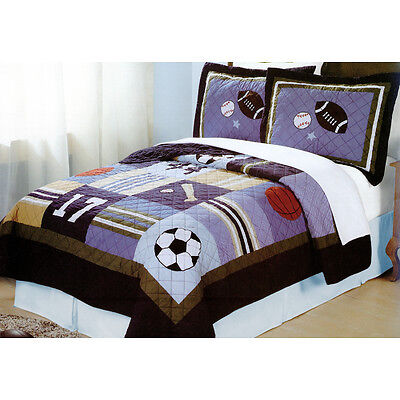 Putting together a comfortable and attractive bedroom involves many components, from large-scale furniture choices to smaller touches. One of the smaller touches that makes a big difference to a bedroom space is a 5-piece quilt cover set. A quilt cover set adds style and comfort to a bed and gives it a finishing touch that can make a bedroom a place of rest and relaxation. When looking for the right 5-piece quilt cover set for a bedroom, consumers should familiarise themselves with the components that go into a set and the features found in various sets. Once consumers understand the ins and outs of a quilt cover set, they can explore retail options, including those beyond traditional, brick-and-mortar stores, such as the online retailer eBay.
Components of a 5-Piece Quilt Cover Set
A traditional 5-piece quilt cover set involves five matching pieces: a quilt cover, two standard pillowcases, and two European pillowcases. Each component bears a complementary design or pattern that works with the whole to create a complete and finished look on a bed.
Quilt Covers
Quilt covers, sometimes referred to as doona covers or duvet covers, are essentially large sheaths that fit securely over a quilt. Most quilt covers have one opening at one of the narrow ends. These ends feature closures that run the gamut from snaps and buttons to ties and zippers. Quilt covers come in a range of sizes that work with the standard sheet sizes for Australian beds. The following table lists the various cover sizes and their dimensions. Because consumers may encounter items manufactured internationally, the table also includes U.S. and European sizes and dimensions.
| | |
| --- | --- |
| Quilt Cover Size | Dimensions |
| | 170 cm x 220 cm |
| Australian Full | 193 cm x 220 cm |
| Australian Queen | 220 cm x 230 cm |
| Australian King | 264 cm x 234 cm |
| European Single | 145 cm x 200 cm |
| European Double | 200 cm x 200 cm |
| European King | 230 cm x 220 cm |
| European Super King | 260 cm x 220 cm |
| U.S. Twin | 170 cm x 220 cm |
| U.S. Full | 193 cm x 220 cm |
| U.S. Queen | 220 cm x 230 cm |
| U.S. King | 264 cm x 234 cm |
| U.S. California King | 280 cm x 244 cm |
Consumers should use the above sizes and dimensions as a general reference, keeping in mind that manufacturers may vary from these standards from time to time. Confirming a quilt cover's dimensions at the point of purchase is essential to finding the optimal fit for a bed and quilt.
Standard Pillowcases
Standard pillowcases follow one set of dimensions around the world, making them an easy item to match to existing pillows. The dimensions of standard pillowcases in Australia, North America, and Europe measure 50 cm by 75 cm. On occasion, consumers may see dimensions listed as 51 cm by 76 cm, but this marginal variation should make no difference when fitting a pillowcase to a pillow. Closures for standard pillows include zippers, buttons, ties, and foldover flaps.
European Pillowcases
European pillowcases are square and unlike any standard, queen, or king pillowcases used in North America or Australia. They measure 65 cm by 65 cm. Manufacturers and vendors sometimes refer to these pillowcases as continental pillowcases. They typically sit behind standard pillows in a set to create a contrasting background.
Features to Consider in a 5-Piece Quilt Cover Set
A 5-piece quilt cover set comes with a variety of features that enhance its comfort and usability for consumers. Consumers may find a set with an entire range of features or one with just a few features that are a priority for the purchaser.
High Thread Count
Quilt cover sets with a high thread count are typically much softer on the skin than those with a lower thread count. The thread count of a set defines how many threads the fabric features within a particular square area. More often than not, higher thread count correlates with a higher price point. A thread count higher than 250 is a high thread count, with some sets running as high as 1,000. Consumers should keep in mind that the industry does not have a set standard for the square area used to define the thread count on a quilt cover set.
Fabrics Used in Quilt Cover Sets
The fabrics used in a 5-piece quilt cover set range from simple jersey cotton to more elaborate polyester blends. Consumers may encounter various terms in the marketplace. 'Percale' refers to closely woven fabric with a tight finish, while 'sateen' refers to a fabric in which the vertical thread runs across a series of horizontal threads, creating a very strong fabric. Egyptian cotton sets use the cotton of the Gossypium barbadense plant and are often finer and softer than other cottons.
Machine Washable vs. Dry Clean
Because homeowners need to change out a bed's sheets, pillowcases, and quilt covers often, finding options that are machine washable can give consumers a housekeeping advantage. On the higher end of the spectrum, some 5-piece cover sets may need attention from a dry cleaner, making them more high maintenance. Consumers should watch for either designation during the purchasing process to ensure a good fit with their particular lifestyles.
How to Buy 5-Piece Quilt Cover Sets on eBay
Consumers who want to choose from a variety of quilt cover sets can find a large range of options on eBay. To begin a search, you can use the search bar available on any page. This interface allows you to run a keyword search for an item. Running a search with ' 5-piece quilt cover set' gives you a broad look at your options, while running a more specific search using colours and features narrows down the choices. With its huge catalogue of options and consumer-friendly search interface, eBay helps any consumer find an ideal quilt set for a master bedroom or guest bedroom. Be sure to look for special deals on bedding when visiting the site.