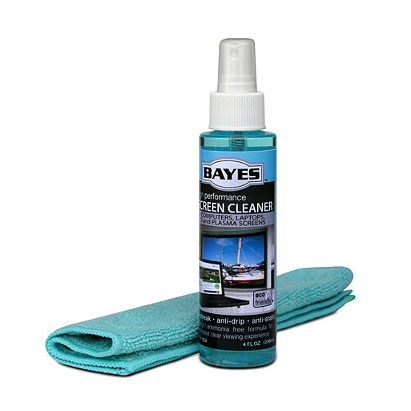 Car monitors are present in more and more vehicles, and keeping them clean at all times may prove a bit of a challenge for users. Whether it is about monitors that are part of the entertainment system of a car or the screens of the GPS units, the products required for cleaning them are often the same. The two main types of screens used for car monitors are TFT and LCD. Both of these require special attention when cleaning in order to avoid any kind of damage.
If you are interested in keeping the monitors in your vehicle clean, you should opt for specific cleaning products, but also for products that can protect the device against dirt and scratches. Learn more about various kinds of products that can keep your monitor clean and how to use them in order to make an informed choice.
Tips for Maintaining Your Monitor Clean
Before cleaning a car monitor, it is important to notice that these displays are very sensitive and they can easily become scratched or damaged. For this reason, you need to treat them just as you would do with your e-book reader, laptop, or tablet screen. The good news, however, is that it does not take too much time or knowledge to keep a car monitor clean.
How to Clean a Car Monitor
The first thing to do when cleaning a car monitor is to turn off the device. This is not only for safety reasons, but you can see the oily or dirty areas better when the screen is dark. Using a soft cloth, wipe the screen gently and, if needed, use a cleaning fluid especially designed for these kinds of screens. Avoid multi-purpose cleaners when cleaning car monitors. You can only use them on the plastic edge surrounding the screen, but be careful not to touch the screen itself with such a cleaner.
Do's and Don'ts of Cleaning a Monitor
Things that you should avoid when cleaning car monitors include tissue paper, toilet paper, paper towels, or any kind of rags. Only use ultra soft materials in order to prevent the display from getting scratched. As for cleaning products, try to avoid anything that contains ammonia, ethyl alcohol, acetone, ethyl acid, or toluene, as these harsh chemicals may damage the screen permanently. The chart below summarises what products you should and should not use when cleaning car monitors.
Things You Can Use

Things You Cannot Use

cleaning fluids

wet wipes

soft clothes

any solution specifically designed for LCD screens

paper towels

tissues

rags

multi-purpose cleaners

cleaning fluids containing ammonia, acetone, or toluene
A thing that many car owners tend to do is brush off the dust on their monitor with their hand or the first piece of clothing that is handy. You should try to avoid doing this in order to prevent the screen from becoming scratched.
Product 1: Cleaning Wet Wipes
Cleaning wet wipes are a popular choice for car monitors because they offer you the possibility to clean a monitor quickly and efficiently. You only need the wipes, without any other kind of cleaning fluid or soft clothes. All cleaning wipes for car monitors are pre-moistened and they can safely remove dust, smudges, dirt, and fingerprints from any screen. When choosing cleaning wipes, make sure you get ones that have an antistatic formula, because this helps to repel dust. You can buy cleaning wet wipes in packs of 100 or more, according to your needs. If you choose to purchase them on eBay, make sure you read the product description carefully in order to make sure the wet wipes are suitable for your car monitor.
Product 2: Monitor Cleaning Kits
Monitor cleaning kits are a good choice for those who do not want to spend too much time searching for the right type of cleaning fluids and cloths for their car monitor. You can choose from a multitude of such kits, with some of them consisting of a bottle of cleaning fluid, one or more soft clothes, and a brush. Some of the monitor cleaning kits you can find on websites such as eBay also contain one or more packs of cleaning wet wipes. In most of the cases, monitor cleaning kits come with a set of instructions, so you can start using them immediately. The good thing about buying such a kit is the fact that in most cases you can use it for other electronic items you may own, such as laptops or tablets.
Product 3: Cleaning Fluids
Cleaning fluids are very effective when it comes to remove dirt from a monitor and maintain it clean. Make sure you test the product on a corner of the screen first in order to avoid any problems. You should use cleaning fluids with a soft cloth for perfect results. There are multiple types of cleaning fluids available on the market and you should always read the product description and instructions for use before purchasing a certain product. By doing this, you can be sure the cleaning fluid you buy is suitable for the screen of your monitor.
Product 4: Cleaning Cloths
It is never recommended to use things such as paper towels or tissues to clean a TFT or LCD monitor. You should always use a soft cloth that is specifically designed for cleaning such sensitive surfaces. These cleaning cloths are often made from antistatic materials and leave a screen spotless without too much effort when used in combination with a cleaning fluid. You should clean the cloth after each use in order to avoid dirt build-up and maintain it soft for a longer period of time.
Product 5: Clear Shields
Screen shields are thin, clear sheets of film used to cover the screen of a car monitor. They are also available for a variety of other digital products and gadgets. Many people choose to use these in order to protect the screen of their car monitor against scratches and dust. Clear screen shields work well on touch screens and they allow users to access all the functions of the monitor without any impediments. Screen protectors need to be cleaned regularly and you can use wet wipes to do so.
How to Find Cleaning Products for Monitors on eBay
Before buying car monitor cleaning products on eBay, you should keep a few things in mind, including the type of monitor you have, its condition, and the price of the products. You should always consider your specific needs and the way you prefer to clean the screen of your car monitor. If you are always in a hurry, for example, you should search for cleaning wet wipes that allow you to clean the monitor with just a few moves.
In order to find what you need quickly on eBay, just type the name of the product you are looking for into the search bar of the website. You immediately get access to all the relevant products and can choose one that suits your needs and budget in a few minutes. If, however, you decide that you need a new monitor for you car, check the eBay Deals section to see the best prices of the day on car electronics, which sometimes include car monitors.
Conclusion
Maintaining a car monitor clean is essential for enjoying it at the fullest. Regardless of the type or size of monitor you have, you should pick cleaning products that are specifically designed for this kind of screen, such as wet wipes or soft cloths for LCD screens. These products have the capacity to leave the monitor spotless and prevent it from getting scratched or damaged. You can choose to buy monitor cleaning products in supermarkets or specialised stores, but one of the easiest ways to shop for them in on eBay. Besides having access to a wide selection of products that is difficult to find in local stores, buyers who choose eBay can enjoy the shopping experience from the comfort of their own home.
Monitor Cleaning Product|Car Monitor|Monitor Cleaning Kit|Wet Wipes|LCD Screen