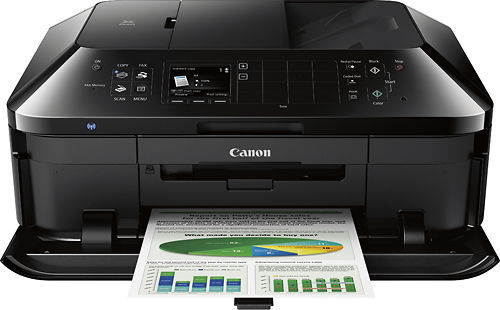 Not too long ago, many professional photographers were hesitant to use digital technology, even as it was starting to gain momentum. As the technology improved and capture resolutions got better, photographers eventually warmed to the idea of some of the higher-end digital cameras, although the printing technology took awhile to get up to speed.
Eventually, digital printers came to meet the quality of more traditional printing methods - and then surpass it, especially in terms of convenience and versatility. One of the top brands in the digital photography printing arena is Canon.
Of course, all photographers have their preferences when it comes to a brand. However, most photographers would agree that Canon is one of the most innovative makers of digital printers equipment today. While all printers have strengths and weaknesses, Canon is known for providing an overall reliable and high quality printing experience for several key reasons.
1. Performance and Ease of Use
Canon's smooth operation and user-friendly performance are among the top reasons the brand is favoured over its peers in the industry. The iPF6450, iPF6300 and iPF8300 in particular offer excellent performance in a streamlined package, as well as a relatively small learning curve.
2. Fewer Issues with Clogging
One of the most frustrating experiences with a printer is when it clogs, but Canons in particular are known for their tendency not to have this issue. The Canon PRO-10 is an especially reliable way to get started with photographic printing. It comes with great screening and printer profile qualities, and if they choose to make the investment, users can upgrade to printers like the Canon LUCIA and the LUCIA EX with a minimal learning curve.
3. Some of Best Printing Inks Money Can Buy
Canon inks are known for their high levels of resilience and permanence over time. When top Canon printers, such as the LUCIA EX, are paired with user-friendly Canon inks, they can offer a seamless experience from editing and colour correcting to the final printing result. While the Canon printer models iPF6300, iPF6350, iPF6400, iPF6450, iPF8300, iPF8400 and iPF9400 all use the same printing head and printing ink technology, many photographers report that print and overall image quality has been improved in newer models. Using Canon paper can result in the best quality photos, but overall these inks and printers can be trusted to deliver no matter what.
4. Black and White Elegance
The look of black and white photographic art was first popularised by Ansel Adams and is now adored and even favoured by many fine art photographers. Canon offers ink technology that simulates this artistic feel while affording the conveniences of modern digital printing. The PIXMA PRO-1, for instance, features an impressive 12 different colour ink tanks, five of which are dedicated to black and white printing. Many respected photographers have sung the praises of the Canon PRO-1 Printer in this regard.
5. Large-Print Awesomeness
Canon is an excellent brand for big prints. The Canon iPF6450, for example, produces jaw-dropping large printing quality that will make even the most detailed and artistic images ready for the gallery. Paired with the Canon LUCIA EX inks, the print quality will be outstanding even at the largest sizes. The Canon iPF6450 also includes an Accounting Manager to keep track of output and a Photoshop Export Module for easy printing directly from Photoshop.
Digital photography and printing have come a very long way in a short time, and Canon printers are a testament to that. While every photographer should perform their own tests and come to their own personal conclusions, there's no doubt that the Canon brand is loaded with features and benefits. Ease of use, less clogging, outstanding inks, and the ability to produce large prints while retaining quality are just a few of the top reasons to buy a Canon printer.
Canon printers are available both new and used online and through sites selling electronics. It's advisable to do business with sellers that have a good reputation as well as a fair return policy should the printer not meet expectations when it is received.