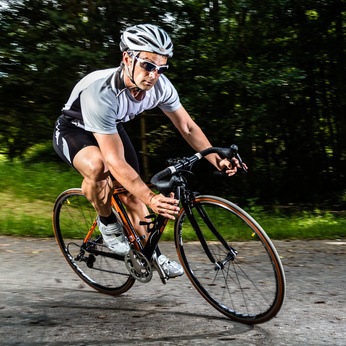 A road bike is one that has a very lightweight frame and narrow tyres. Although these are usually less comfortable than other types of bicycles, they also tend to be faster. It takes a lot less energy to ride this type of bike, and a buyer can pick up a great used road bike for a good price from classified ads on on eBay. A buyer can choose from a number of different road bikes, including traditional road and touring models. Road bikes are made from various materials, including aluminium, steel, and carbon fibre. When purchasing a used bike, a buyer should consider the condition of the bike, especially the brakes and wheels, for safety reasons. Wearing safety gear, including helmets and gloves, is always important.
1. Types of Road Bikes
Road bikes are just one of the many types of bikes available, but there are also different types of road bikes from which one can choose. Some of the options that a buyer has are a flatbar road, traditional road, touring, and cyclocross bike. A buyer should think about his or her needs when selecting a style of road bike because they tend to be suited to different types of riding.
Traditional Road
A traditional road bike is very lightweight and some of them weigh as little as 6.8 kg. This also offers a more aerodynamic ride than any other kind of bike, except for a time-trialer. These bikes can range anywhere from a few hundred dollars to the thousands.
Flatbar Road
A flatbar road bike is one that replaces road drop handlebars with more stable mountain biking ones. These still have the light wheels of a road bike as well as the road gears. These bikes are a great option for those who commute around the town.
Touring
A touring bike looks like a regular road bike, but it is designed to carry a much heavier load. This kind of bike can load panniers on both the front and back. This is also a good option for someone who wants to do a lot of riding on dirt roads.
Cyclocross
A cyclocross is one that is designed for off-road racing, but is similar to a road bike. It has a stronger frame and bigger tyres. These bikes switch out the traditional road caliper brakes for cantilever, or disc brakes, that do better in muddy conditions.
2. Road Bike Materials
One of the factors a buyer needs to consider is the material from which the frame is made, because this affects the weight and price of the bike. Some of the materials that are commonly used for frames include aluminium, steel, titanium, and carbon fibre.
Aluminium
Aluminium has been used in constructing frames since 1985, but it became very popular starting in the 1980s. It is now the most popular material for bicycle frames. Aluminium frames are constantly being improved as new aluminium alloys are being developed. This is one of the lightest materials used for frames, which is why it is popular for time trialing and racing.
Steel
Steel is the most traditional material for a bike frame. The material is easy to shape, and it is very strong. Although steel usually does not rust, it is a possibility, depending on the type of paint used. These may be a good option for amateur bikers, but more experienced ones tend to favour lighter frames.
Titanium
This material is one of the lightest and longest-lasting frame materials on the market. It is also one of the most expensive types of frames.
Carbon Fibre
A carbon fibre frame is made from a material that is kind of like a fabric that is fused together with a glue. Carbon is a good choice because it is not corrosive, and it can be shaped into interesting designs. This material is a popular option for frames because it is very good at absorbing shocks.
3. Condition
Condition is very important when purchasing a used bike. It is important for the buyer to think about the condition in which various parts of the bike are, including the tyres and the brakes.
Wheels and Tyres
The quality of the wheels and tyres are also important for riding a road bike safely. Tyres are usually good for around 1,600 to 3,200 km, so someone who is looking at used bikes should consider how old the tyres are or whether they have been replaced recently. Tyres are available in a variety of sizes, and they are good for different purposes, so a buyer should know which conditions are ideal for using certain tyres.
| | |
| --- | --- |
| Tyre Size | Conditions |
| 700 x 20c | Thin tyres good for lighter riders and time trials |
| 700 x 23c | Normal and good for training and racing |
| 700 x 25c | Thicker and offering more shock absorption |
| 700 x 28c | Longest-lasting and good for heavier riders |
A buyer should consider the size of a bike's tyres. Another consideration is the terrain on which a biker rides. These two issues should be considered while shopping for a used road bike.
Brakes
It is essential to have brakes in good working order when selecting a bike. A buyer wants a bike that has both of the brakes working because it can be dangerous to stop with only one brake. Brakes also need to be regularly tuned, so a buyer should take this into consideration with used bikes in order to remain safe.
4. Considering the Buyer's Needs
It is also important for a buyer to think about his or her needs when buying a bike. Even after narrowing down a choice to a road bike, there is still plenty of variety. Some factors a buyer should take into consideration include where he or she is going to be riding and the type of riding he or she plans to do. This can help to ensure that the bike satisfies a buyer's needs.
5. Purchase Safety Accessories
Regardless of which type of bike a buyer settles on, it is important to also select different accessories so he or she remains safe while biking. Whenever biking, a buyer should wear the appropriate safety equipment, including a helmet and gloves.
Helmet
One of the most important accessories one should purchase is a bike helmet because it is a great way to protect one's head during a fall. A biker should be sure to get a helmet that fits snugly, so it provides adequate protection.
Gloves
Gloves are another good choice, especially if someone is taking a long bike ride. This is a good way to protect one's hands in case of a fall. They can also protect a rider's hands against chafing after long bike rides.
Buying Used Road Bikes on eBay
It is easy to find used road bikes on eBay, especially if you know what you want. You may want to start with a keyword search; simply input keywords, such as "used road bike", into the search box. The categories are a good way to narrow down the listings if you do not want to look through all of the options. You can also search through deals on eBay for specials on bikes and accessories.
You should also take advantage of some of the other tools on eBay, such as the "ask a seller" feature. This is a way to learn more about the bike you are considering for purchase. For instance, you may want to ask a seller how often the bike was ridden or whether the tyres or brakes are new. This feature is located on the product listing's page.
Conclusion
A road bike is a great purchase for someone as a way to get around town or get some exercise. When looking for a used bike, a buyer should know that there are a variety of different road bikes available. A buyer can choose from among different materials used for frames including titanium and carbon fibre. A buyer should ensure that the brakes and wheels are in excellent condition for safety. If a buyer thinks about what he or she wants in a bike, it should be easier to find a good bike. Safety accessories, such as helmets and gloves, should always be worn. Buying a used road bike can be a great choice for exercise equipment, and it is easy enough to find one on eBay.