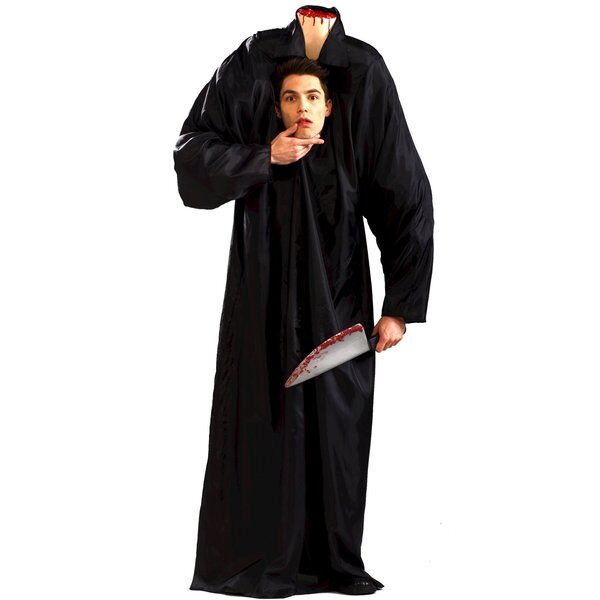 Halloween night and fancy dress parties are about all things creative and frightful. This means men can freely embrace those ghastly figures from film and folk tales. It is safe to say that when Halloween or a fancy dress event rolls around, there isn't a shortage of scary costumes available.
This guide looks at the five scariest male fancy dress costumes, and how to pick one that is truly the scariest. Costumes can be expensive acquisitions, so it's great for men to be budget savvy. eBay has great deals available on a whole host of men's costumes in their dedicated men's clothing section.
Picking the Right Costume
There is no shortage of scary costumes available, but the popular ones are usually modelled upon a film or mythical character. In order to make the costume perfect there needs to be everything from voices to mannerisms added. The following are considered the five scariest fancy dress costumes for men.
Jason Voorhees
Jason Voorhees terrorised teenagers in various 'slasher' movies in the 1980s. This makes him the perfect costume for those looking for a frightful look.
His appearance consists of a matching navy blue trousers and shirt combination.
· These pieces of clothing should be dirtied, preferably with oil slicks.
· The final (and most important) part of the costume is a white hockey mask.
· All together these items make a truly terrifying outfit. Shoppers can use fake blood on the clothing and mask for added effect.
· To make the outfit even more believable, add a sense of Michael Myers' behaviour. Adopt the famous head tilt and silent stance to make the outfit's appearance seem truly terrifying.
Chucky
The main character from the Child's Play movies, Chucky is a doll that is possessed by the evil spirits of a serial killer. His appearance is iconic and he has since become a pop culture figure.
· All any wearer needs clothes-wise are a basic rainbow jumper and a pair of denim overalls. Draw a 'Good Guys' logo on the jumper to complete the look.
· Replace the overall rivets with a set of basic red buttons.
· Add fake blood to random parts of the costume.
· The facial appearance is far more difficult to reproduce, so to create Chucky's facial scar, use special effects make-up.
· The hair colour can be recreated using wash-in or spray hair dye, use wax and hairspray to get it to stand-up on end.
Zombie
Zombiesare a staple of the horror genre and can be truly terrifying to look at. They have been used in film since the 1960s, and are as relevant and recognisable as ever.
· Take clothing of any kind (popular choices include hospital scrubs and army attire) and splatter it with fake blood.
· Make-up is key to recreating a zombie's appearance.
· To start applying make-up, grab a specially designed make-up sponge and apply a layer of white face paint.
· Using eyeliner, line the eyes with brown and black make-up.
· Recreate bruises using a mixture of red, green and brown body paint.
· All together these elements will give someone a sickly look.
· Adding prosthetic wounds and fake blood to the mouth is another way to make the costume seem more realistic.
· When trying to be a zombie, adopt their mannerisms, keep it classic by walking slow with both arms raised.
Jigsaw
The antagonist in theSaw film seriesand a cult figure in the genre of horror. Sometimes known as the jigsaw killer, his appearance is basic yet scary. Jigsaw is a popular choice of costume for modern day horror film fans.
His look is sartorially complied of a simple black suit, white shirt and red bow tie.
· Optional clothing extras include a red handkerchief and a pair of white cotton gloves.
· His face is a white mask, so men will need to get creative in order to recreate its appearance.
· Buy a plain white mask and paint red spirals on the cheeks.
· Outline the eye area with red and black rings.
· Paint the lips a bright red and draw vertical lines coming out of each corner of the mouth.
· Wear a jet-black wig to complete the outfit.
Grim Reaper
The embodiment of death and a classic fancy dress costume. The idea of 'death personified' has been of notoriety since the 15th century. It is as scary an outfit as it has ever been, but definitely a preferred outfit for taller men
Is largely prop based, as a scythe and hourglass will be required.
· The costume element is simple; just purchase a large hooded black robe.
· Keep the robe hood up and have it draped over the eyes.
· It is probably not a suitable outfit for those under 5' 6", as it will not appear as imposing on a shorter frame.
· Plastic scythes can be picked up from eBay or a local costume shop, but adding a few extra elements is advised.
· Touch up the end of the scythe with a bit of fake blood, to capture the look of theharvester of souls.
· Always remember that the grim reaper walks and speaks slow. Adopt those traits to keep the outfit looking realistic.
Pre-assembled Costumes
The costumes detailed above can be made using items that can be purchased individually. However, it can be more cost effective and simpler to buy a costume that comes pre-assembled. This removes the need to locate individual parts and deal with fiddly make-up packs. When it comes to men's fancy dress, pre-assembled costumes are always something to consider.
How to Buy a Scary Fancy Dress Costume on eBay
When it comes to fancy dress parties men will want to be wearing the scariest costume possible. It is all about fright night on such occasions, so it's important that men get their costume choice right. Shoppers can view all fancy dress listings in the men's costumes category.
If shoppers are on the hunt for a specific type of scary costume, they can make use of the keyword search bar. eBay's search options are highly specific, and can give shoppers a detailed selection of products. To see how to get the best out of eBay's search functions, have a look at their search tips section.
Not every man will be able to fit into all types of fancy dress costume. It may be necessary for shoppers to get more information on the scary outfit that appeals to them. Don't hesitate to ask the seller questions about the product to help grasp whether or not the fancy dress costume is suitable.
Completing a Transaction
eBay has plenty of scary costumes available and several ways to go about buying them. Expect to see listings in 'Auction' and 'Buy It Now' form, meaning that getting a great price is never any more than a few clicks away. Everyone who uses eBay should pay for items with PayPal. Handling transactions via this means ensures that the buyer protection program is in place.
Conclusion
In recent times men haven't put as much effort as they should into fancy dress costumes. In fact, it is time for men to get serious about their fancy dress efforts and start putting the fright into other partygoers. The costumes featured in this guide are truly scary and will no doubt add the element of fear to any party. Simply put, when men decide to dress up they should make their outfit as scary as possible.
Finding the right fancy dress costume has never been easier thanks to eBay. Simply log-on and search for an outfit that will scare others silly.