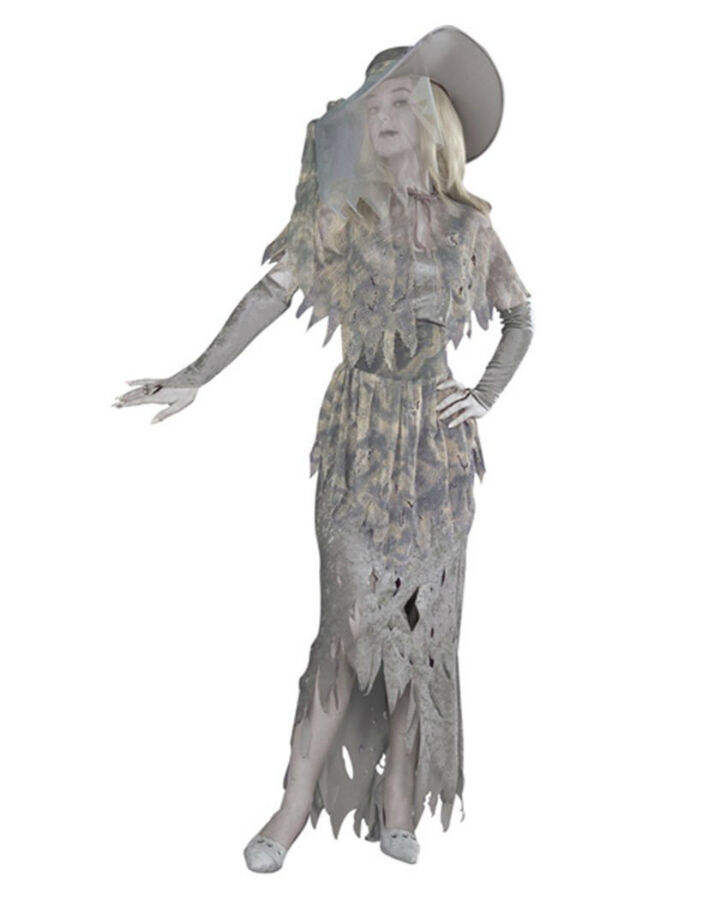 Along with playing pranks, watching horror films, and lighting bonfires, wearing a costume is one of the time honoured traditions of Halloween. Many scholars believe that the custom of wearing scary costumes on Halloween originated as a device to ward off harmful spirits. Today, it is all about fun, and there are scores of different costumes to choose from. Some are cute, and some are truly scary. Traditional costumes have included monsters, ghosts, witches, and devils. Modern scary costumes include some more recent creations including zombies and chainsaw wielding killers.
Before choosing scary costumes for women, buyers should know what kind of scary costumes are available. They should also know what accessories are available to complete the outfit. Finally, buyers should know where and how to purchase scary costumes for women. No longer limited to just "witch" outfits, women's costumes range from centuries old ghosts to modern movie monsters. Whether buyers are looking for Halloween costumes or something to wear to a party, there is a lot to choose from.
Scary Costume #1: Zombie Costumes
Zombies have existed in folklore for centuries and are quite popular in current entertainment. Human beings that are dead, but still animate, these "walking dead" usually suffer from a variety of bodily mutilations. Zombies have skin peeling off, blood and gore splattered all over, and other gruesome, and quite scary, deformations. There are many types of zombie costumes available for women. These can range from zombie brides to zombie pirates, and everything in between.
Scary Costume #2: Vampire Costumes
Vampires are creatures that were once human. They are immortal and survive by drinking human blood. Films and books portray vampires as pale creatures, and they all have pointed teeth which they use to puncture victims' skin and drink their blood. Vampires also wear dark clothing and a rather large amount of makeup. Though not gory like zombies, vampire costumes are scary as well.
Scary Costume #3: Movie Monster Costumes
Horror movies have given life to dozens of different monsters, many of them female. From the classic "Bride of Frankenstein" and the girl in "The Exorcist" to the pale ghost in the movie "Grudge", these characters are the source for some of the scariest women's costumes available today.
Scary Costume #4: Witch Costumes
One of the oldest scary costumes for women, witch costumes come in many variations. Some of them are cute, some sexy, but some are scary. Witches have existed in folklore for centuries all around the world. Capable of good or bad, witches are skilled in magic, drugs, and communing with spirits. Old, scary, evil witches are usually depicted with a crooked nose, warts, a black dress, and a conical black hat. Other accessories to the witch costume include brooms, and makeup sets.
Scary Costume #5: Ghost Costumes
Ghosts and ghouls have haunted humans across the globe for countless years. The restless souls of the dead, ghosts are believed to haunt certain locations or people. In its simplest form, a ghost costume is a plain white sheet with holes cut out for eyes. The truly scary ghost costumes allow the wearer to recreate the ghost of a recognisable person. This could be a person who really lived, or a famous ghost. Ghost costumes come with the appropriate costume for the ghost's era, usually in tattered form. By adding makeup and other accessories, buyers can impersonate ghosts quite well.
Scary Costume Accessories
There is more to a scary costume than just the costume. To complete the look, buyers can purchase a range of other accessories. Applied well, these accessories can transform a person into a scary work of art.
Makeup Kits
Even though a normal makeup kit can be used to change the look of a costume wearer, this can be limiting. Unlike normal makeup kits, makeup kits for costumes should be of the stage makeup variety. These kits have more options, providing more possibilities for makeup application.
Fake Teeth
There are different types of fake teeth buyers can choose from. While all fake teeth fit over the wearer's teeth, some types come in standard sizes, while the more expensive types can be reshaped to fit the wearer's teeth better. These teeth work by being dropped into hot water. This softens the plastic, which should then be bitten into by the wearer. The plastic then hardens and the inner side takes the shape of the wearer's teeth.
Other accessories that buyers can purchase to complete the scary costume include wigs, weapons, and fake blood.
Tips for Buying Scary Costumes
Though buyers may only wear a costume once or twice a year, it is worth making a good purchase. With a little foresight, it is possible to purchase high quality scary costumes for women at reasonable prices.
Buy Scary Costumes Early
Though costumes are sold all year round for theatre productions, the busiest period for costume sales is around Halloween. Buyers can avoid a situation where all the best costumes are sold out or where prices are very high by simply buying a couple of months early. Prices for scary costumes also tend to go down after Halloween, and buyers can find deals on costumes. Buying early also gives buyers the option of returning a costume that doesn't fit and get a new one in time for the event.
Look for Quality
A well-made costume comes with a lot of detail. Though cheaper options exist, buyers who want to look as authentically scary as possible should invest in a high quality costume. High quality costumes are not necessarily more expensive. Buyers can avail of lower prices by avoiding the rush before Halloween when buying a new costume.
Finding the Scariest Costumes for Women on eBay
Buyers looking for the scariest costumes for women can choose from a large selection on eBay. To find what they want, buyers can use the search bar on the eBay home page. For example, a search for "scary women costumes" lists all the scary costumes for women available on eBay. The list can be filtered by choosing from various criteria including size, theme, and price. If the list is still too long, buyers can enter more specific keywords, such as "zombie bride costume". The resulting list is smaller, allowing buyers to quickly find what they want. Buyers must review a seller's return and exchange policy before committing to a purchase in case the costume is not as expected, or is damaged when it arrives.
When choosing between eBay sellers, be sure to select those with a lot of positive responses on their profile page. Sellers with a large percentage of positive feedback more often than not provide prompt shipping of merchandise, excellent customer service, and high quality products.
Conclusion
Halloween is the most popular time for buying scary costumes, even though costumes are also worn for theatre productions and other costume parties. Hailing back to an old tradition where costumes were worn to ward off malignant spirits, scary costumes worn for Halloween are now all about fun. Buyers looking for the scariest costumes for women have more choice today than ever before. Besides the traditional favourites including witches and ghosts, buyers can now choose from zombie, movie monster, and vampire costumes. Buyers should avoid a last minute rush before Halloween arrives to buy a costume. Buying early provides more choice, and also gives buyers time to exchange or return a costume before the holiday. Buyers can choose from a large selection of scary costumes for women on eBay.