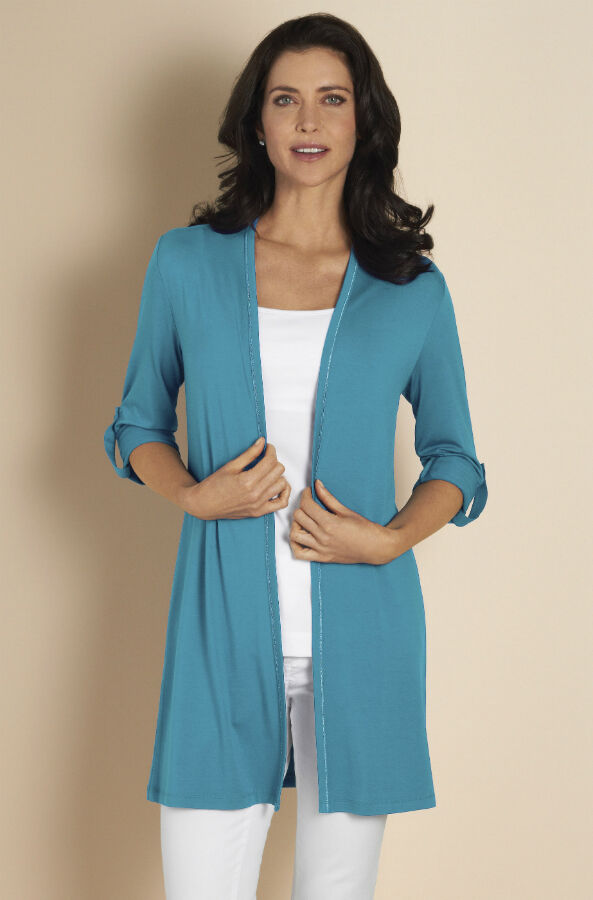 A cardigan is a great fashion choice for anyone who would like to have a versatile top that never goes out of style. Cardigans are popular because they can be added over a T-shirt or blouse should the weather get colder. Cardigans can be buttoned up or left unbuttoned, depending on the weather and the preference of the person wearing it. Cardigans come in different cuts, different lengths, and even different types of sleeves.
Women who would like to find a flattering cardigan should choose one that suits their body type. There are five basic body shapes but most women might find that three or four basic types of cardigans are the most flattering. The following information is aimed to help women of all shapes and sizes find a flattering cardigan.
Tip 1: Know Your Body Type
The first thing to consider when purchasing a cardigan is body type. Most women can find out which body type they have by simply measuring themselves and then comparing the measurements. This is the first step towards finding a properly fitted cardigan, although size is also important.
| | |
| --- | --- |
| Body Shape | Definition |
| Pear or Triangle | Hips are the widest part of the body |
| Apple or Circular | Hips and waist are about the same size |
| Banana or Rectangle | Hips, waist, and bust are about the same size |
| Hourglass | Waist is clearly defined and hips and bust are the same size |
| Inverted Triangle | Hips are smaller than the bust and shoulders |
A tape measure is the most accurate way to check the figure because it allows for precise comparison. However, it is also possible to check the figure by standing in front of a mirror and comparing the size of hips, belly, bust, and shoulders. It is important to recognise that weight has nothing to do with body shape as a woman who is severely overweight might be an hourglass and a woman who is extremely thin might be a pear or apple shape, depending on her figure.
Tip 2: Know Your Size
It is very important to know measurements before making a purchase, especially if purchasing from an online store like eBay. This is because while standard sizes are often quite similar, the standard size for a single cardigan might widely vary from brand to brand. Most women can easily take their own measurements although the process is easier with a friend along to help. Use a soft tape measure and wrap it around the hips at the hip bone and then at the smallest part of the waist. Mark down the measurements. Next, measure around the bust at the widest part and then measure the width of the shoulders. Take these measurements while wearing a T-shirt and a well-fitting bra because the cardigan is most likely to be worn with at least one other shirt.
Tip 3: Check the Colour of the Cardigan
Colour sometimes affects the figure. A black cardigan is typically considered to be slimming but might not be extremely flattering on someone with no waist. Bright colours attract the eye while stripes and patterns can break up shapes and add more interest. Paired with the right cut, a colour can make a cardigan more flattering for specific figures. However, most women should look into purchasing a basic cardigan in a shade or pattern that can be worn with numerous tops and outfits.
Tip 3: Decide on a Length
The length of the cardigan does a lot for how it sits on the figure. For example, a cardigan that ends at the natural waist accents that waist, so it is flattering on an hourglass or a pear figure. A longer cardigan such as one that extends to the hips might be better suited for someone with a square or apple figure because it draws attention to the hips. A cropped cardigan or one that ends just under the arms is also suitable for a range of figures and can be used for both slender and wider waists. However, it accentuates the bust, which may be a good thing, but is not typically flattering on women with smaller chests.
Tip 4: Check the Cardigan Closure
Most people would not consider that the closure on a garment can affect its fit, but it does. For example, many cardigans close with buttons. Even the number of buttons can affect the fit of the top. For example, if the cardigan does not have a lot of buttons on the top and is relatively low cut due to the type of closure, it accents the waist. On the other hand, if the cardigan buttons all the way up, it accents the bust.
Tie Cardigans
Tie cardigans, also called boleros, are also popular. These always accent the bust unless left untied, which is perfect for women who are larger in the chest, but can also be used to create the illusion of curves if the cardigan ends in the right place. While flattering on most body types, pear shapes should avoid tied cardigans.
Other Cardigans
Cardigans that do not close are typically longer and are usually meant to be worn as a shrug. Most of the time these cardigans are also loose in the back and therefore not extremely flattering from the back, but can look very nice from the front, especially on figures with little to no waist-to-hip definition.
Tip 5: Consider the Cardigan's Seams and Material
The cardigan's material is very important because the heavier it is, the more bulky it is. This is not flattering on very thin or petite figures because it makes the body look larger. Stretch materials are typically more flattering to women with waist-to-hip definition, such as hourglass, pear, and inverted triangle figures. Stretch materials are easier to wear as fitted tops, which are the most flattering options for any figure with curve between the waist and hip.
The seams or pattern of the cardigan make a great deal of difference to its fit and style. Buyers should check the pattern of the cardigan before purchasing. Fitted cardigans are most flattering to women with more hip-to-waist difference. These cardigans typically go in at the waist in order to fit more snugly and then flare out for broader shoulders and bust. A straight cardigan can be flattering to curvy and straight figures but is not a good option for pear figures unless worn open. A cardigan that is smaller on the top than on the bottom flatters a pear figure as long as it hugs the waist. For banana figures, the straight cardigan is likely to be very flattering as long as it is not worn with a loose T-shirt.
What is being worn underneath the cardigan actually matters more than the cardigan itself because different shirts and bottoms can create a widely different effect. For example, straight figures can use a cardigan that ends at the waist paired with an A-line skirt to create the illusion of curves because the cardigan accents the waist and makes the hips look fuller.
Buying a Cardigan on eBay
After deciding on your body shape and measurements you can look for a cardigan in any shape or size on eBay. It is important to keep in mind that eBay is an international store and while many of the cardigans may be located locally, some may be international as well. In this case, it is a good idea to check details such as extra shipping costs and possible customs fees before purchase.
You can choose to browse through all of the available cardigans on eBay until you find one that you like or search for a specific style. For example, searching for 'button cardigan' is a much faster way to find this type of cardigan than simply looking for 'cardigan'. You can also specify size, colour, or any other details you would like. Read the description, check shipping cost and time, and then make your purchase. For great offers on cardigans, check the eBay deals section.
Conclusion
A cardigan is a blouse that buttons, zips, or ties closed at the front. Most cardigans are knitted although this can vary depending on the maker and the season the cardigan is intended to be worn during. Buyers can typically compare the material while looking for a cardigan as some materials are more flattering on different figures than others. Choosing a flattering cardigan is easy but it is important to know body shape and correct size before purchase.
For example, an oversized cardigan might not be flattering on either a petite banana figure or on a pear figure as it removes the appearance of any curve on the body. However, the same cardigan might be flattering for a casual look on an apple, a square, or an hourglass figure. Most women can simply choose a cardigan to accent the smallest part of their figure such as the waist or the top of the body.