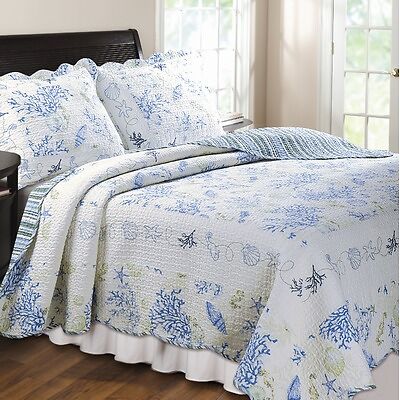 A quilt cover is not just for protecting the quilt; it can also be used as embellishment for the bedroom. Since most quilts only come in plain white, buyers may want to add some colour to their bedrooms. For those who like to decorate and customise the look of their beds, having a few quilt covers with varying designs is a great idea.
Buyers looking for good quilt covers for their bedroom can find them at various home supply stores and on eBay. Before buying a quilt cover, buyers should know a few things including the size of their bed, how to choose the design of the quilt cover, and which features to look for in a quilt cover. A few tips on buying a quilt cover may help buyers make an informed choice.
How to Buy a Quilt Cover
Quilt covers come in an assortment of colours and designs, so buyers should have no problem finding one that best suits the theme of their bedroom. The covers are also available in varying thickness and textures since they are made of many kinds of materials. Buying a quilt cover can seem challenging since there are so many varieties to choose from, but if buyers know what they want in their quilt covers, it can be a simple and fun process.
Tip 1: Know the Quilt Cover Size
The size of a quilt cover depends on the size of the bed and also on the size of the quilt one has or plans on buying. It is always important for buyers to know the size of their beds before they go shopping for a quilt cover. After all, one would not want to be wondering about the size of the quilt cover when shopping for it. Buyers should also know that adult and children bed sizes differ. The table below list the common measures of quilt sizes.
| | |
| --- | --- |
| Standard Quilt Size | Measurements (cm) |
| | 140 by 210 |
| King single | 180 by 210 |
| | 180 by 210 |
| | 210 by 210 |
| | 240 by 210 |
If buyers do not know the actual measurements of their quilts in centimetres, they can still find the right quilt covers as long as they know the quilt size. When buying a quilt cover for a child's bed, one should pay attention to the label or product description when buying online to ensure the cover matches the quilt.
Tip 2: Choose the Quilt Cover Design
Quilt covers come in various designs, and buyers should know that the designs can influence the price of the covers. While most quilt covers come as a single piece fabric design, there are covers with many fabric pieces sewn or patched together. Patchwork quilt covers, especially if hand-made, cost more than less elaborated covers. Therefore, buyers with a limited budget may want to choose a quilt cover with a simple design and made from a single piece of fabric. Generally, the more complicated the pattern or weave of the quilt cover, the more expensive it is. However, the design of a quilt cover is not the only determining factor for its price. There are also the brand, material, and other factors.
Tip 3: Choose the Right Quilt Cover Material
Besides choosing the size and design of a quilt cover, another thing to consider is the material. Manufacturers use many kinds of materials to make quilt covers including cotton, cotton blends, flannel, silk, and synthetic materials. When choosing the material for their quilt covers, buyers should know the different characteristics and price of each material.
Perhaps the most commonly used material is cotton, followed by cotton blends. Cotton quilt covers are generally cheap, lightweight, and soft to the touch, making them popular among buyers. Although quilt covers are not responsible for keeping users warm, buyers can increase the heat insulation of their quilts by using wool or flannel quilt covers. However, if nights are generally warm, it is better to just use cotton, silk, or synthetic quilt covers. Those who want their quilt covers to look elegant and luxurious can choose covers made of silk or satin, keeping in mind that these covers can be quite expensive. When choosing the material for a quilt cover, it is also important to consider how easy it is to clean and maintain.
Tip 4: Look for Other Features of Quilt Covers
Buyers should also look at the features of a quilt cover before purchasing it. Some features can be very helpful as they can make the quilt covers easy to maintain and more comfortable to use. Buyers can look for quilt covers that are machine washable, dryer safe, and also pre-washed. Some quilt covers can only be dry cleaned, so having a machine washable one is very helpful. Some owners may also find that their quilt covers shrink after washing. To avoid this, they can get a pre-washed quilt cover.
Another feature worth looking out for is colour-safe fabric, meaning the colours on the quilt cover do not fade after repeated washings. Also, it is a good idea for buyers to buy a quilt cover set, complete with matching pillow cases. To find out if a quilt cover has these features, buyers can just read the label on the packaging or, if no proper label is available, ask the seller or staff for help.
Tip 5: Consider the Quilt Cover's Purpose
Before buying a quilt cover, buyers should consider what they need out of their covers. Buyers who live in a warm area should choose a breathable and thin quilt cover. However, the quilt cover should also be able to protect the quilt from stains and dust. Those who have allergies should look for hypoallergenic quilt covers. Knowing how to clean a quilt cover can also be very helpful, especially when buying covers for children's beds. Some fabrics, such as pure cotton, cotton blends, and polyester, are easier to clean than other fabrics.
Buying a Quilt Cover on eBay
To find a quilt cover on eBay, you can use the search bar located on any page on eBay. You can just look up keywords such as 'red quilt cover' and even 'Disney quilt cover'. eBay has a large selection of quilt covers you can choose from, so make sure you read the description of each product closely and also pay attention to the price and shipping fee. To see promotions on quilt covers, visit the eBay Deals page.
To cut down on costs, you can also look for products from local sellers as some of them may not charge you for delivery. On the product listings page, you can customise your search even more by using the provided category filters. After selecting the quilt cover you like, be sure to read all the information again and pay attention to the size, material, and price of the quilt cover.
Conclusion
A quilt cover is important to cover and protect a quilt. Plus, using a quilt cover is a great way to decorate one's bed and bedroom. Buyers looking for quilt covers should first know the size or their beds and quilts. However, if they do not know the measurement of their quilts, they can just refer to the labels on the covers to find out their sizes.
Buyers should also know how to choose the design, material, and extra features of their quilt covers. Although the design does not necessarily influence the quality of a quilt cover, it can influence its price. Therefore, buyers on a budget should not concentrate only on the design of their covers. Lastly, buyers should choose a quilt cover with properties and features to match their needs. To find the perfect quilt covers for their bedrooms, buyers can shop on eBay since it has a huge variety of covers to choose from.