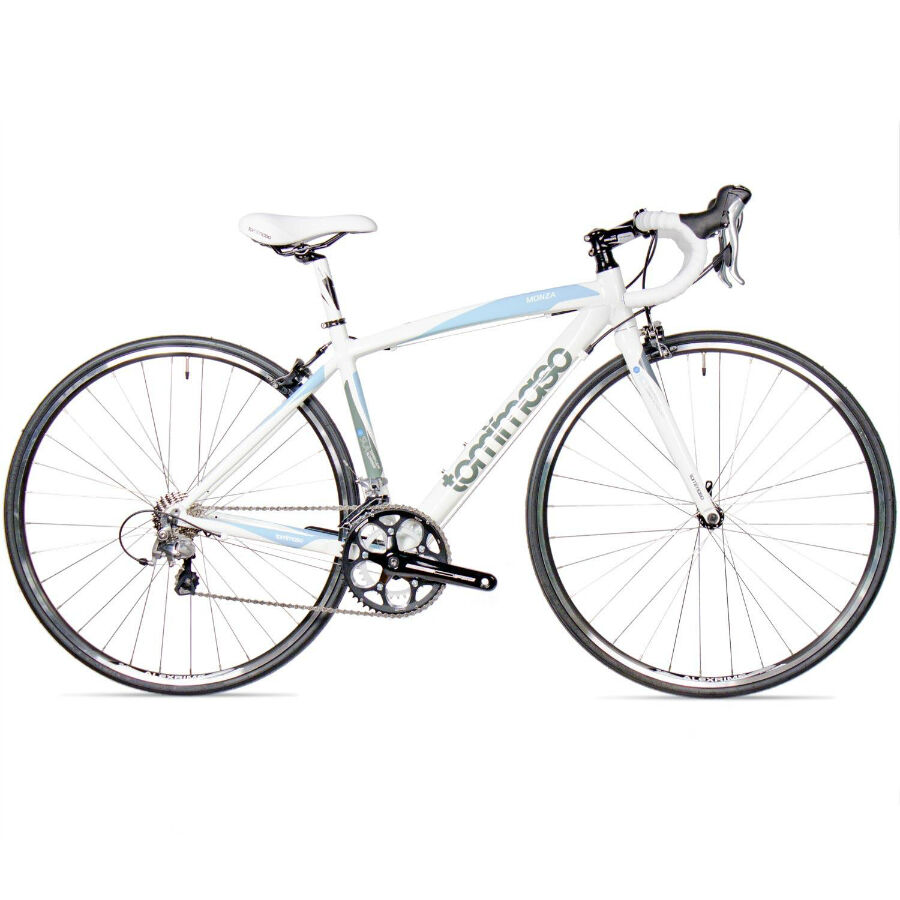 A road bike is designed, as its name implies, for long rides at speed on paved roads. Also known as a racing bicycle, this type of bike has narrower wheels than a hybrid or a mountain bike and overall it has a lightweight construction. Road bikes are designed to be highly efficient and they are built for the road. There are several types of road bikes for women and buyers should take a few elements into account when shopping for such a product.
Road bikes are efficient and comfortable and they can be used for different purposes. One can choose to buy a road bike for commuting, for long weekend rides, or to use it for competitions. Regardless of the reason, there are few key elements to consider when choosing a road bike, including lightness, size, comfort, and more. Reading a few tips about purchasing a women's road bike can help buyers make the right decision.
Tip 1: Choose the Type of Road Bike
When deciding on the exact type of road bike, buyers should first determine the way they intend to use the bike most of the time. For instance, some buyers may not necessarily want performance at all costs, but they are looking for an efficient and comfortable bike to ride on the weekends. Fitness road bikes are a good choice in this case and they are designed with efficiency and comfort in mind.
Sport Bikes
Sport bikes are intended for those who want to do more than a few trips per month without investing in a performance bike. These bikes are intended for training sessions and they are perfect for those who are not beginners, but they are not interested in becoming professional cyclists. They are lightweight and come equipped with everything one needs for comfortable and safe riding in all conditions. These bikes allow riders to move towards a more intensive practice or just maintain their physical condition at a good level.
Performance Road Bikes
Finally, performance road bikes are the choice for professional athletes. They are a good option for those looking for a high-quality road bike that is sturdy enough to resist to any type of training. The forks of these bikes are often made of carbon, which provides a better response to road vibrations than other materials. On some models, the frame is also made ​​of carbon. All the devices and components mounted on these bikes are very efficient, accurate, and light for maximum power and responsiveness.
Tip 2: Consider the Materials of the Road Bike
Even though carbon has been a very popular material for road bikes for years, buyers should not forget that they can also choose road bikes made of other materials. Titanium is relatively expensive, so those who do not want to spend a fortune, but are looking for a lightweight road bike, should choose between aluminium and carbon. The latter is used more often by manufacturers, but there are plenty of aluminium frames available at attractive prices. Sometimes, it is better to buy an aluminium frame rather than an entry-level carbon frame for a comparable budget.
Tip 3: Buy a Women's Road Bike in the Correct Size
After selecting the desired material for the frame, it is time to choose the right frame size. Women's bike frames are smaller and easier to manage than those designed for men's bikes. Even though many components can be adjusted to fit properly, it is important to choose the correct size for the frame. Riding a bike that is too small or too big can be really uncomfortable and unsafe in many cases. When choosing the correct size for a women's road bike, the information in the following chart can prove useful.
| | | |
| --- | --- | --- |
| Rider's Height (centimetres) | Suggested Frame Size (centimetres) | Women's Road Bike Size |
| 147–155 | 44–45–46 | XXS |
| 155–160 | 47–48–49 | XS |
| 160–165 | 50–51–52 | S |
| 165–172 | 53–54–55 | M |
| 172–180 | 56–57 | L |
Buyers should remember that the sizes in the chart above are orientative, and they may differ from one manufacturer to another. Reading the description of a particular road bike before purchasing it and asking the seller or, better, a professional specialised in sports biomechanics, are much better ways to determine the exact size of the road bike one needs for optimal posture while riding it.
Tip 4: Check Out the Technical Specifications of the Road Bike
The performance of a women's road bike is mainly determined by the frame, fork, and rigid wheels that provide the best performance. Other factors should be considered as well, including transmission, tyres, shifters, front and rear derailleurs, brakes, saddle, and more.
Wheels
The wheels have a significant impact on the bike's aerodynamics, how well it accelerates, and the weight of the bike. The narrow wheels of a road bike are ideal for speed. Buyers who want to increase the responsiveness of the bike and decrease its weight should consider a wheel set upgrade. Wheels can be upgraded at any time for those who are looking for better performance, although they can be quite expensive, depending on the brand.
Pedals
Pedals are also important and buyers should not be surprised to discover that most road bikes come without them. This is because most bike makers assume that a cyclist owns a pedal system that comes with their cycling shoes. Cycling shoes and clip-in pedals are a good choice for a road bike, provided the cyclist is experienced enough, and they are available in a range of models from various brands. Some of the most popular of them include Shimano, Time, Speedplay, and Look.
Tip 5: Think About Comfort
Comfort is an important factor to consider when choosing a road bike, especially when one wants to ride it for recreational use. Buyers should choose a saddle and a bracket that are adapted and properly adjusted to their body. Flat handlebars are a comfortable choice and the bike should have as many gears as possible in order to allow the rider to ride on flat roads, uphill, or downhill without any problems.
How to Find a Women's Road Bike on eBay
If you are looking to buy a women's road bike on eBay, you should know that this is a place where you can find great deals. Whether or not budget is an issue, you can take benefit from the wide selection of women's road bikes available on eBay when making your choice. Road bikes on eBay come with a full description and you can even ask the seller for more details if you are having any doubts.
In order to start the search for a women's road bike on eBay, type these terms into the search bar of the website and you can immediately start browsing through the selection. Narrowing down the results according to your budget and personal preferences is a good tip for speeding up the search.
Conclusion
Buying a women's road bike can be quite a challenge and the process is often not as straightforward as buying a men's bike. Riding a smaller bike than one designed for men is not enough. Women's road bikes need to be appropriate for the female anatomy as well. Unisex road bikes exist, but they are not the ideal choice. Women looking for the perfect road bike for their needs have to take several factors into account before buying one and the tips above can be of help.
Women's road bikes can be bought in specialised stores and online on websites such as eBay. Shopping for a road bike on eBay is one of the easiest ways to find the exact kind of bike one needs quickly. The large selection of women's road bikes available on eBay makes this possible.