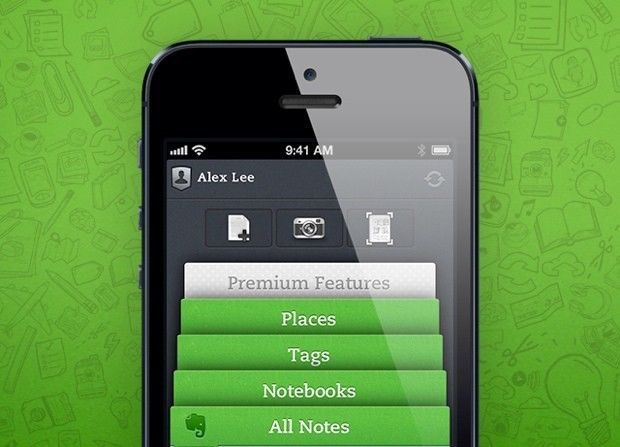 Evernote has a suite of applications that users can access from their computers or from any device, such as a mobile phone, that allows storage and retrieval of all types of information. Users can save web pages, make reminder notes and "to do" lists, and even save audio and video. When users first log into Evernote, they may find themselves overwhelmed by all of the options available. Once they learn a few ways to make the system work for them, however, Evernote users find that the application makes life easier and more productive.
1. Turn on two-step verification
The makers of Evernote firmly believe in making the program as secure to use as possible. As a result, they have an added security layer, called two-step verification. Users can choose to activate this service or leave it off, but the benefit to turning it on is that other people cannot access someone's account, even if they have the login information.
Users who want to turn on two-step verification should log in to their account on a computer and enable the application under the account settings. Users then choose a backup code to use. Premium subscribers can have codes sent to their mobile phone via text messaging.
Encrypt specific data for greater security
As another level of security, users can encrypt all or part of individual notes. They simply choose a password, and then highlight the text they wish to encrypt. By choosing "Encrypt Text" from the menu, the text is hidden behind a passphrase button. Later, Evernote users can choose to decrypt the text permanently or just for one viewing.
2. Use tags for easier searching
Part of what makes Evernote so useful is that users can search notes for any information. Categorising information is even easier if users utilise tags. A tag is a one or two word note attached to each item that gives a short description. For example, users could make lists of ideas and tag them "ideas", or categorise recipes they want to try with a specific tag.
Once a user wants to access all of the information tagged as "recipes," he simply searches for that phrase and all tagged items return. This is particularly handy for users who prefer to use tablets or mobile phones with Evernote.
3. Email notes from anywhere
Each Evernote account has its own personalised Evernote email address with which users can send notes to their account from any device that has email capability. The system is also set up so that users can include information in the subject line to categorise the note within Evernote. Users can specify a title, a reminder date, which notebook to store the note in, and any applicable tags.
To specify a title, users simply type the title of their choice at the beginning of the subject line. A reminder date needs an exclamation point in front of it, while a notebook specification needs the commercial at sign in front of it. Finally, each tag requires a hashtag in front.
4. Use the Web Clipper extension
The Web Clipper extension installs into a web browser and allows users to sign into their Evernote account and perform specific functions. Users can save a portion of a web page or an entire page into their Evernote account. The extension is easiest to use on a computer, but is also available on some tablet or mobile phone browsers.
5. Save time with audio notes
Sometimes users do not have time to type out a note or even highlight information on a web page. For times like that, it is best to make an audio note to listen to later. With Evernote, users do not even need to have a separate tape recorder. Within the application, just start a new audio note from the menu and click "Record". With a mobile phone or tablet, users may be able to use the device's built-in microphone, but computer users may need a separate microphone if their computer does not have one already installed.
How to buy Evernote compatible items on eBay
If you want to use Evernote on the go, you may want to purchase a new tablet or mobile phone that makes accessing the application even easier. Start by locating the search box on any eBay page and then perform a search for the exact item you want to locate. Look for Top-rated sellers that have the item available that you need. If you have questions, the knowledgeable sellers on eBay can help you find the device that works best for you.