Denim
jeans
are classic menswear for any but the fanciest of occasions. A couple of generations ago, there were only one or two cuts and colours from which to choose, but now the options for different styles of jeans are numerous. Some cuts have drifted in and out of fashion with the times and some are more recent in their appeal, while others have proven evergreen. To help choose the right pair for the right man, consumers should be aware of five popular jeans styles.
1
Boot cut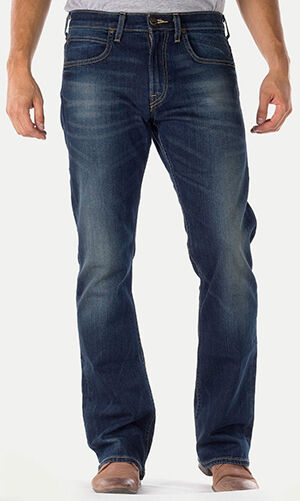 Boot cut jeans are ideal for the bloke who wants to look fashionable but not stand out. It is a physique-friendly cut that fits well without being at all tight. Engineered for the strong, silent type, the cut widens slightly towards the bottom to accommodate boots, although it rests attractively on regular shoes and trainers as well. Big brass belt buckles are a welcome addition to this pair of jeans, but not required.
---
2
Relaxed fit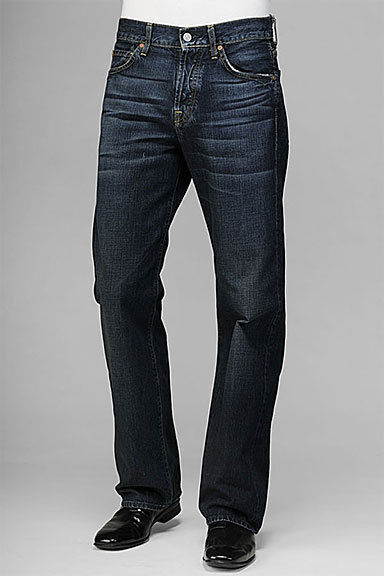 Big guys carrying some extra heft around the middle look great in a pair of relaxed fit jeans, which are the roomiest of all traditional jean styles. The cut is loose from the waist to the leg and there is breathing room down the straight leg as well. For the best appearance, they rest on a man's waist just above the hip; although, if hip-hop style is a desirable effect, men can wear relaxed fit jeans lower on the hips. Particularly large men benefit from a high-waisted cut, which does well to diminish the appearance of extra weight.
---
3
Slim fit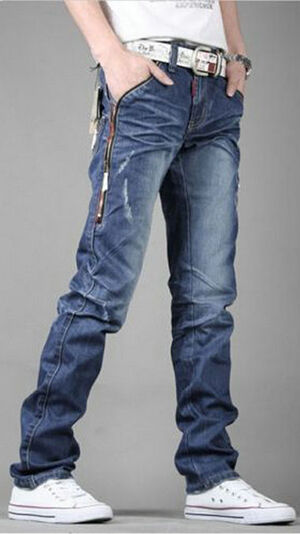 Not to be confused with skinny jeans, slim fit jeans flatter a fit fellow's form while still leaving something to the imagination. It is a fashion-forward cut that is snug around the thigh, knee, and calf, and then loose at the ankle, which looks both comfortable and hip. Slim fit jeans do not cut off the circulation as skinny jeans do on a non-skinny man, but they exude the confidence and adventurousness of a man still possessed of some youthful vigour and musculature.
---
4
Straight cut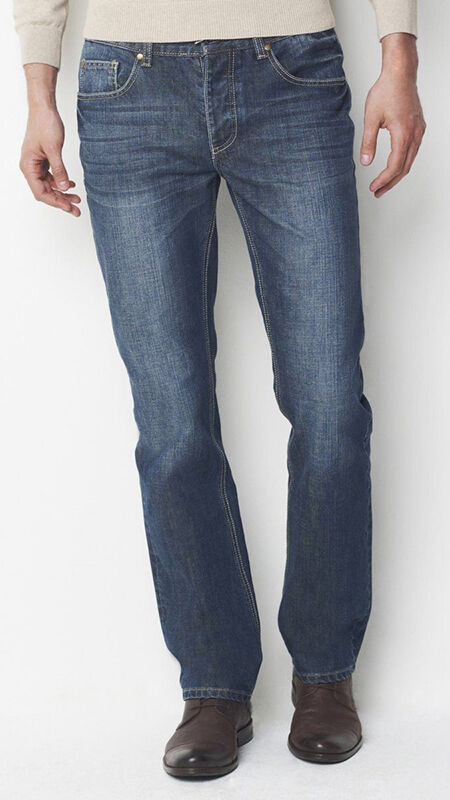 The straight cut is the most popular cut of jeans for men. They are not too loose, but bearing no appearance of tightness, the leg of this cut remains the same width all the way down. It comes close to hugging a wearer's thigh but then feels spacious around the leg and calves. For maximum comfort, a bit of stretch in the fabric blend is advisable. About 1 or 2 per cent of spandex mixed with the cotton lets everything flex naturally in this simple, classic cut.
---
5
Skinny jeans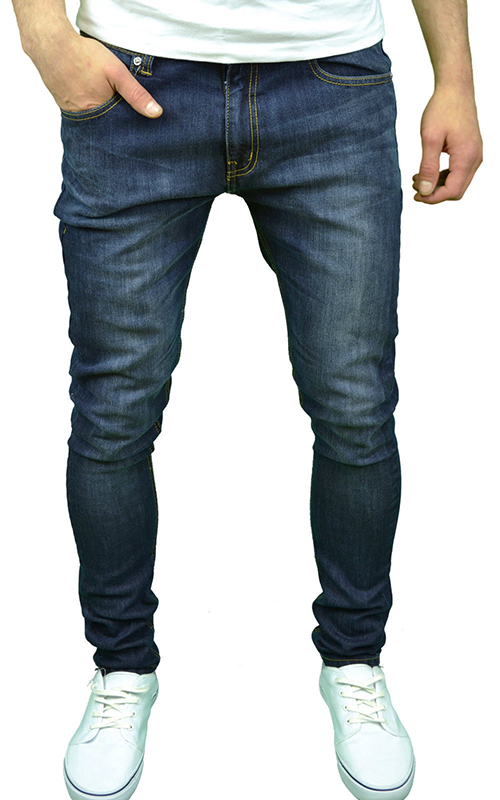 These are strictly for the bold and the slender. Often derided, perhaps jealously, skinny jeans are as tight as tight jeans get, therefore, only a certain body type can brandish these to maximum fashion success. Even a man of average weight may appear unwieldy in this skintight cut, although for skinny men, it is a welcome opportunity to strut. To complete the hipster effect, pair skinny jeans with vintage trainers or otherwise stylish shoes. A bag may be in order, as a bulky wallet or cell phone is a fashion pitfall while wearing skinny jeans.
---
Colours and Washes
All styles of jeans are also subject to various colour and wash options. Men hoping to avoid calling too much attention may stick with blue or black, or another subdued colour, such as grey, brown, or a dark green.
There are a wide variety of washes and other manipulations of jeans to make them look worn in, vintage, softer, or simply more colourful. Some of the more popular washes include:
Stone wash: Tumbled in a machine with large stones, these have a western-style faded effect.
Acid wash: Washed with pumice stones and chlorine, these are bleached almost white but with a snowy-looking bit of dye remaining.
Enzyme wash: Cellulase enzymes diminish dye particles to give the denim an aged look and softer, suppler feel.
Whiskering: Creates the appearance of creases and folds in the finish of new denim. The process should mimic the effects of age and wear.
How to buy men's jeans on eBay
For decent deals on dashing denim, enter the term "men's jeans" into the search bar located on any
eBay
page. If you already know that you prefer one of the particular styles above, add the term to the search for more focused results. Examine any included photos for a sense of the colour, wash, stitching, and other details. Read item descriptions carefully for information on brand, size, and condition. Also be sure to check the feedback ratings of any seller prior to committing to a purchase.