Whether lounging at home or lunching with the girls, women depend on
jeans
for casual, comfortable style. Because females come in many shapes and sizes, finding the right pair of jeans can be tricky. Shoppers must sift through an assortment of jean styles and washes, and many do not know where to begin. Knowledge of the most popular cuts on the market, body type, and the various washes available help women find a style that looks great and reflects personal taste.
Types of jeans
Before women purchase jeans they should remember that a pair worn for lounging might not be suitable for a semi-dressy dinner party. While a variety of jeans flood the marketplace, five types make popular choices for women.
1
Skinny jeans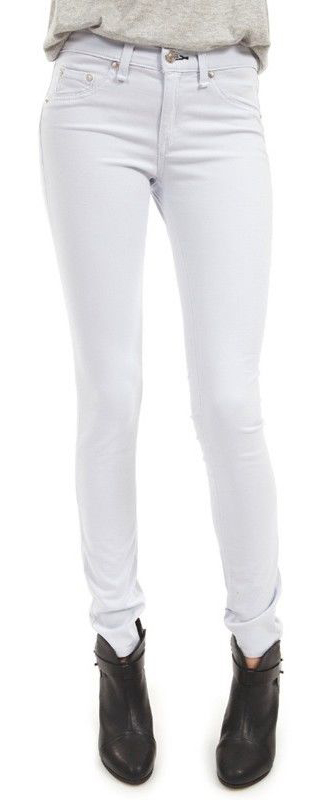 Skinny jeans hug the body from top to bottom, but many feature stretch fabric, which makes them very comfortable. Not just for toothpick-slim women, skinny jeans make a great choice for many body types, but good fit is important. Women should choose products that fit well in the waist and legs, form-fitting, yet comfortable. These jeans are best paired with long, billowy tops that reach the hips or upper thighs, but a thin belt cinched at the waist accentuates curves. Skinny jeans look nice with ballet flats and heels or tucked into stylish boots.
---
2
Boot-cut jeans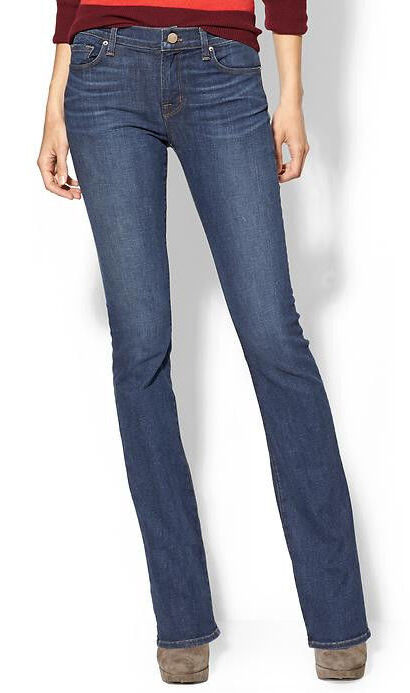 This design owes its start to cowboys who needed a jean to fit over their boots. These days, boot-cut jeans offer a long, sleek silhouette, somewhere between the original design and a flare-leg jean. With a low to mid-rise, boot-cut jeans feature a slim cut through the thigh, with gradual flaring from knee to hem. They pair well with heels or boots of any type and look great with fitted tops, sweaters, and jackets.
---
3
Straight-leg jeans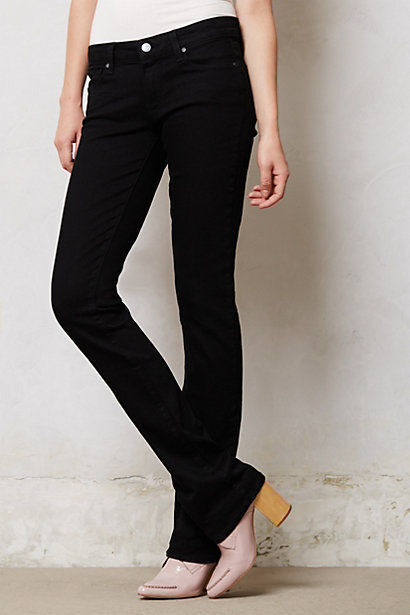 This classic jean offers a straight cut all the way down the leg, from hip to ankle. Unlike skinny jeans, they fit close to the body but are not tight. Straight-leg jeans come in various rises, from hip hugger to high-waist, and they work well with many types of tops. Heels, flats, or sneakers complement straight-leg jeans, but they may not fit well over some types of boots. Women might try zip-up ankle boots or calf-hugging knee-high boots.
---
4
Trouser jeans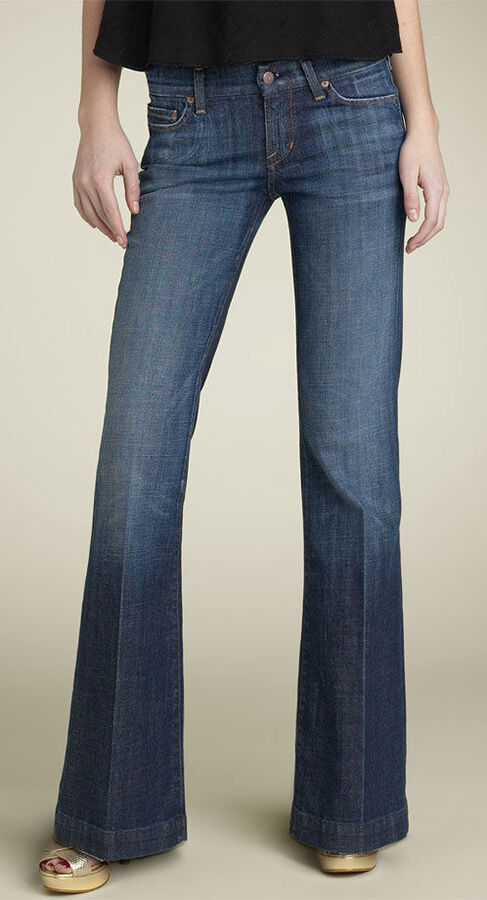 With a more tailored cut than wide-leg jeans, trouser jeans make a perfect choice for casual Friday or semi-dressy events. With a mid to high rise, trouser jeans fit snug through the hips with a gradual widening on down. These jeans look great with all kinds of tops, from belted blouses to cropped jackets. High-heeled boots and shoes accentuate the length of the leg.
---
5
Boyfriend jeans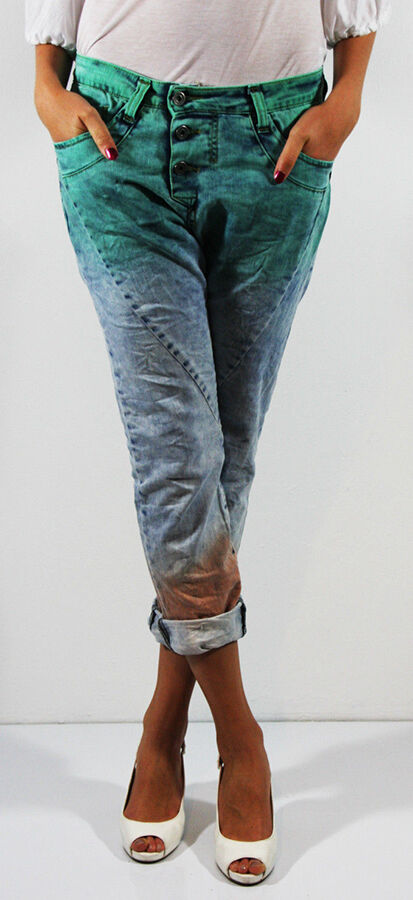 The ultimate in hip, casual style, this is meant to look like a man's jean. With a loose fit and a low rise that sits on the hips, the boyfriend jean pairs well with vintage-style T-shirts and loose, chunky sweaters. Because women like to roll them up at the bottom to fall slightly above the ankle, boyfriend jeans look great with a wide range of shoes. Depending on the occasion, women might wear them with high-top canvas sneakers, stylish ankle boots, heels, ballet flats, sandals, or moccasins.
---
Body type
Women who understand which styles complement their body type have more success in choosing jeans that flatter. Skinny jeans make an obvious choice for a slim or athletic figure. A boot cut accentuates long thin legs, and a trouser offers a good choice for women who might feel too thin. Stretchy, straight jeans with a slight flare and wide, boot-cut jeans make a great choice for curvy women. Mid-rise, stretchy jeans with a straight leg or boot cut make the best choice for
full-figured
women.
Jean washes
Jeans come in a variety of washes. A light wash offers a softer, more vintage style that works well for casual occasions. With a stiffer feel, a dark wash makes the best look for work or social functions. A classic wash offers a shade between a light and dark wash. Ebbing in popularity after the 1980s, acid-wash jeans feature a bleached look with splatters of dark denim. Intended to look a bit grungy, a dirty wash gives denim a somewhat brown tint, and a distressed wash features tearing, shredding, and wrinkling.
How to buy women's jeans on eBay
Finding the perfect pair of jeans is easy when armed with the right information. Knowing which styles are trendy helps keep women looking fashionable. Matching the appropriate wash to an occasion, and knowledge of complementary cuts also ensures a successful purchase. Women looking for jeans on
eBay
should begin by utilising the search engine located on any page. Narrow search results for size, style, wash, price, and other preferences.