For women who wear the wrong sports bra, exercise can become a challenging endeavour. In fact, according to the New York Times, improper breast support "may make running both more difficult and more injurious than it needs to be". Luckily, there are many different companies making high quality
sports bras
that allow women of all sizes to exercise safely and comfortably. For any individual woman, choosing the right sports bra means finding one that both, fits well, and provides enough support for the type of preferred exercise.
Sports bra sizing
Before beginning the search for a great sports bra, it is important for women to ensure that they know their
bra size
. While some compression style sports bras are available in small, medium, and large sizing, the most effective sports bras utilise the band and cup sizing system. Modern sports bras are available in sizes as small as an 8A and as large as a 22J. Some specialty brands also accommodate even bigger sizes. Women who are unsure of the proper sports bra size should consult a sizing chart, or visit a professional bra fitter that might offer their measurement services for free.
1
Compression sports bra

One of the most common types of sports bra is a compression style bra. These bras limit the movement of the breasts by fitting snugly over the bust. A compression sports bra often exerts enough pressure that it forces the breasts together, securing all the breast tissue in one pocket. These bras are best for low impact activities, such as yoga, Pilates, and walking. Despite their utility, women with breasts larger than a B cup may find that a compression sports bra does not provide enough support. Therefore, be sure to test the bra before engaging in any strenuous sports.
---
2
Encapsulated sports bra

Unlike compression sports bras, encapsulated sports bras use separate cups for each breast. This allows for better support for women with D cup or larger breasts. However, for high impact activities like running and plyometric exercise, encapsulated sports bras may be the right choice, even for women with smaller breasts. While compression sports bras limit the breast when it comes to forward and backward movement, the encapsulated design limits vertical movement as well, which serves to better protect the Cooper's ligaments and keeping breasts secure.
---
3
Sports bra top

While many women choose to wear a sports bra under another top, hot weather or activities like Bikram yoga that encourage a lot of sweating may necessitate wearing a sports bra on its own in order to keep cool. Sports bra top designs offer modesty when worn alone and come in many fashionable styles. Some tops may combine a traditional compression sports bra with a moisture wicking tank, while others are a cropped bra top design. Crisscross straps, patterns, and bright colours all mean these types of sports bras are ready to stand on their own.
---
4
Padded sports bra

The most important factor when buying any sports bra is to ensure the woman wearing it is comfortable. A padded sports bra can help with this in many ways. With either removable or sewn-in padding, this style of sports bra offers more coverage than an un-padded version. Padded sports bras also create a more separated and lifted look, which can be a nice feature when a bra needs to go from the gym to a coffee day.
---
5
Underwire sports bra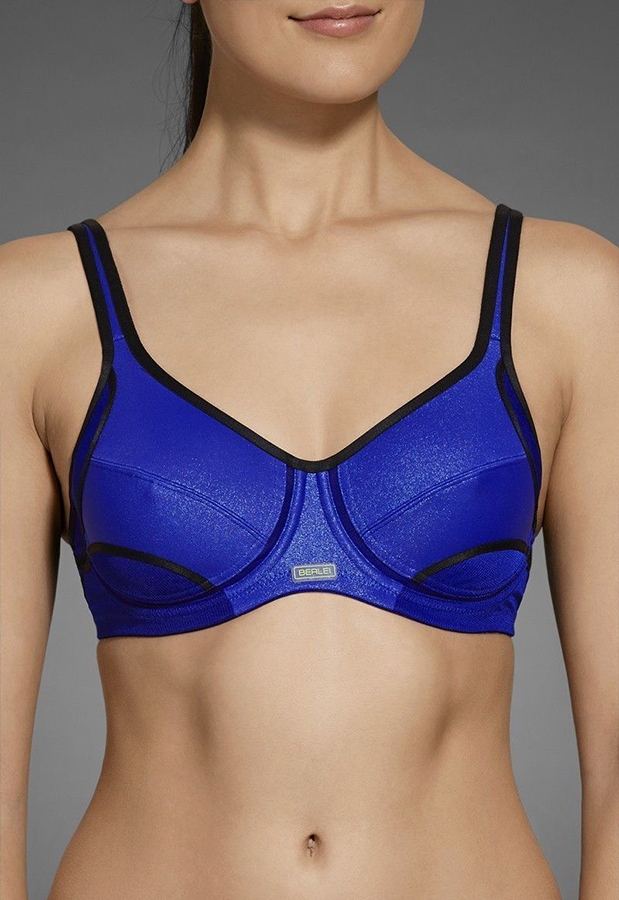 While many women wear underwire bras on a daily basis, not all have tried an underwire sports bra. These bras use either metal or plastic wiring to create the frame of the bra, adding extra support to the design. In order to avoid any uncomfortable chafing or digging, the underwire is encased in soft fabric, generally something that is also moisture wicking to draw sweat away from the body. Women who have a difficult time finding a sports bra that offers enough support may want to expand their search to include underwire sports bras.
---
How to buy sports bras on eBay
Shopping for a sports bra on
eBay
is an easy and affordable way to find the perfect style for your specific taste. If you know exactly what type of sports bra you want, use the search box, located on any page of the site to enter some descriptive words. For instance, you may be looking for a "Nike sports bra" or for a "racerback yoga bra". The filters on eBay help you filter the results until you find the best bra for you.