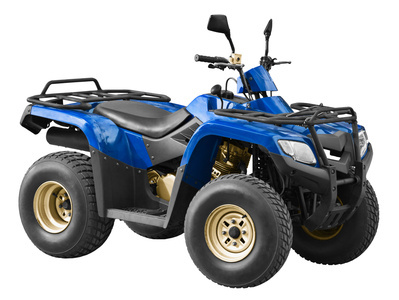 A quad bike, which many people refer to as an all-terrain vehicle (ATV), represents a vehicle that operates on low-pressure tyres over all types of terrain. Drivers straddle the raised seat and utilise handlebars to exert control over quad bikes. The 500 designation represents the power of the engine, which makes the 500 quad bike one of the most powerful ATVs. Although ATVs can navigate a wide variety of terrains, some Australian provinces forbid their use for street travel. Those who want to buy a 500 quad bike for excursions in the backcountry can find excellent deals on eBay. Take the time to research the important 500 quad bike buying factors and learn about some buying tips that help create a positive shopping experience.
500 Quad Bike Buying Factors
500 quad bike shoppers have numerous factors to consider before they make purchasing decisions. The size of the cargo area determines how much gear and supplies ATV owners can store. Quad bikes typically reach speeds between 38 and 75 kilometres per hour. However, 500cc quad bikes produce enough power to go faster than the standard speeds. In addition to cargo space and speed, consumers also must consider model type, parts and accessories, condition, and capacity.
Models
ATV manufacturers construct two primary quad bike models: sport and utility. Sport models comprise a lightweight design that allows drivers to accelerate quickly. They also possess manual transmissions and can reach speeds up to 120 kilometres per hour. Utility quad bike models are much bigger than their sport counterparts. The larger quad bikes may tow small trailers and do a better job of navigating rugged terrain.
Parts and Accessories
500 quad bike buyers should treat the purchase the same way they treat an automobile or bicycle purchase. Consider the spare parts necessary to fix mechanical and structural issues that unfold during an off-road event. ATV owners can shop for aftermarket or OEM parts with the decision hinging on the type of part. Many ATV experts recommend sticking with OEM parts that perform vital mechanical operations.
Condition
Consumers can garner several benefits for buying a used 500 quad bike over a Honda or Suzuki.
Weight and Towing Capacity
Weight capacity refers to how much weight a 500 quad bike can safely carry. This is an important factor to consider, since many ATV owners drive their bikes over rugged terrain. A bike overloaded with weight can tip over on the side of a hill. Quad bike weight capacities range between 200 and 500 kg. Towing capacity defines how much weight an ATV can safely tow. ATV owners who pull small trailers require less towing capacity than ATV owners who pull campers during long trips in the backcountry.
Safety
Despite an increase in regulations, quad bikes remain a dangerous way to navigate off-road conditions. Make sure any 500cc quad bike under consideration has received a rollover certification. The certification means the quad bike possesses a device that prevents rollovers. This important safety feature helps prevent the most debilitating ATV-related injuries.
Tips for Buying a 500 Quad Bike
After considering the important buying factors, 500 quad bike buyers are close to making a purchasing decision. However, follow a few tips to ensure the purchase of a high performance and durable quad bike. The following chart lists five tips with each tip followed by detailed descriptions.
Tip

Description

Examine a photograph of the quad bike before shopping in person

eBay sellers present enlarged quad bike photographs

Helps determine condition of bike

Ask the seller for several camera angles sent by email

Documentation

Never make a purchase without the seller providing proper documentation

Must have title and certificate of safety conformity

Tax and import duties require documentation

Keep original transaction receipt

Sources

Some sources provide better service

If shopping in person, consider buying from the preferred manufacturer

May find deals from classified advertisements

eBay offers a top-rated seller programme that ensures product quality

Inspection

Take 500 quad bike under consideration to a trusted mechanic

Focus more on internal parts, such as the engine and carburetor

Ask for rough estimate appraisal to narrow price range

Test Drive

Some dealers offer test events

Make sure to drive over off-road terrain

Monitor power up hills, steering, balance, and brakes
A 500cc quad bike represents one of the more powerful ATVs available. Many quad bike owners do not have the experience of riding such a powerful ATV. This is why test driving a 500 quad bike is an essential part of the buying process. Some ATV owners may find the 500cc bike to be more than they can handle, and hence, they end up trying to resell the bike.
How to Buy a 500 Quad Bike on eBay
Check eBay Deals frequently for great savings on quad bikes. Besides examining 500 quad bike photographs uploaded by eBay sellers, you should also confirm that sellers accept your preferred payment method and offer delivery times that match your criteria. To shorten delivery of your 500 quad bike, only consider eBay sellers who live in Australia, preferably within the same province. The closer an eBay seller lives to you, the more likely you can visit the seller and examine the bike in person. After confirming payment method and delivery time, review the customer feedback that eBay places on seller product pages. Consider sellers who have amassed positive feedback over the past year for sellingcars or motorcycles.