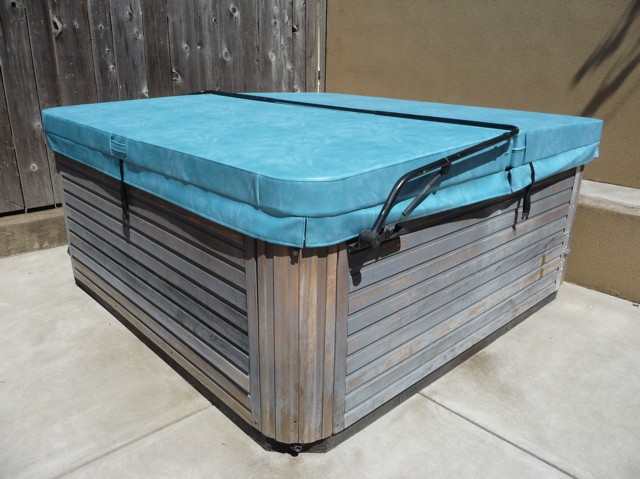 Outdoor spas are a luxurious way to spend time relaxing in the privacy of the garden, ideal for use individually or with friends and family. Although referred to commonly as spas, the terms 'hot tub' and 'Jacuzzi' are also used within the industry.
One of the usual characteristics of a spa is that the water inside will not be replaced on a regular basis. Because of this, proper sanitation and filtration systems are needed to maintain the cleanliness of the water inside. Many modern spa models will incorporate ozone purifiers and the ability to self-clean also.
However, there are further accessories needed by spa owners in order to maintain the spa's cleanliness and longevity. This guide will look at 6 of them and also where to buy them online; eBay is a fantastic site to use as all the relative products will be listed in the same place.
What is a Spa?
Larger than a traditional bathtub, a spa is designed to be used by more than one person at a time. 4-6 capacity spas are commonly found on the market. They are filled with water which is then heated to an optimum temperature. They can be used as a means of simple relaxation but also as part of a hydrotherapeutic process.
As they can be positioned outdoors, spas are common up and down Australia as residents look to take advantage of the hot climate. Physiologically, they can help with soothing muscle aches and strains, promoting blood flow around the body.
Advice on Preserving Spa Life
After a spa has been purchased, owners will seek to prolong its lifespan for as long as possible. During periods of extensive use, i.e. throughout the summer months, more care should be taken during the evaluation process of the water. Checking the water every 1-2 days is advisable, looking for any obvious signs of dirt or colour disfiguration.
For any accessory purchased as an additional extra, make sure to read the instructions as carefully as possible. Also, showering before spa use is recommended in order to wash away products which may have gathered on the skin or bathing costumes. The chemicals in such items as washing detergents, anti-perspirants, and body lotions can sometimes affect water in a negative manner.
6 Accessories Used to Maintain a Spa
As well as the natural features that will come with the spa purchase, further accessories will be needed in order to preserve the water purity levels and thus the quality of use. Below are 6 extras that can be purchased from a site such as eBay in order to maintain a spa:
1. Chlorine
In order to clean the water inside the spa, chlorine will be needed in order to make it safe to use. It will purify the water meaning that, if accidently swallowed, it will not prove to be harmful.
Buying multi-pack chlorine tablets is a popular and easy way for the average consumer to eliminate bacteria from their spas. Used with tablet feeders, they will gradually and continuously clean water automatically.
2. Test Strips
Checking the pH levels of the water is perhaps the most important safety consideration. Buying test strips will accurately test for chlorine and bromine as well as presenting the total alkalinity. The strips will thus inform whether the spa is safe for use or if the water needs replacing.
Most test strips are simple to use and provide suitable results within a few seconds. Colour coded systems mean that anyone can determine pH levels without necessarily being a chemistry expert. Acidic levels should be as close to 7.4 as possible as this is the pH level of the human eye.
3. Covers
Hot tubs which have a cover are a recommended buying feature to look out for, providing peace of mind to owners when the spa is not in use. It will provide insulation to the water as well as keeping unwanted items from falling in such as leaves, insects, etc.
The cover should fit as tightly as possible over the spa to prevent evaporation. Some general models can be cut in order to be positioned perfectly over the spa's perimeter. Spa covers can come in a range of materials such as foam, plastics, and wood.
4. Anti-Foam
In case foaming occurs, adding special anti-foaming agents can preserve the clean water appearance. They prevent any defects forming on the surface of the water and thus becoming undesirable to sit in.
Foam usually evolves in the spa from unwanted chemicals; mainly from residues from such items as washing powder, make-up, deodorants, or body lotions. If foaming still occurs after antifoam has been used, then think about changing the water completely.
5. Filter Cleaner
Filters work continuously to clean water within a hot tub; they sieve out unwanted debris and composites to maintain a healthy appearance. Different types of filter will be available from the various spa models on the market, although constant safeguarding of them will be needed to keep them up to scratch.
Filters should be checked every 3-4 weeks, most notably for clogging. To clean, remove the filter cartridge and wash it with clean water, removing any debris caught inside. Use standard filter cleaners, or more advanced blaster filter cleaners, to wash away grime. Filters can also be cleaned in a dishwasher with powdered cleaners. Dry them vigorously before placing back into the spa system.
6. Cushions
Essentially, a spa will be used to sit down and relax in. Additional cushions can be purchased to make the experience of using one more comfortable and thus maintaining its appeal. Inflatable versions are filled with water in order to make them sink underneath the spa water level; they can then be placed in the desired position over the hard spa seating surface.
Where to Buy Spa Accessories From?
When researching the different products available for cleaning a spa, it may prove to be an annoyance visiting different outlets to acquire all of them. Because of this, shopping from the same website will make things much easier. eBay is one such site that has plenty of spa accessories listed on a regular basis at competitive prices.
There is also the eBay Deals section for potential buyers to explore. This is where further reductions on numerous and random items will be offered by the company. In respect to spa accessories, check out the Backyard section of the Outdoor & Travel category.
Using eBay to Buy Spa Accessories
In order to use eBay then searching by category is recommended. From the home page, follow this route for spa accessories:
- Home & Garden> Outdoor Living> Pool, Spa, Beach.
Here, more categories will appear on the left-hand side, such as Pool Cleaners, ph Meters, and Filters. Alternatively, use the keyword search in order to bring up a specific item.
Results on eBay can be sorted by such aspects as the items ending soonest and those priced lowest. Items can also be revealed in the optimum price range in line with the set budget. Staying careful whilst completing transactions online is advised, reading the particular item in detail along with the postage and payments requirements.
Conclusion
Spas are a fantastic way for people to relax in the comfort of home surroundings. However, in order to preserve the healthiness of the water inside and thus protect the people using the spa, careful maintenance is needed on a regular basis.
Different accessories can be purchased, such as chlorine and filter cleaners, in order to preserve the spa's lifespan. Research how these products can help a particular hot tub model, reading instructions carefully once purchased. Use eBay as a means of securing these accessories also due to the site's potential to unearth some great deals.