In terms of electronics and software applications, Google Glass has a lot in common with the smartphone. But instead of carrying the device around by hand or in a pocket, users wear Google Glass on their faces, which has a transparent screen suspended before the eye and a sound-conducting piece pressed just over the ear. An increasing number of companies are stepping up to compete with Google to produce "smart glasses," the generic term for what are essentially head-mounted computers worn as eyewear. Here are a few of the noteworthy contenders vying for a piece of the smart glasses market. Look for most of these models to be in beta-testing stages in the near future, at retail stores and online on sites like eBay soon after.
1
Epson Moverio BT-200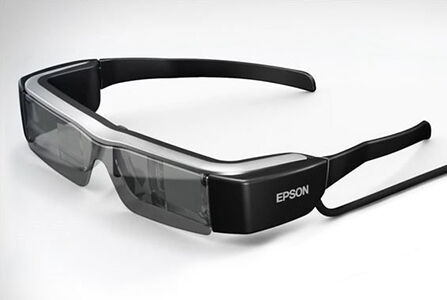 The Moverio BT-200 glasses offer a bright, colourful display, projecting images and video directly in front of each eye. Somewhat clunky, these techno shades are not conducive to constant wear. Rather, they're more practical in specific gaming or media-viewing situations. Features include dual-screen 3D display, 960 x 540 pixel resolution, head-motion tracking sensors, gyroscope, accelerometer, magnetic compass sensors, and a smartphone-sized touchpad that allows you to interact with on-screen objects.
---
2
Recon Jet
Mounted on polarized, high-performance sports eyewear, the Recon Jet bills itself as "the first heads-up display for sports." Recon's suite of sensors includes GPS, HD video camera, microphone, speakers, full-color, wide-screen display, 3D magnetometer, gyroscope, accelerometer, as well as pressure, ambient temperature, and optical touch sensors. The Pilot Edition, catering to endurance athletes, will show performance metrics and, when connected via smartphone, caller ID and text alerts.
---
3
Vuzix M100
The M100 offers the features and capabilities of a smartphone, but in a smart monocle. Depending on your dominant eye, you choose over which eye to mount the device, which includes a 5-megapixel HD camera, microphone, four control buttons, control supports for voice command and gesturing, and sensors for proximity and distance. Powered by Android ICS 4.04, the M100's familiar interface resembles that of an Android-powered smartphone.
---
4
Meta Pro
Meta's smart goggles are all about augmented reality (AR), offering a 40-degree field of view, boasting a screen area that is 15 times that of Google Glass. The Meta Pro allows users to view a giant holographic HD screen, capable of displaying 720-pixel images for each eye. Features include twin RGB cameras, stereoscopic 3D, 3D surround sound, 9-axis tracking, and an infrared time-of-flight real time 3D scanner.
---
5
GlassUp
This device isn't about AR or Android-like experiences (although, it does support Android and iOS). Rather, GlassUp aims to bring notifications, emails, driving directions, and more directly into your line of sight. Designed in Italy, GlassUp's frames look like everyday eyewear and weigh only 20 g more than normal glasses. Features include accelerometer, compass, ambient light sensor, touchpad for controls, and monochromatic display that effectively extends battery life to almost twice that of Google Glass.
---
6
LaForge Icis
Another up-and-comer looking to inject style into the smart glasses design equation, Laforge Optical (which may or may not be named for Geordi LaForge, the legendary Starfleet engineer) introduces Icis, its "stylish eyewear that allows one to see updates from a smartphone in one's field of vision." The company plans to offer a choice of styles, shapes, and colours, as well as the option to have a prescription embedded into Icis. Features include 6-hour battery life, camera, microphone, speaker, and touchpad for controls.
Whether you need these smart glasses for everyday, gaming, reading, or occasional use, there are a plethora of options soon to be tested and introduced to the market.